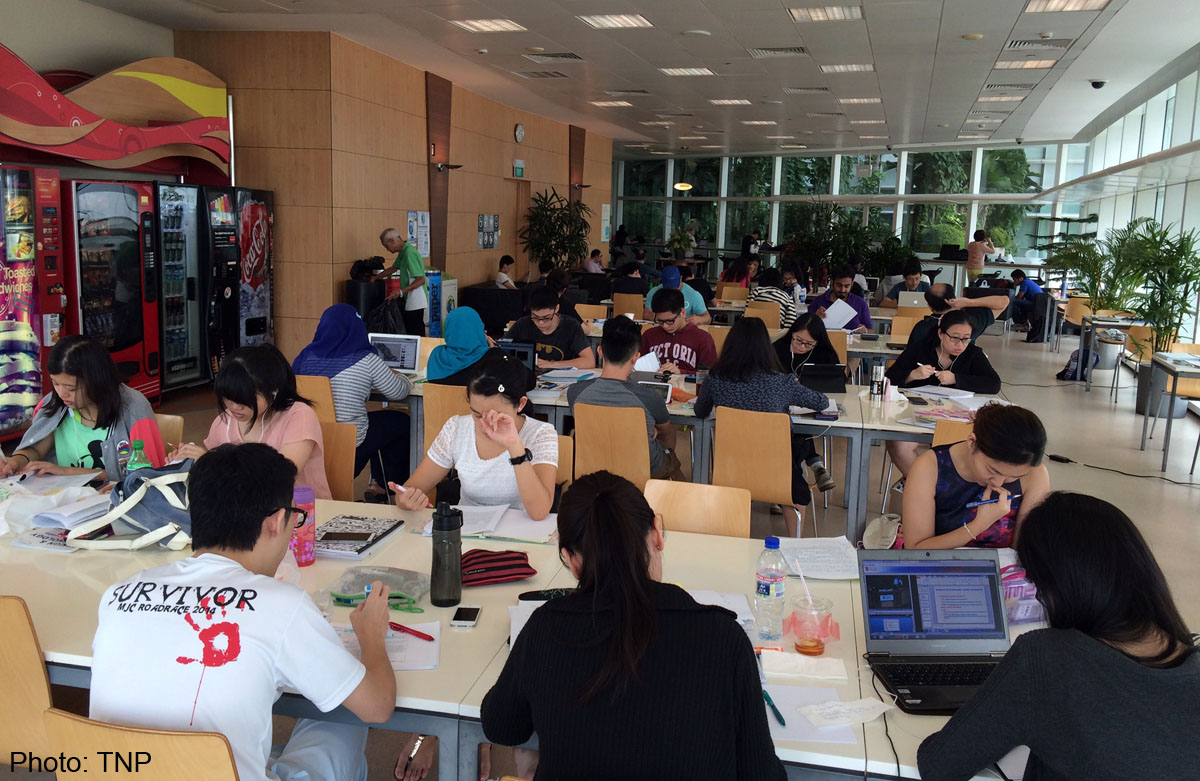 Earlier this week, a student posted online about how her belongings were removed when they were left unattended in a cafe and that she was lectured by the cafe staff for doing so.
Instead of garnering sympathy, the Facebook post, which went viral, caused an uproar. The student was slammed for her attitude. She apologised after being counselled by her school.
But many places welcome students, especially those who are considerate of other patrons. Based on students' recommendations, The New Paper on Sunday highlight some of these study spots:
Krispy Kreme Doughnuts
LOCATION Changi Airport Terminal 2 Departure Hall North
OPEN 24 hours
ACCESSIBILITY MRT, bus
WI-FI Free
POWER SOCKETS Not for public use
PRICES $2.60 for an original glazed doughnut
WHY STUDY THERE
It opened only in August, so it still has that "new" feel.
It also has a relaxed vibe considering the airport's hustle and bustle. The high backs on the round sofa seats make them feel almost like private cubicles.
It is handy for a quick sugar and caffeine fix. Some students revealed that sometimes doughnuts are given free.
Clean toilets are just a hop away, so little time is wasted away from the books.
Another plus point - it is relatively peaceful. No music is played in the outlet. The loudest noise comes from the coffee machine.
Some students are such regulars here that they even know the staff by name.
Full-time undergraduate Victoria Lee, 20, says: "It's like my second home."
She has given up on other cafes because she has been chased out too often.
For those who want to burn the midnight oil, this 24-hour cafe has hosted many students who stay the whole night and leave on the first bus home the next day.
Staff are friendly. There are even notices on the tables to say it is okay to study.
But students are urged to do so with consideration for other patrons. So do not hog seats during busy periods, be greedy with space or stay longer than needed.
Secondary 5 student, Jowis Chew, 18, says that before the posters were put up, some students took liberties.
She says: "If there are complaints, the manager does not chase us away. We would be asked nicely to share tables."
This venue is gaining popularity, so be warned that space is limited. The best seats are usually snapped up by 10am.
Panopolis
LOCATION Changi Airport Terminal 3 Departure Hall, Level 2
OPEN 24 hours
ACCESSIBILITY MRT, bus
WI-FI Free
POWER SOCKETS Available
PRICES $6 for a regular caffe latte
WHY STUDY THERE
This halal-certified cafe which caters to transit passengers has power sockets readily available.
There is even a dedicated round table for laptop users.
Students seem to congregate in one corner of the cafe.
Also, the background music is soft.
This cafe is like an oasis of calm during off-peak hours.
"It is quieter than the other terminals and the music suits my taste," says full-time postgraduate student Darryl Tan, 32.
"Everyone minds their own business," says undergraduate Ng Xin Yi, 19.
Any student looking to study here would be advised against driving, unless chauffeured. Parking charges can be high.
Some students also use the T3 viewing gallery.
It is free but may be an option only for those who do not mind an absence of tables and chairs, and the noise.
National Library
LOCATION 100 Victoria Street
OPEN 10am to 9pm daily. Closed on public holidays.
The Study Lounge is open from 9am to 9pm.
ACCESSIBILITY A short walk from Bugis and City Hall MRT stations
WI-FI Free
POWER SOCKETS Available
PRICES $2.30 for a chicken mushroom pizza, $1 for a can of jasmine green tea and 80 cents for a small pack of potato chips
WHY STUDY THERE
You might be tempted by the recently opened library@orchard.
But a check found that there are limited tables and chairs for serious studying, although there are a number of comfy seats for quiet book browsing.
The National Library is still a favourite study spot.
The dedicated study area on Level 5 is perfect.
Other than a fantastic view, the Study Lounge is the only place where eating and drinking are allowed in the library.
It is even equipped with vending machines dispensing sandwiches, snacks and drinks. There are recycling bins nearby.
Water coolers are available on Level 7 and in the basement.
You can even take a breather from studying at the gardens on various levels.
The library's central location makes it a convenient choice for group study.
Junior college student Jason Hutomo, 19, has been studying there from opening to closing time, daily for two weeks.
"Everything I need to study is here. It's also close to the bookstore and hawker centres," he says.
Full-time nursing student Azlinah Md Kassim, 31, even travels there from her home in Jurong.
She tells TNPS: "It is relatively less crowded than the Jurong Regional Library. I managed to get a place here even when I arrived at about 11am."
Starbucks
LOCATION 37 Rochester Drive
OPEN 7.30am to 11pm, Sundays to Thursdays and public holidays. 7.30am to midnight, Fridays, Saturdays and eve of public holidays
ACCESSIBILITY About 10 minutes walk from Buona Vista MRT
WI-FI Free
POWER SOCKETS Available
PRICES $10.50 for a roasted chicken and vegetable wrap, $6.10 for an iced caffe latte grande
WHY STUDY THERE
Nestled among greenery, this quaint building is tucked away at the fringe of Rochester Park.
Unlike mall outlets with high human traffic, this two-storey colonial bungalow is a hidden gem away from the crowds.
There is ample indoor and outdoor seating.
It has a cosy cottage-like feel with its wooden flooring and old photographs.
But there is some noise, mostly from patrons' banter.
When TNPS visited, several students were there for the first time on their friends' recommendation.
Student Jazmine Monaz, 16, even travelled all the way from Jurong Point, her usual study location.
"We don't study at fast-food outlets because it does not have the right feel to study," says Secondary 4 student Hilman Mohamad Ibrahim, 15.
Even with some noise, student Ashley Tan, 16, says it is still better than studying at home as she feels she can concentrate better. She also finds the prices more affordable than speciality cafes.
A Starbucks spokesman says they encourage their customers to refrain from extended use (whether it is working or studying) during peak periods.
She also says that outlet managers are empowered to make any decisions required on unattended belongings.
McDonald's
LOCATION Safra Toa Payoh, 293 Toa Payoh Lorong 6
OPEN 7am to 1am, Sundays to Thursdays; 24 hours on Fridays, Saturdays and eve of public holidays
ACCESSIBILITY A short walk from Toa Payoh Hub
WI-FI Free
POWER SOCKETS Not available
PRICES $6.80 for a McSpicy meal with fries and drink, $4.45 for an iced latte from McCafe
WHY STUDY THERE
Students say it is less crowded than other McDonald's outlets.
"Even during peak hours, there are still enough seats," says junior college student Nicole Lim, 19.
Once, the staff cleared her tray and she quickly packed up, thinking that she was being asked to leave.
"But she told me to stay instead," Miss Lim says.
A bonus is that when you need a break from all that mugging, there are free movie screenings daily at 7pm at the big screen located in the building's main lobby.
Polytechnic student Toh Chien Huey, 17, watched High School Musical about three months ago from her spot in McDonald's.
"It is not really distracting, I can multi-task," she claims.
There are even comfortable chairs with armrests although they are limited in number.
The usual sound of chatter and loud music found in a fast-food restaurant are still there, so it will work for you if you are like polytechnic student Christel Lim, 17.
She says: "I prefer background noise. I can study better that way."
McDonald's director of corporate communications, Ms Carolyn Khiu, says that McDonald's welcomes all customers, including students, and has "remodelled many of our restaurants with increased seating capacity and uplifting ambience to provide a relaxing and enjoyable dining experience".
Wherever it is, place must be conducive to studying.

This article was first published on Nov 2, 2014.
Get The New Paper for more stories.