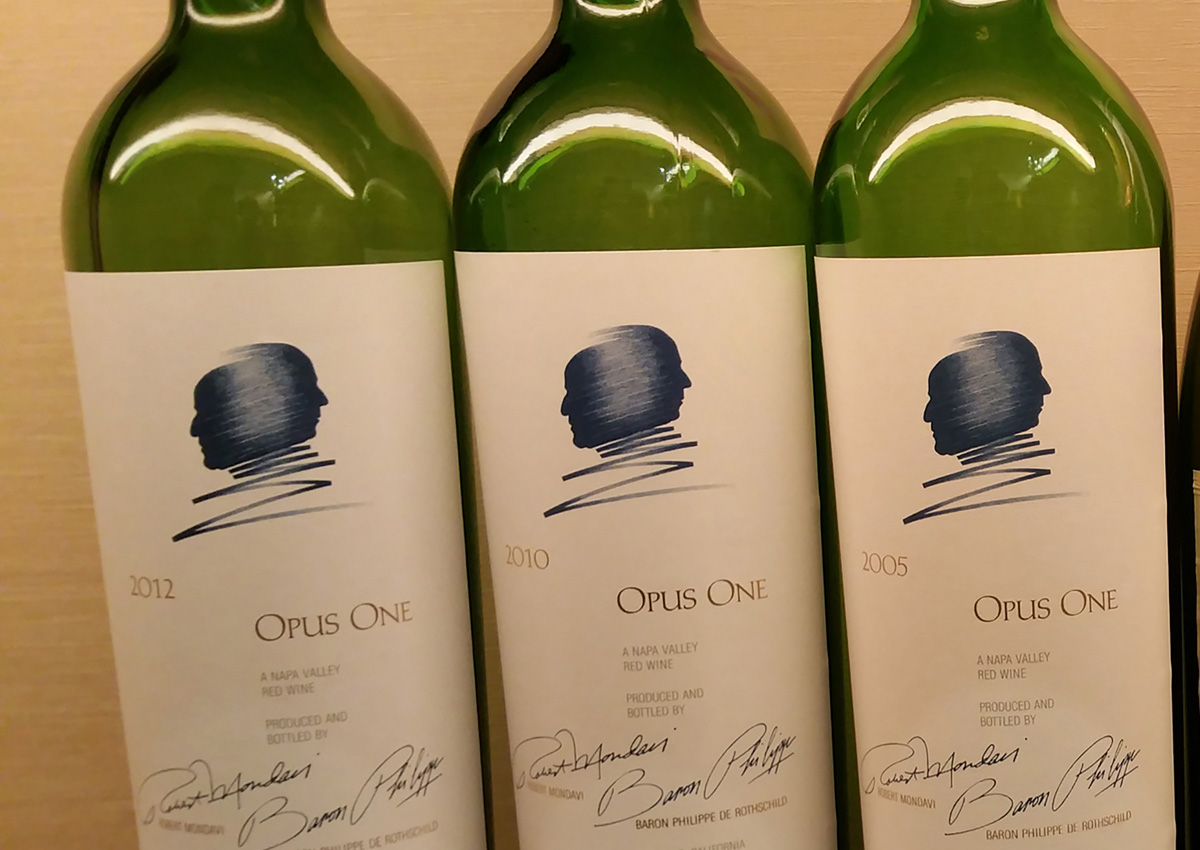 Singapore's wine community is accustomed to welcoming European vintners on their annual visits to promote their new vintages, but a visit from a Napa Valley vintner is still a rarity. So when no less than the vice-president of Napa's famed Opus One, Laurent Delassus, made a brief stop in Singapore while on his Far East tour earlier this week, it was a refreshing change - he brought not so much a change of scene as a different point of view.
Opus One, as most wine lovers now know, is one of the icons of Napa Valley. It was a brilliant and high-profile piece of match-making (and wine-making) between the two most high-profile wineries - one from the Old World, Bordeaux, and the other from the New World, Napa. They came together to jointly own and produce a wine which would combine the rich fruitiness of Napa Valley with the discipline and restraint of Bordeaux.
Baron Philippe de Rothschild of Chateau Mouton Rothschild in Bordeaux - the Chateau whose motto is "First I am, Second I was, Mouton never changes" - and Robert Mondavi, iconic pioneer of Napa Valley who almost single-handedly put Napa on the world map, joined forces to produce a Napa Valley wine, combining wine-making skills from the Old World, and fruit from the New World. Thus was born Opus One in 1979, with fruit supplied from Robert Mondavi's prime vineyards in To-Kalon in Napa, combined with the winemaking by his son, Michael.
Even as early as the mid-80s, Opus One's fame had already reached Singapore. In the late 80s, when I paid a visit to Robert Mondavi at his eponymous winery in Oakville, Napa, I was given a tour of the new Opus One, literally just across the road.
Bob Mondavi was one of the most courteous and charming of Napa vintners I have had the priviledge of knowing. A visit to his winery, an almost biennial affair in the late 80s, always included an invitation to lunch with Bob himself at the winery.
At lunch, he would delight in presenting his Robert Mondavi Private Reserve Cabernet Sauvignon side by side with a Bordeaux Chateau of the same rank, First Growth of course!
Bob was unfailingly candid, very proud of his wines naturally, and with good reason, always curious about what the rest of the wine world was doing and thinking of Napa Valley wines. He was a larger-than-life human being, who loved life, wine and people. I remember him in his 80s, insisting on going along with the group of members of the Society of Bacchus of America, visiting the Ribera del Duoro, and can recall clearly how he insisted on climbing down the stairs, complete with walking stick, into the cellars of the Bodega Alejandro Fernandez Pesquera in Penafiel. They do not make them like that any more - or at least very infrequently!
Back to Opus One. Planting of the vineyards began in 1981, and to the consternation of the neighbours, the vines were planted in almost similar density to Bordeaux vineyards, 10,000 vines per ha, a metre apart.
The first vintage, when the vines were sufficiently mature to provide the fruit for Opus One, was the 1988. Cabernet Sauvignon forms 85 per cent of the blend, the rest being a mixture of Merlot, Cabernet Franc and a small amount of Malbec.
Maturation is in 100 per cent new French barriques for 18 months, following which there is a further maturation in bottle for 18 months before release.
Tasting notes
Opus One 2005
Cabernet Sauvignon 88 per cent, Merlot 5 per cent, Petit Verdot 3 per cent, Cabernet Franc 3 per cent.
Deep, almost black red, with just the tiniest tinge of brown at the edges. Very good Cabernet Sauvignon aroma, cassis, blackcurrant and cedar. Still a youthful maturity, nicely blended into a rich blackcurrant palate with coffee and liquorice in the background. Softened tannins, good length. A great pleasure to drink.
Opus One 2010
Cabernet Sauvignon 84 per cent, Merlot 5.5 per cent, Cabernet Franc 5.5 per cent, Petit Verdot 4 per cent, Malbec 1 per cent. Black purple-red, opaque. Rich blackcurrant cedary aroma. Thick flavour, almost syrupy, very ripe fruit, almost blockbuster proportions. With its density, concentration and length, it shows much potential.
Opus One 2012
"A superb growing season, with moderate temperatures and lots of sunshine."
Virtually the same colour as the 2010 and similar aroma. Very sweet, much sweeter than the 2010, very very rich, like cassis-sweet. Oak vanillin still quite evident on nose and palate. Good potential. Bigger wine than the 2010.
One suspects that the intention of the marriage between the more conservative Bordeaux upbringing and the new worldliness of Napa Valley was to create a distinct middle ground - none of the blockbuster quality of new-world Napa and less of the austerity and reservedness of Old World Bordeaux. There is no question that in this quest, Opus One has succeeded.
One has only to hark back to the more recent Napa Valley 100-pointers, Harlan Estate and Screaming Eagle. It was interesting to note that the three vintages of Opus tipped the scale at 14.5 per cent alcohol, a relatively sober level for Napa.
Given the climate of Napa, especially in the growing season, this is most welcome. I do not know about readers, but I am not a huge fan of wines tipping the alcohol scale at more than 14 per cent. Too rich, too alcoholic, severely limiting consumption.
As one who was brought up on Napa Valley wines by the likes of Robert Mondavi Winery, Cakebread Cellars, Stag's Leap Cellars, Joseph Phelps, Martha's Vineyards and Ridge Vineyards, I find the massiveness of some of the Napa Valley's newcomers somewhat daunting. I recall sitting through a tasting some 10 years ago at the Ritz Carlton, working my way through a raft of wines which included Screaming Eagle and Harlan Estate. The high alcohol (more than 15 per cent) almost numbed the palate, and made sober judgement of the wines very difficult.
We come back to what I believe to be one of life's most important ingredients for a comfortable and rewarding life: Balance. Equilibrium.
We learnt in medical school that the human body has one very important rescue mechanism. Following any deviation from the normal equilibrium, say, if it is upset by illness or trauma, the body's physiological system is so designed that it always seeks to restore the body's physiological state to its normal equilibrium so that life can go on with minimum disruption.
One could apply this dictum to any part of life and the world.
This article was first published on August 28, 2015. Get The Business Times for more stories.