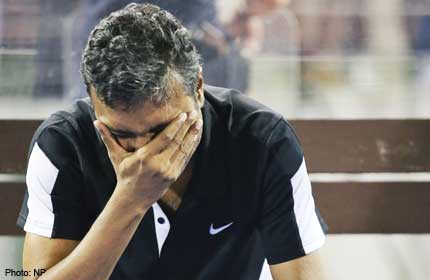 SINGAPORE - As a footballer, V. Sundramoorthy was too fast and too furious, tormenting opponents with skill and taunting them with shoves and slander.
But, in 1999, approaching the end of an illustrious career littered with just as many wondrous goals as disciplinary hearings, he made a life-altering decision.
As it turned out, it would have major ramifications for Singapore football as well.
He said: "If I wanted to be a coach, which was my best option as my pace was gone on the field, I had to clean up my act.
"How could I expect youngsters to look up to me if I behaved like a clown?"
Then, he was 35. It was time to change his image - from a dashing striker to no-nonsense coach. First to go was his iconic full-bodied crown, which was cropped for a shorter, conservative look.
Subsequently, it took on deeper shades of grey after coaching stints with Jurong FC (1999-2003) and the Young Lions (2007-10) in the S-League.
Next was his flaming red BMW - usually mobbed by fans in a stadium carpark after a match.
It was ditched for a more sober Toyota Altis sedan.
Late nights out became late nights in. He spent hours poring over books and videos of the latest coaching and tactical philosophies, a routine he maintains more than a decade later.
Today, the thug-turned-taskmaster could write his own book as the man who led the LionsXII to Malaysian Super League (MSL) success after a 19-year wait.
Now 47, he deservedly received the loudest cheers when the names of players and staff were read out during the title celebrations at the Jalan Besar Stadium a fortnight ago.
Speaking to The Straits Times at the Amara Hotel last week, Sundram was stopped three times between the lift lobby and the entrance, fielding congratulatory handshakes and posing for pictures with grateful Singaporeans.
"I've not felt this kind of love from fans since winning the Malaysia Cup with Kedah in 1990," he said with a wide smile.
Incredibly, less than a year ago, the former FC Basel player was inconsolable and on the verge of stepping down from the LionsXII just months into the job.
The image of him slumped on the bench after a painful penalty shoot-out loss to ATM FA in the Malaysia Cup semi-finals is hard to forget.
He said: "That was the first time in my career that I needed to take a break from football and get away from the spotlight."
With Prema, his wife of 20 years, and several good friends in tow, the fiercely private Sundram spent two weeks travelling around India to "refresh and rejuvenate".
During the gruelling 10-month season, his downtime was limited to watching movies - Bruce Willis' action flicks are his favourite - or playing futsal at a popular facility in Balestier which Prema owns. The couple, who also run a restaurant in East Coast, have no children.
Perhaps that explains why Sundram has embraced the fatherly role in the LionsXII squad, whose members boast an average age of just 22.
Understandably, there were growing pains. A litany of injuries and national service commitments gave Sundram and trusty deputy K. Balagumaran cause to stock up on headache pills.
"We would spend a week devising a system with players in mind and then, a few days before a match, it would be useless because some of them won't be available," Sundram said wryly.
"This could destroy a team or, as it turned out, provide an opportunity for others to step up." And so unsung heroes were unearthed, such as defender Shakir Hamzah, 20, and forwards Faris Ramli, 20, and Shahfiq Ghani, 21.
In a league of hard-tackling veterans and wily journeymen, the Singapore boys stood tall, winning 10 of their 11 games at Jalan Besar and staying compact across the Causeway.
Sundram noted: "People have criticised me for being too defensive in away games but I stuck to my belief that we were fitter and could outlast other teams.
"As I told the players, in the end, the fans will remember the result more than the way you played."
Besides the Malaysia Cup which kicks off next month, Sundram has also been given the task of leading the Singapore Under-23s to win a first football gold at the SEA Games in December.
They should earn the nod from selectors to play in Myanmar after beating their Indonesian counterparts 1-0 in a friendly here on Saturday.
With his contract expiring at the end of the year, the shrewd tactician has already drawn interest from several MSL clubs, including former employers Kedah.
But despite the lure of a fresh challenge, he hopes to pen the final chapter of his footballing story on home soil.
He said: "My ultimate target is to coach the national team one day. I used to be called the bad boy of Singapore football so this would be a nice way to end as a good guy.