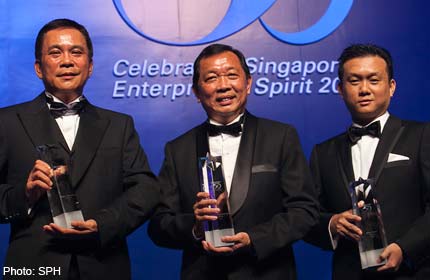 SINGAPORE - The government will try to bring business costs down, but firms here need to adapt to the new reality of a higher-cost environment - and there are reasons to believe that companies can make the transition.
This was the message delivered by Josephine Teo, Minister of State for Finance and Transport, to small and medium-sized enterprises (SMEs) at the Enterprise 50 (E50) awards luncheon held yesterday at the Resorts World Sentosa Convention Centre.
Later in the evening, the E50 awards gala dinner was attended by 1,300 guests including overall winner contractor Lian Soon Construction.
The property and construction sector did well at the awards and S Iswaran, Minister in the Prime Minister's Office, elaborated further on Mrs Teo's theme.
He said that the government was "committed to helping local companies make the transition" to the new environment.
The enterprises, in turn, would have to be "adept and agile" to seize their opportunities and succeed.
Mrs Teo had set the stage, saying that Singapore no longer provided a low-cost business environment.
"Cost can be a barrier to starting up, and cost can also be a barrier to start-ups growing to a certain scale and size.
And so this cost is not a trivial matter.
We have to examine it carefully, and try to bring it down as much as possible.
This part we know.
"Except that when we are a developed economy, when you have human capital of a certain quality, when you are also constrained in terms of land size, it is quite inevitable that we are going to be a relatively high-cost environment," she said.
Firms here, in particular SMEs, have been feeling the strain of spiralling rentals for office and factory space.
Many have cited the rising business cost environment as a key concern, and have pleaded numerous times for the government to slow down the introduction of its foreign manpower curbs, which include higher worker levies, as part of the productivity push.
But companies can overcome the tougher conditions, said Mrs Teo.
The entrepreneurship spirit is stronger now than before, and many firms are coming up with ways to counter the effects of escalating costs, such as moving some of their operations to a lower-cost environment.
And while the business climate here is tougher than before, the World Bank's Doing Business 2013 report still ranks Singapore on top for the ease of doing business.
"And so while within Singapore we sometimes look at the difficult operating environment, if we were to step out of Singapore and look inwards, and start comparing Singapore to elsewhere in the world, actually our conditions are not too bad.
Quite good in fact; quite supportive of businesses.
"So these three factors - attitudes towards entrepreneurship, how companies are responding by leveraging on other low-cost environments, and thirdly our overall business environment are three of the factors that I think gives us reason to believe that start-ups and SMEs can still have a reasonable set of conditions within which to grow their businesses," said Mrs Teo.
At the awards dinner later, Mr Iswaran said that taking in foreign workers at the same rate as the last decade was not a sustainable business or economic model.
Manpower policies would be calibrated and "we need to carefully manage this transition in our economy", he said.
He promised government support to help companies adjust.
"A range of schemes is available to support productivity and capability development initiatives.
In this year's budget, we committed an additional US$200 million (S$245 million) over the next three years to increase the support levels for companies, under Spring and IE Singapore's capability development schemes.
"This will help local enterprises build up their capabilities in automation, technology adoption, innovation, service quality, branding and internationalisation," added Mr Iswaran, who is also Second Minister for Home Affairs and Trade & Industry.
He also assured SMEs that the government will give them time to adapt to the foreign manpower restrictions.
"In this process, the government has and will continue to ensure that the direction of policy is clear, that companies have reasonable time to adapt, and continue to monitor the impact of the measures closely, with a range of programmes to support industries and enterprises as they restructure and re-engineer processes."
Four of the top 10 winners at the E50 awards came from the property and construction industry.
This was despite the challenges, including the rising foreign worker levies and lower man-year entitlement (MYE) quotas - which specify how many foreign workers a main contractor may hire for a specific project.
Overall winner, contractor Lian Soon Construction, said it had been investing heavily in machinery and technology to raise efficiency.
One example is the German scaffolding system that it introduced three to four years ago, which cost millions.
Currently, it is negotiating a deal to purchase a German system formwork that will reduce its use of timber.
Said managing director Alex Lee: "We are trying very hard to raise productivity. . . We started using many types of software, such as thumbprint scanners."
The scanners mean that its staff no longer need to spend time filling up time sheets manually.
"The results of our productivity initiatives will take some time to show, but we foresee that we will be less dependent on man-hours," said Mr Lee.
Another contractor, Progressive Builders, which won an E50 award, has been sending its workers for training. Many of them are now able to handle multiple tasks.
Said managing director Ng Yek Meng: "In order to be more productive, you need to plan well."
The E50 awards recognises the 50 most enterprising, privately owned local firms, and is organised by The Business Times and KPMG.
Supporters of the award include the Singapore Business Federation, the Infocomm Development Authority of Singapore, International Enterprise Singapore and Spring Singapore.
OCBC Bank is the sponsor.