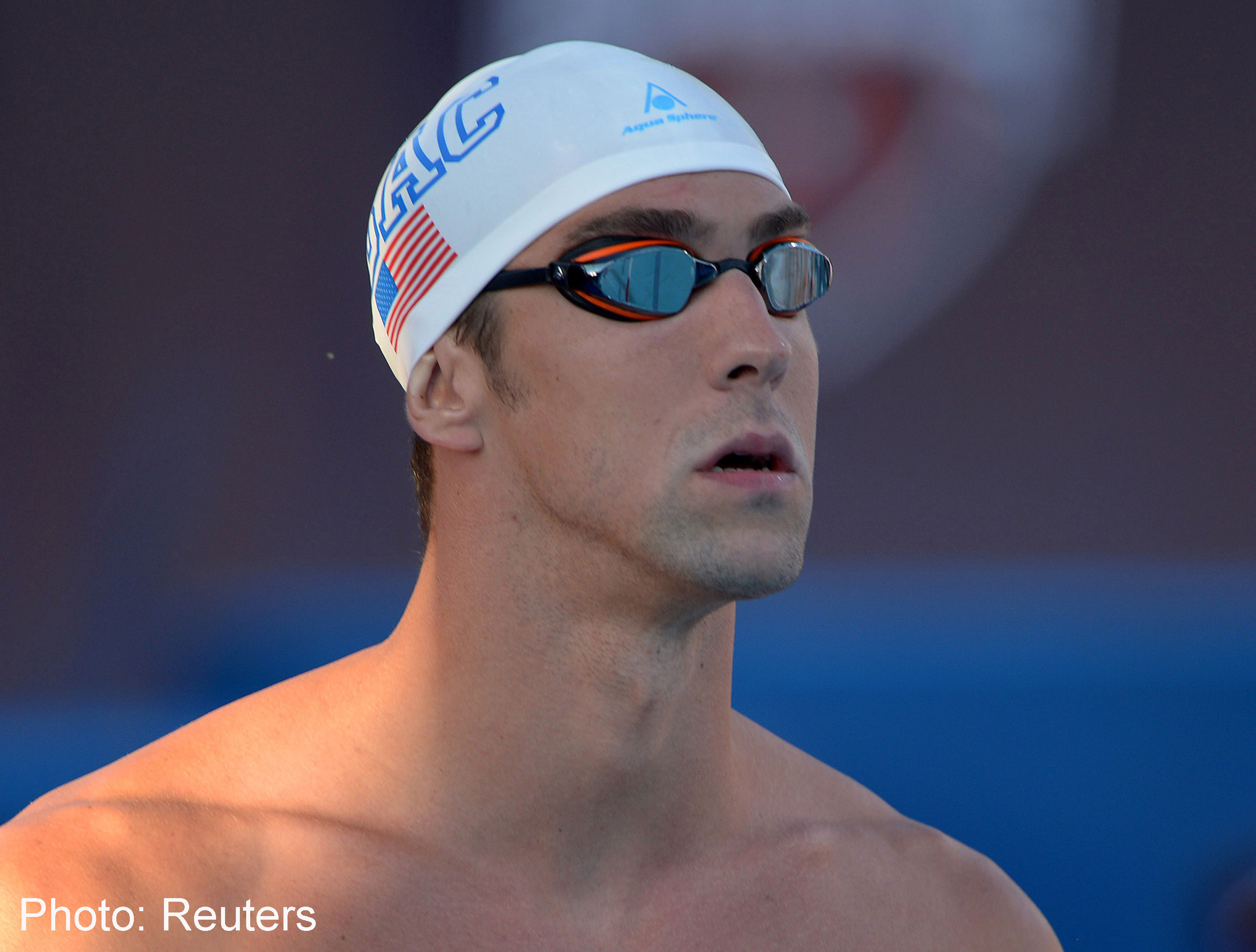 IRVINE, United States - Olympic great Michael Phelps suffered the first significant setback of his return to competition with a seventh-placed finish in the 100m freestyle at the US Swimming Championships on Wednesday.
In a finals field loaded with Olympic medalists, the 18-time Games champion Phelps was nowhere, hitting the halfway wall in eighth and gaining little ground coming home in a race won by reigning 100m free Olympic champion Nathan Adrian.
Phelps ended a near two-year retirement in April, and the US championships are just his fourth meet since then and his first chance to qualify to represent the United States at an international meet - the Pan Pacific Championships August 21-25 in Gold Coast, Australia.
Adrian won in 48.31sec - well off his best this year of 48.08.
Ryan Lochte, whose own collection of 11 Olympic medals includes five golds, stormed to second from lane eight in 48.96.
Jimmy Feigen was third in 48.98 and Conor Dwyer was fourth in 49.06. Phelps clocked 49.17.
"I'm pretty sure he just straight up missed the wall," Adrian said of Phelps, whose epic Olympic campaigns never included the individual 100m free but who has been a key part of American 4x100m free relay teams.
The top four earned berths for the Pan Pacific Championships and results from these championships and the PanPacs will determine the US team for the 2015 World Championships in Russia.
Phelps, 29, who has been coy about whether his comeback is aimed at the 2016 Rio Olympics, will have three more races this week.
He is slated to swim the 100m butterfly on Friday - the event he has raced the most since his return - and the 100m backstroke and 200m individual medley on Saturday and Sunday.
Franklin wins 100m free
Missy Franklin, who followed up her four-gold performance at the London Olympics by winning a record six golds at the 2013 World Championships, used a late surge to win the women's 100m freestyle in 53.43.
Franklin powered past halfway leader Simone Manuel, who settled for silver in 53.66 - unable to match the career-best 53.60 she posted in the morning.
Shannon Vreeland was third in 54.14 and Abbey Weitzeil fourth in 54.38.
"I knew that Simone was right next to me and she always goes out so fast," Franklin said. "I knew I was going to have to come home hard and I just tried to put my head down." Natalie Coughlin, owner of 12 Olympic medals, faded on the final lap and finished seventh.
While the top four finishers in the 100m and 200m freestyles earn PanPacs berths, only the winners of Wednesday's remaining events were assured of spots.
World record-holder Katie Ledecky duly punched her ticket with a victory in the 800m freestyle in 8:18.47. The 17-year-old was well off the world mark of 8:11.00 she set on June 23, but easily out-paced runner-up Cierra Runge (8:24.69).
Tom Shields led from start to finish to win the men's 200m butterfly in 1:55.09 - third-fastest time in the world this year.
He held off a late charge by Olympic backstroke gold medalist Tyler Clary, who finished second in 1:56.00 with Chase Kalisz third in 1:56.50.
Cammile Adams won her third straight national title in the 200m butterfly in 2:07.12 and Connor Jaeger won the men's 1,500m free in 14:51.06.