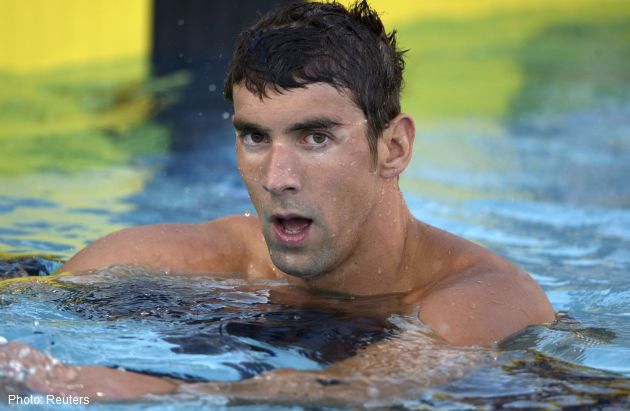 PHOENIX - Michael Phelps is looking to the future and a possible fifth Olympics in Rio after emerging from treatment for alcohol addiction with renewed ardour for swimming and for life.
Looking forward to his first races in nearly eight months, the 29-year-old US superstar said he knows he'll have to convince skeptics he has changed in the wake of the drunk-driving episode last September 30 that sent him into an inpatient addiction treatment facility and also to Alcoholics Anonymous.
"I of course would like to show everybody in the world that I am in a different place and I am much better than I ever have been," said Phelps, who is entered in five events in this week's meet in suburban Phoenix.
"I understand that's going to take a lot of time. This week will be the first week that I can start that." Phelps, whose 18 Olympic gold medals include the eight he won in as many events in Beijing in 2008, won't be taking his latest comeback to the sport's biggest stage this year - the World Championships in Kazan, Russia.
As part of the punishment meted out by USA Swimming in the wake of his arrest last year, Phelps had agreed not to compete there.
While there had been at least one report in recent months that he could be reinstated, Phelps said he would be cheering on the US team from a distance.
"I do accept the decision USA Swimming made back early in the fall," he said.
"For me, I will be in full support of everything they do over there and I wish them all the luck in Kazan."