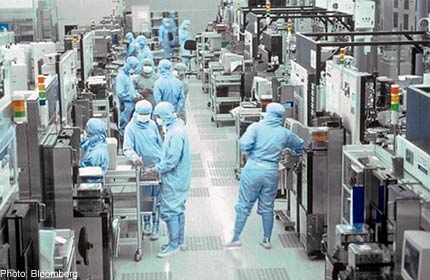 TAIPEI, Taiwan -- Taiwan Semiconductor Manufacturing Company (TSMC) was named as one of the world's top 100 most innovative organizations for 2013 in a survey released by Thomson Reuters, marking a milestone for both the company and Taiwan's business world.
The IP & Science division of Thomson Reuters, provider of information for businesses and professionals, announced its 2013 Top 100 Global Innovators list, which included a Taiwanese company for the first time since its initial publication in 2011.
TSMC was the only Taiwanese company on this year's list, which featured 32 companies from Asia, including 28 from Japan and three from South Korea.
The list, which was released on Monday, also includes 45 American companies, 22 European companies and one Canadian company.
The annual study by Thomson Reuters Co., a multinational media and information firm based in New York, measures patent activity based on four principal criteria: overall volume, success rate, globalization and influence.
"These four benchmarks reinforce that great ideas are part of the strategic equation and that organizations need the ability to protect, commercialize and leverage these ideas around the world in order to be successful," Thomson Reuters said.
Although China has the world's most patents, no Chinese companies made it on to the 20l3 list because they did not perform well in the categories of globalization and influence, Thomson Reuters said.
TSMC Surpasses Intel as World's Largest Chip-maker
The 100 organizations in the 2013 study outperformed the S&P 500 for the third consecutive year, this year by 4 percent in annual stock price growth and 2 percent in market cap-weighted revenue growth. Collectively they generated US$4.5 trillion (S$5.6 trillion) in revenue, nearly twice the GDP of the United Kingdom.
The "Top Innovators" also added 266,152 new jobs over the last year, a rate that was 0.81 percent higher than the new job creation rate among constituents of the S&P 500. This year's winners also outspent the S&P 500 by 8.8 percent on R&D; collectively they invested US$223 billion in their research and development efforts.
TSMC sold US$11.98 billion worth of semiconductors in the second quarter of 2013, edging out Intel, which sold US$11.79 billion in the same timeframe, tipster website Fudzilla reports. The site says it pulled its data from market research firm IC Insights.
Things figure to get even better for TSMC as it upgrades its four 8-inch wafer plants to supply parts for the wearable device market.
IC Insights believes the global semiconductor market will be worth US$271 billion this year, with wafer foundries accounting for more than 16 percent of that figure.