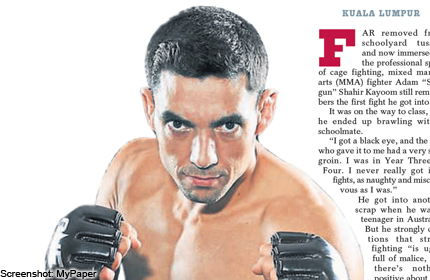 KUALA LUMPUR - Far removed from schoolyard tussles and now immersed in the professional sport of cage fighting, mixed martial arts (MMA) fighter Adam "Shogun" Shahir Kayoom still remembers the first fight he got into.
It was on the way to class, and he ended up brawling with a schoolmate.
"I got a black eye, and the guy who gave it to me had a very sore groin. I was in Year Three or Four. I never really got into fights, as naughty and mischievous as I was."
He got into another scrap when he was a teenager in Australia. But he strongly cautions that street fighting "is ugly, full of malice, and there's nothing positive about it".
"Fighting leaves an ugly feeling. There is a difference between fighting and competing. Even though it's labelled as fighting, MMA is a sport in a controlled environment, with referees and judges, and medics," said Adam.
He will be stepping into the cage again on Friday when ONE Fighting Championship returns to Stadium Putra in Kuala Lumpur for ONE FC: Warrior Spiri.
The 36-year-old will be facing Japanese veteran and knockout specialist Nobutatsu Suzuki in the main event. The match is for the welterweight world-championship belt. Both Adam and Suzuki are coming off victories in their last ONE FC matches.
Adam, who was born in KL, is now based in Bangkok, where he lives with his wife, an Australian, and their 15-month-old daughter.
He has two Brazilian jiujitsu (BJJ) schools there which he runs with a Thai partner. He also has an affiliate school in Kuching, Sarawak.
With a healthy distaste for street fighting, he said he often tells his eager new students about a "secret technique" of his in dealing with 10 guys coming at him.
"I tell my beginner students about my secret weapon that has helped me come out on top in these situations," he said. "And they wait for me to show them this magic technique. I tell them it's called 'Nike-do'! I strap on my Nikes, and I do what I have to do to get out of there!" (Laughs).
While he has lived and worked in Brazil for a year, it was in Malaysia that he first came across the art of BJJ. He was strolling in Petaling Street in 1995 when he came across a bootleg copy of the Ultimate Fighting Championship. He was enthralled and started looking for a place where he could learn BJJ.
Adam is now one of only two Malaysian black-belt holders in BJJ, the other being Sam Wee, the first black-belt holder in Malaysia. Adam's martial-arts experience started when he was only four. He started training in judo and went on to learn taekwon-do, then full-contact karate and some kickboxing. He said he also "stumbled onto" yoshinkan aikido, a form of aikido that involves striking moves, which, Adam said, is what the riot police learn.
He also learnt silat from his uncles, and gongfu from his dad's friends, as well as wing chun and taiji quan from friends in Australia. " In Thailand, I got some exposure to shuai jiao and san da. But muay thai is 100 per cent my main striking discipline," said Adam, who is one of the top 10 muay thai fighters in the Rajadamnern rankings.
For him, jiujitsu represents communication and friendship. Through the sport, he has made many "honorary brothers and sisters" around the world.
He regards fighting under the Malaysian flag as an honour and a stimulus, and not pressure.
"What could be better than the whole country cheering your name?" he said. "I also want Malaysia to support the fighters, spread MMA and cast a good light on it. This fight is not just about me, it's also about the other Malaysian fighters on the card."
Get My Paper for more stories.