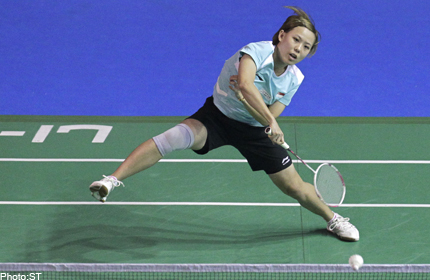 The Singapore Badminton Association (SBA) will engage stakeholders from both within and outside the association to help improve local shuttlers' winning chances.
SBA chief Lee Yi Shyan will head the taskforce, which is expected to start coming up with recommendations for the sport within the next two months.
Past members of the SBA's executive committee, local coaches and even parents of current players will be consulted as part of the process.
"We want to consult people who have ideas and who want to tell us what we can do," said Mr Lee, who is also Senior Minister of State for National Development, and Trade and Industry.
"I hope that this consultation will help us to bring together new ideas as to what we should do to bring up the standard.
"It's an important review because we've always operated on the basis of certain constraints. The time now is to challenge ourselves - whether some of these constraints can be removed."
The taskforce will spend the next year examining various aspects of the national team's training methodology. It will also look at how to help the association deal with issues like a limited budget and supply of talent.
Executing the recommendations and for them to start bearing fruit, however, will take a longer time, Mr Lee reminded.
This comes after he promised an internal review after the local shuttlers' disappointing outing at the Li-Ning Singapore Open last month.
Then, despite fielding a team of 23 in the home event, no Singaporean made the quarter-final stage, making it the country's worst showing since the 2006 edition.
High hopes had been held for women's singles Gu Juan in particular, after the world No. 20 beat world No. 3 Saina Nehwal of India just weeks earlier.
Xing Aiying, ranked 55th, had also made it into the last four of the women's singles last year.
Both crashed out in the first round.
The nation's singles players have also struggled to make it past the last 16 in any Superseries-level (second tier) or Grand Prix Gold (third tier) tournaments since the year began.
Gu's runner-up finish at the Malaysia Open Grand Prix Gold in June was the only exception.
Said Mr Lee: "Once we have gathered all these (ideas) and we look through our system, we can set higher standards and improve the organisation.
"(What we want) in the end is to empower our players to do their best on court."
maychen@sph.com.sg