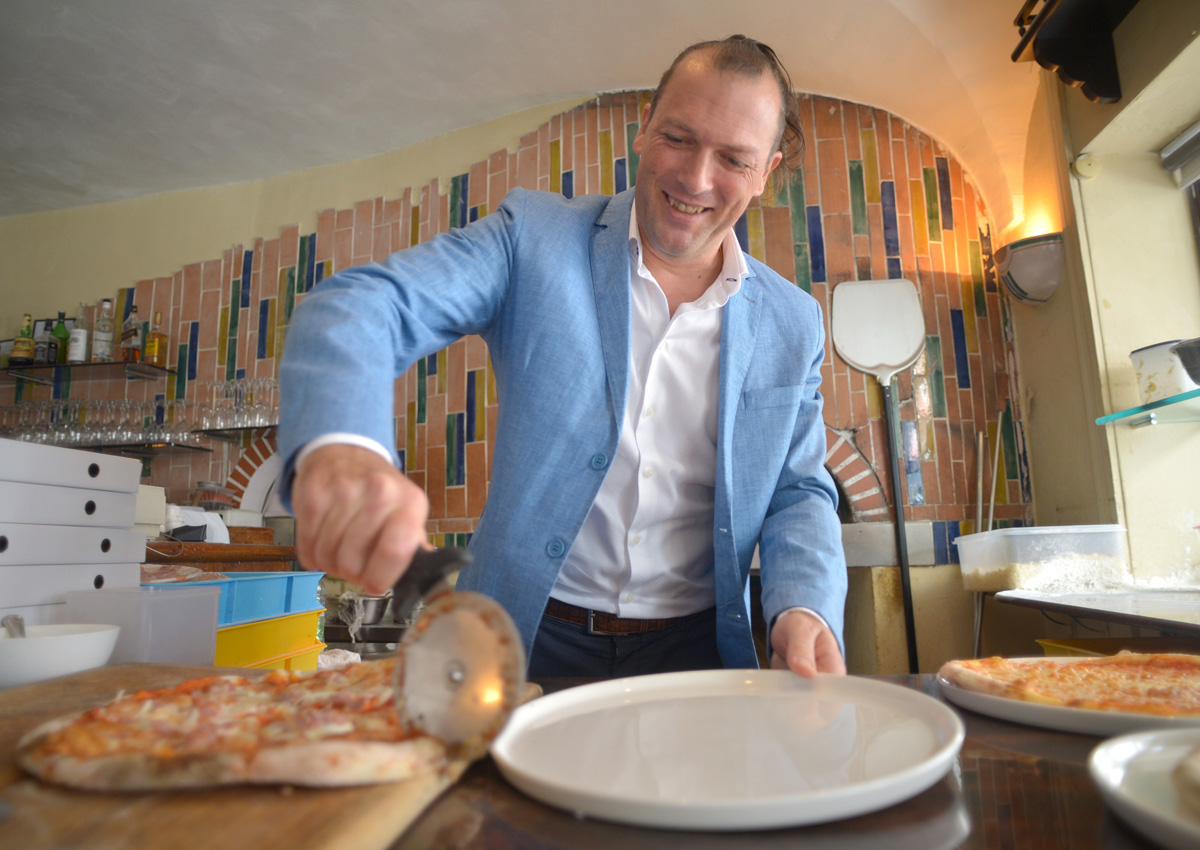 It is noon on a Friday and the doors of Italian restaurant Al Forno have just opened for lunch service.
Within 15 minutes, the restaurant has begun to fill up - no matter that the trattoria is tucked away in a shophouse along East Coast Road, far from the downtown hustle and bustle.
A group of three Caucasian gentlemen entering the restaurant trade friendly banter with the pizza chef manning the wood-fired oven as they walk over to their table.
Across the restaurant, two young children recognise their waitress and give her high fives as she takes their mother's lunch order.
Guests at another table say they will have "the regular" when asked which wine they want to accompany their meal.
The warm camaraderie about the 3,500 sq ft restaurant is not unexpected, given Al Forno's 20 years in business, and at the same address, no less.
The tavern-like space has sealed its status as an East Coast institution - dishing out rustic food inspired by the tastes of southern Italy's Amalfi coast.
For chef and owner Alessandro Di Prisco, seeing how far the restaurant has come is a dream come true.
"I can still remember flying from Italy to Singapore on a Qantas jet as a wide-eyed 21-year-old," he recalls. "Not only was it my first time outside of Europe, but it was also my first time on an aeroplane. To think that I've now been in Singapore for 20 years is hard to believe."
His wife is a Singaporean Indian and they have two children.
Born near Salerno, a small town in the south of Italy with a population of 350,000, Di Prisco grew up surrounded by fresh homemade food.
"Given that I came from a small town with little variety in cuisine, my family didn't have the habit of eating out," says the son of two teachers.
"More importantly, though, because food has always been an integral part of Italian culture, my two siblings and I were expected to chip in when my parents were cooking - whether it was peeling carrots or helping to sun-dry tomatoes."
Daily meals at home were also an elaborate affair - lasting no less than an hour - and including staples such as pasta, a main dish of meat or seafood, side dishes, cheeses, cold cuts and fruit. On the weekend, desserts such as tiramisu and panna cotta were thrown in as an additional treat.
"Not only did these experiences introduce me to different smells and flavours, but they also taught me that even the most simple dish could be delicious if the right ingredients and fresh produce were used," says the 42-year-old. "It's what first sparked my interest in the food and beverage line."
And having found his love for food, Di Prisco wasted no time taking on his first job as a waiter at a local restaurant when he was just 14. But even though he worked his way up to manage a local restaurant over the next six years, he soon began to find the small town life cloying.
"By the time I was 20, the small town mentality had begun to irk me," he says.
"I was itching to get out of my hometown of 60,000 people. I wanted to learn English and discover what else the world had to offer."
Serendipitously, he heard through the grapevine that a new restaurant in Singapore, Al Forno, was looking for a manager.
Luckily for him, the Italian chef-owners who also hailed from the south of Italy happened to be looking for someone from Di Prisco's hometown to fill the role.
"I jumped at the opportunity even though I didn't know anything about Singapore.
"In my mind, Asia was far away, exotic and exactly the kind of change I was looking for."
Nostalgia still rules
Just like that, Di Prisco found himself here on Aug 20, 1995 after a 12-hour flight from Italy.
Landing in Singapore late at night, he recalls seeing the lights of ships along East Coast and mistaking them for the city skyline.
"I was so naive back then that everything about Singapore and her city vibe was foreign to me," he says with a laugh.
"I also remember being overwhelmed by the smell of durian, which I came across a few days after I arrived. It's a smell that still takes me back to those first few days in Singapore."
Despite its differences from his home back in Italy, Di Prisco settled into life here and his new role as Al Forno's restaurant manager with ease.
"Back in 1995, Al Forno was one of the first authentic Italian restaurants in Singapore and my job gave me the chance to interact with customers and share a part of my culture with them every day," he says. "I quickly grew to love it here." So much so that when the seven original owners of the restaurant decided to sell it two years later, he jumped at the chance to buy it over.
The restaurant remained a joint partnership between Di Prisco and three other partners until last year, when he bought over the shares from the last remaining partner and took over sole ownership in an amicable transaction.
But despite the management changes over the years, it is unlikely that even the most regular patrons would have noticed any differences in the workings of the restaurant.
"Because changes made were only contractual, it didn't affect the service or quality in the least. We even kept the name through the years," Di Prisco explains. "For our customers, it's always been business as usual."
And for Al Forno, it is this nostalgia of yesteryear which continues to be a big selling point. For starters, in the past 20 years, hardly anything in the restaurant has changed, including the facade and the layout of the space.
"Even our rustic wooden chairs are the original ones from back in the day," Di Prisco says proudly, pointing out similarities from the black-and-white photographs of the restaurant's old staff and interiors that line one wall of the 100-seater space.
"Any changes that were made over the years have been very basic. For us, the Al Forno experience is just as much about the nostalgic design as it is about the food."
And though prices of food have increased slightly over the years to keep up with rising costs, Di Prisco says his priority has always been maintaining the relationships he has built with loyal customers in the East Coast community.
In part, that has meant balancing his price increases with consistency in quality instead of just jumping on the bandwagon of expensive Italian prix fixe menus that are all the rage in Singapore these days.
"Al Forno has never been a fine-dining restaurant and, for me, it's important the prices are justified for my customers," Di Prisco says. "Sure, I might still import my cherry tomatoes from Italy, but things such as beer and tiramisu still cost $9 each - the same price we charged back in 1995."
His desire to always keep his customers in mind can also be seen in the way the restaurant is run.
Guests are still given old-school feedback cards after their meals and crowd favourites such as the fried calamari and seafood spaghetti cooked in a bag are still on the menu, even after 20 years.
Di Prisco is also unfazed by the growing competition in the local Italian food scene. Instead, the burly restaurateur seems to welcome it with open arms.
"Back in 1995, the idea of having ingredients such as zucchini in pasta or ordering a bottle of wine and a cheese platter with your meal was almost unheard of," he recalls.
"But now with more restaurants in the scene and Singaporeans travelling more frequently, our customers have evolved as well. They're more discerning about quality and, in turn, are more appreciative of authentic Italian cuisine like ours."
Nonetheless, the competition has led him to experiment with new ideas to keep things interesting.
For example, the restaurant partnered the Singapore Airshow last year, making more than 120,000 fresh pizzas on site for attendees. Last October, it also started offering Sunday brunches at $40++ a head and $70++ including free flow beer, wine and prosecco.
"I prefer offering something new in the way of events instead of just opening new branches of Al Forno across the island," Di Prisco says, letting on that staffing a restaurant with a dependable team is his biggest challenge.
"I'd rather have one restaurant and dedicate myself to building a strong team than have many outlets where the service quality is not as good."
One needs to look at only the long-service record of some of his staff to see he is a man who puts his money where his mouth is.
Among his team of 13 full-time staff, his Italian chef Rodolfo Baldino has been with the restaurant for 20 years. Another, a Singaporean cashier, has been with the team for 16.
Says Baldino: "For the team, it's been about sticking together in good times and bad. At the end of the day, so many of our guests are still the same and it's always wonderful when they recognise us. It's what makes Al Forno feel like family."
Family is also what has kept Di Prisco here all these years. Now a Singapore permanent resident, the father to a 10-year-old boy and 12-year-old girl with his wife, Kevy, is as Singaporean as they come.
"I live in Siglap, my kids go to local schools and I love everything from roti prata to black pepper crab," Di Prisco says with a laugh, admitting that he never cooks outside of the restaurant.
It is apparent that loyal customers of Al Forno are on board with the restaurant's old is gold mantra.
Swiss national Christian Pauli, 48, general manager of a logistics company, quips that he has taken some of his biggest clients to Al Forno for meals.
"Besides the fantastic food, it's a place that is unpretentious and accommodating," says Mr Pauli. "You always feel at ease here and the staff treat you like family. Plus, it doesn't hurt that they have the most authentic pizza in town." And that for Di Prisco is praise enough.
"I'm not trying to be the best restaurant in Asia or to top lists with many accolades," he says when asked how he sees Al Forno's future. "For me, it'll never be about the glory. At the end of the day, Al Forno has always been about its people - if they're happy, I'm sure we'll be fine."
avarma@sph.com.sg
This article was first published on September 14, 2015. Get a copy of The Straits Times or go to straitstimes.com for more stories.