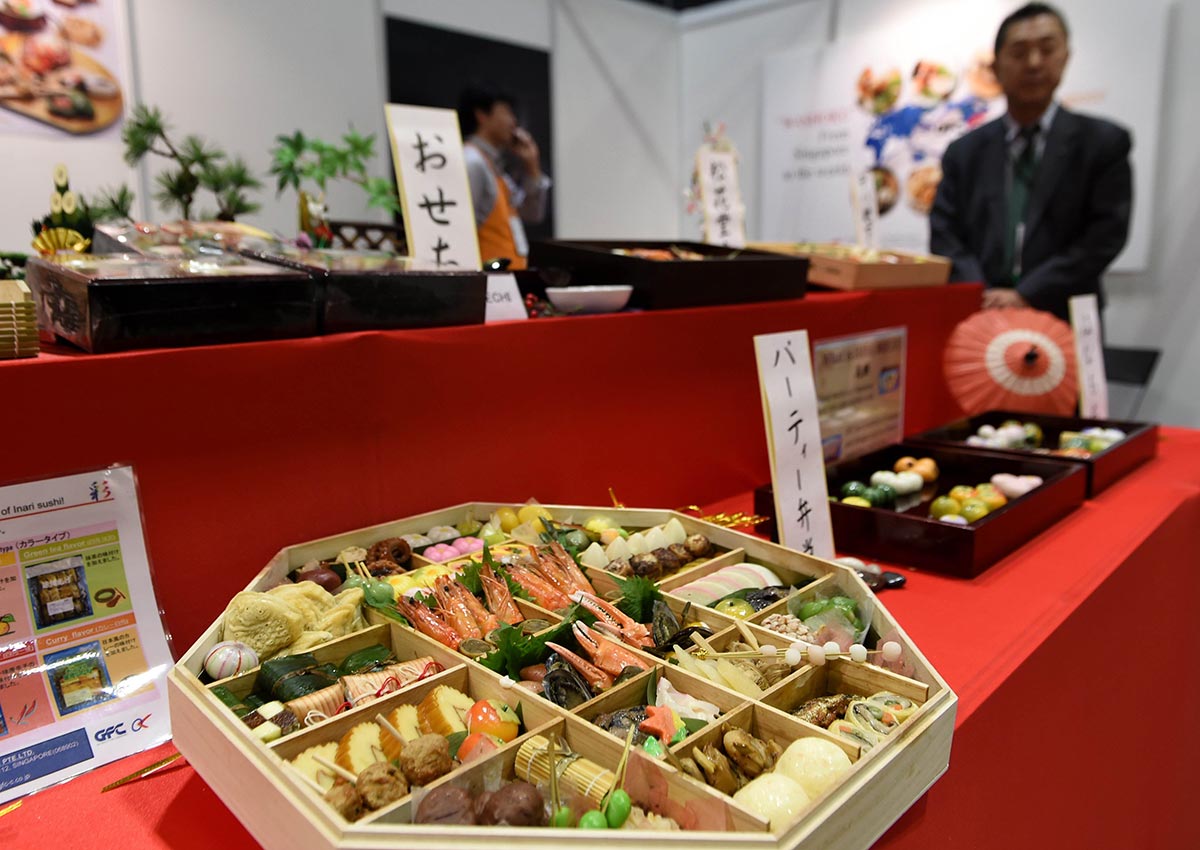 When Masanao Nishida first launched Oishii Japan in Singapore four years ago, he had to personally go knocking on every door of his 50 exhibitors to invite them to come on board. Thankfully, his efforts seem to have paid off, as this year's Oishii Japan 2015 sees almost 300 exhibitors from 42 prefectures showcasing over 500 new products at the three-day event.
The range of offerings is adjusted to the demands of the Singapore market, explains Mr Nishida. For instance, one main focus this year is in food machinery, such as gyoza-makers or nigiri sushi-makers, which will hopefully help counter the lack of manpower in the F&B industry. Other popular areas of demand are seafood, alcohol, and processed foods like snacks and confectionery.
For consumers, it's a chance for them to learn more about the different prefecture specialities, instead of thinking of all the offerings as "Japanese products", says Mr Nishida. "For exhibitors, we want to be a platform, from the Japan market to the rest of Asia. That's my vision," he adds.
Sanuki wagyu
Sanuki is the former name of the Kagawa prefecture in Japan, famous for its olive cultivation on Shodoshima Island for over 100 years. So it's not surprising that the Sanuki wagyu is known for being the only cattle in Japan that's fed dried olive remains, earning them the title "olive beef".
The cows are fed about 100 grams of olive feed per day for the two months before slaughter, and this causes the meat to taste less grassy and oily, says Takuya Miyatake, a representative of the Kagawa Prefectural Government.
As Kagawa produces a mere 2,000 cattle per year to supply both customers in Japan and exports to countries like France, Thailand, Vietnam, Macau, and the United States, they only intend to supply their beef to high-end restaurants here in Singapore.
Jiro persimmons
Most persimmons we're used to getting in local supermarkets are soft and juicy in the middle, but these Japanese Jiro Persimmons grown in the mountainous areas of Toyohashi are actually crispy and crunchy. These square-shaped fruits were named after Jirokichi Matsumoto of the Shizuoka Prefecture, and are also known to have almost no seeds in them, making them an easy ingredient to use to sweeten a salad.
While this fruit is still unavailable anywhere else in the world but in Japan, this weekend, they will be making a debut at Singapore's FairPrice Finest supermarkets at a promotional price of about S$7.50 for two fruits.
Frozen sushi
Sudden craving for sushi? Soon you might no longer have to head out to a sushi restaurant, or go through the trouble of preparing it from scratch. Just reach into the freezer and pull out a roll of Shibazushi's frozen sushi.
It's a foolproof meal to prepare, too. All you have to do is leave the ready-sliced roll of sushi out of the fridge for about three hours to allow it to defrost, before opening the packet and digging in.
Shibazushi was founded in 1958, and used to specialise in making bento boxes. They added frozen sushi to their repertoire only about a year ago, and are now looking to expand outside of Japan. There are currently 10 different types of frozen sushi including salmon, shrimp, sea bream and unagi, all flash-frozen to preserve flavour and quality.
Hattendo dessert burgers
Here's some good news for the sweet-toothed - Japanese company Hattendo is looking to bring their "cream breads" (also called dessert burgers) to Singapore early next year. Managing director Daisuke Ishioka reveals that they are looking for a suitable location at the moment, and intend to charge about S$5 for each cream-filled pastry.
Hattendo was named after a small shrine in Hiroshima which is centuries-old and known as a resting stop for travellers, and its first store opened in 1933. The word also means "unlimited prosperity". There are currently at least six available cream fillings, including custard, matcha, chocolate and azuki bean, and the bun is usually served with a crispy layer of caramelised sugar on top.
Samurai ramen
Singaporeans are no stranger to Japanese ramen, but there's something about Samurai Ramen that makes it a little different from the rest. While most ramen is made in a pork broth, Samurai Ramen is made without animal or alcohol products, making it Halal-friendly, although it has yet to obtain an official Halal certificate.
This pre-packaged ramen is made by a 100-year-old noodle company from the Ichikikushikino City of the Kagoshima Prefecture, which is known for its shochu and tuna. Of course their Samurai Ramen tastes great too, as its broth is made with a number of ingredients including miso, soy sauce, pepper, garlic, ginger, and other spices.
Ocharaka teas
Stephane Danton is a sommelier who moved from France to Japan about 23 years ago. However, he is currently the owner of a 10-year-old Japanese tea company called Ocharaka - a result of his vision to create a more refined non-alcoholic beverage to pair with food.
They offer 50 of his own creations like a peach tea or kyoho (grape) tea, and 50 traditional teas like sencha, hojicha and kocha. Mr Danton says: "I use a sommelier's approach to wine when creating Ocharaka teas, making new fusions that amuse the eyes, nose and mouth of tea drinkers."
Ocharaka has recently paired with a small home appliance start-up company in Singapore named Ferrano, which will soon start importing their teas exclusively.
rachloi@sph.com.sg

This article was first published on October 24, 2015.
Get The Business Times for more stories.