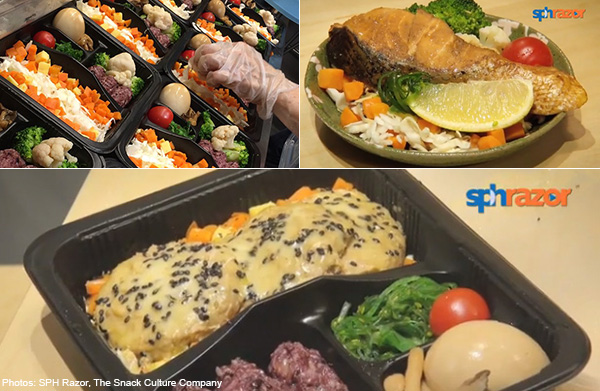 SINGAPORE - If you are trying to eat healthily but tired of going to salad bars, why not give month-old cafe Lean Bento a try?
Each of its food offerings including its muffins has no more than 450 calories. But these low-fat meals are, surprisingly, high in deliciousness, as SPH Razor's Low Yi Qian and Olivia Chang found out.
The duo, who tried the Parmesan chicken bento, marinara chicken bento, and shoyu salmon bento, praised the items for being tasty and healthy at the same time.
Low gave Lean Bento a "Very Shiok" rating, while Chang accorded it the highest So Shiok rating.
Chang commented that the patties tasted better than normal burger patties that aren't as low-caloried.
Of the Parmesan chicken bento, she said: "I can't believe this is so healthy. It tastes so good."
She added that the cabbage that comes with it tastes very light and clean and healthy overall. Low agreed, pointing out that there's no dressing on the cabbage: "There's no point eating salad that's full of dressing."
The Parmesan chicken bento also consists of brown rice onigiri, which Chang said carried a bit of sweetness, and that its sticky, chewy texture reminded her of a way healthier version of glutinous rice.
Lean Bento was set up by best friends Charles Ng and Dionis Chiua, who told SPH Razor that they were once overweight, but slimmed down from eating healthily.
According to Chiua, she imposes the dietary restrictions of the meals at Lean Bento, while Ng's job is to make them taste good by tapping on his knowledge of spices and flavours as a Peranakan.
Where: Lean Bento
Address: 11 Collyer Quay #02-02, The Arcade