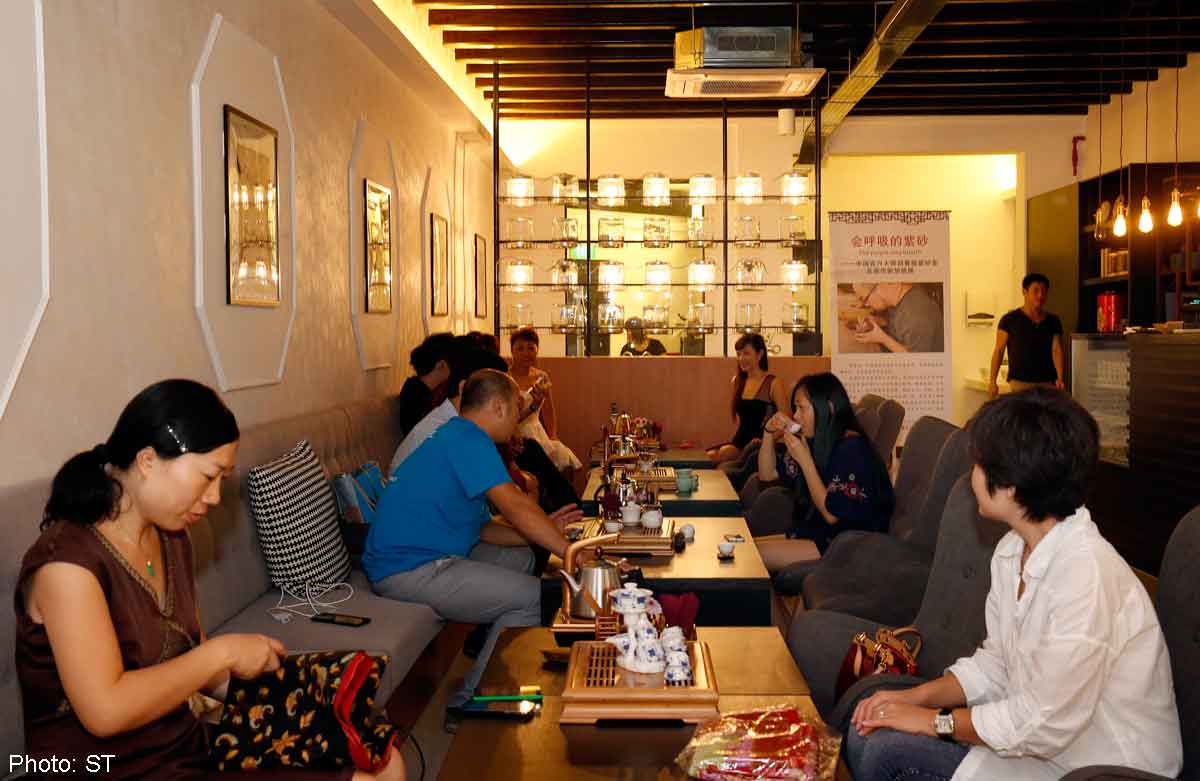 The most vivid memory retiree Roger Tan has of his climb up verdant Phoenix Hill mountain in the Guangdong province of China last month was not the punishing ascent or the dramatic tableau of mighty rivers spanning tiny villages that lay below.
Instead, it was nursing a cup of warm, rich and piquant Dancong oolong tea at the end of the climb, which soothed his sore, frigid limbs. "The tea was so aptly named Tong Tian Xiang, Fragrance to the Heavens," recounts the sprightly 68-year-old.
"I did get a little philosophical up there. Drinking warm tea on a cold mountain, it's the closest you'll get to heaven."
In Singapore, Mr Tan makes a twice-weekly jaunt from his Ulu Pandan residence to Phoenix Hill Tea Merchant at Joo Chiat Place for his tea fix.
While teahouses have not sprouted the way hipster cafes have, an appetite for tea is slowly growing among Singaporeans, even with the younger set.
Besides Phoenix Hill, two other places where one can brew and sample tea - Kung Fu Tea House and Tea Culture Academy - have sprung up in the past year, bringing the total to at least eight.
They range from merchants and suppliers who provide tea tasting services to teahouses that can seat up to 140. Some joints also offer dim sum and other snacks such as biscuits and buns for peckish patrons.
Mr Tan was introduced to tea drinking in April by the married owners of Phoenix Hill Tea Merchant, Madam Julie Low, 50, and Mr Steven Lim, 60, when he chanced upon their shop.
The couple also co-owns a 40.5ha plantation near Phoenix Hill in Shantou, where they import their tea leaves from, and had invited Mr Tan to China.
"Thanks to them, I don't get a hangover from lack of sleep, I've lost 3kg, I'm in a better mood these days. They've become my cha you," he says with a hearty laugh, using the term for tea buddies.
This convivial, communal spirit of nursing a quality brew over conversation with friends, or yi cha hui you as it is referred to in Mandarin, harks back to China's teahouse culture, which the Lims hope to promote here.
For centuries, in cities such as Hangzhou and Chengdu, teahouses have drawn people from all walks of life - weary travellers, itinerant performers, even street hoodlums.
Over the swirling dance of tea leaves steeped in tinkling cups, countless friendships have been forged, business deals struck and romances kindled.
"Singaporeans are always busy and we find it so hard to slow down. So it's our hope that customers come in, sit with us and just find time to talk over tea," says Madam Low, adding that her shop, which opened in January, gets about 20 regulars weekly.
Prices for tea at these places differ, depending on their type and brand.
For instance, 100g of loose leaf Tie Guan Yin costs $30 at Phoenix Hill, while the same amount of premium-grade Tie Guan Yin would cost $6 more.
Teahouses are also seeing younger customers.
At 89-year-old tea merchant Pek Sin Choon in Mosque Street in the heart of Chinatown, half of its customers are now aged between 20 and 40, up from a fifth in 1999, says the shop's assistant general manager, Mr Yuen Eng Wah, 44.
"I'd say this trend is due to the well-documented health benefits of tea, and also general interest in the culture," he adds.
Tea artist and consultant Carrie Chen, 44, attributes this popularity to growing interest in China, which has risen as a global superpower.
"More people, especially those from the Middle East and America, are learning the Chinese language. They're trying to understand its culture, so tea is an entry point," she says.
Ms Mandy Long, 30, co-owns contemporary Kung Fu Tea House, which opened a month ago at Temple Street.
"There's definitely a market for the younger crowd. Eight out of 10 customers are aged 25 to 40. Sometimes, it's full house on weekends," the naturalised Singapore citizen tells Life! over a cup of potent, earthy pu'er tea from her home province of Yunnan.
The decor of the 40-seater joint - oak floor panels, airy interiors with plenty of light let in by the glass facade - was carefully curated to cater to a young crowd, her business partner, former stockbroker David Tan, 53, says.
He stopped consuming soft drinks and switched to tea two years ago, upon a friend's recommendation.
"I'm calmer and more alert, and it lowered my cholesterol and blood sugar. But it was an acquired taste, especially when I was so used to sweetened drinks," says Mr Tan, who also quit smoking and drinking.
Shipyard supervisor Jay Sim, 36, makes a twice-weekly trip from his Jurong home to Kung Fu Tea House for tea. "I'm out in the sun a lot because of my work, so the green tea helps me cool off," he says.
But while tea is a healthy drink, it is not medicine, notes Ms Alice Keak, 57, manager of Yixing Xuan Teahouse at Tanjong Pagar Road. Most of her customers are professionals and managers in the area, who stop by with their clients.
"Some of them buy whole tea sets, with the teapot and cups. I guess it's more comfortable to talk shop over tea," she adds.
Other young tea drinkers such as Ms Tan Shu Jun, 24, wax lyrical about the joys of tea preparation.
"You can admire the tea leaves, and enjoy the aroma and taste while brewing it - it's very calming. The brewing process is very important in Chinese tea," she says.
The creative producing graduate has even parlayed her love of tea into a career - she started work as a marketing executive at Tea Chapter earlier this year. Elaborately furnished to resemble the teahouses of yore complete with bamboo leaves, calligraphy paintings and rosewood chairs, Tea Chapter counts Japanese and Zambian dignitaries, and even Queen Elizabeth II among its patrons.
A mainstay at Neil Road in Tanjong Pagar for 25 years, it has seen the peaks and troughs of tea culture here.
"In the early 2000s, we had a lot of customers. As more tourist spots developed and the cafes and bars moved in, business dipped," says its executive director Fund Lee, 28, who took over the business three years ago.
While he has observed business picking up in recent years, he remains cautiously optimistic.
"It could become part of the hipster culture. Some are tea lovers who will keep coming back, but most are doing it for the novelty."
Ms Chen agrees. "The trend depends on whether it's sustainable to have so many tea places around, and if the people who serve tea are properly trained and certified. The industry needs people with experience."
TEA CHAPTER
What's brewing: Reminiscent of olden-day Chinese teahouses, Tea Chapter has kept most of the furniture it has used since moving in 25 years ago. Each storey is designed with different themes - oriental Chinese, Japanese and Korean.
Try the imperial golden cassia tea, which Queen Elizabeth II sampled during her visit in 1989. Hungry patrons can also order food such as dim sum platters and cookies to go with their tea.
Where: 9 and 11 Neil Road
Opening hours: 11am to 10.30pm from Sunday to Thursday, 11am to 11pm on Friday, Saturday, public holiday and eve of public holiday
Contact: Go to www.teachapter.com or call 6226-1175
KUNG FU TEA HOUSE
What's brewing: This name of this contemporary teahouse, co-owned by Ms Mandy Long, refers to the skill and effort involved in the Chinese tea-making process. It opened last month in Chinatown. Its minimalist decor and warm, soothing lighting make it an ideal spot to while away afternoons over a cup of tea (prices range from $8 to $68).
Customers can pick from the selection of oolong, white, red, green, flower and pu'er leaves and brew their own tea.
Where: 30 Temple Street
Open: 11am to 10pm from Monday to Friday, 11am to 11pm on weekends
Info: Call 6225-5530 or e-mail kungfuteahouse@gmail.com
TIAN FU TEA ROOM
What's brewing: The three Tian Fu Tea Room outlets are attached to Si Chuan Dou Hua Restaurants.
Diners can choose from more than 30 types of Chinese tea to pair with their dim sum or a la carte dishes served from the restaurants.
Tea experts are also on hand to demonstrate tea brewing and explain tea culture and history.
Where: 7500 Beach Road; 181 Kitchener Road; 80 Raffles Place 60-01 UOB Plaza 1
Open: 11.30am to 10.30pm daily
Info: Call 6505-5724 (ParkRoyal on Beach Road), 6428-3170 (ParkRoyal on Kitchener Road), 6535-6006 (Top of UOB Plaza)
TEA CULTURE ACADEMY
What's brewing: Housed in a four- storey building near Dhoby Ghaut, the Tea Culture Academy, opened last year, aims to promote tea culture and research.
It has a tea shop and museum, a library, two classrooms and an auditorium where those interested in the study of tea can attend workshops and courses. Complimentary tea brewing sessions are open to the public between 1 and 2pm daily except Monday .
Where: 100 Selegie Road
Open: 10am to 6pm from Tuesday to Sunday, by appointment only on Monday
Info: Go to www.teacultureacademy.com or call 6338-1902
CHINESE THEATRE CIRCLE
What's brewing: This narrow, musty outfit hidden along the gleaming, revamped Chinatown Food Street is a throwback to teahouses of yore, where itinerant performers would sing for their supper.
On Friday and Saturday evenings, kick back with a cup of tea and a meal, with English-language talks and demonstrations of Chinese opera by local opera thespians such as Joanna Wong and See Too Hoi Siang.
Where: 5 Smith Street
Opening hours: Noon to 5pm from Tuesday to Saturday, 2 to 6pm on Sunday
Contact: Go to www.ctcopera.com or call 6323-4862
PEK SIN CHOON
What's brewing: Founded in 1925, this tea merchant business, which has been passed down for four generations, supplies tea leaves to almost all the bak kut teh (pork rib soup) stalls in Singapore. It sells more than 100 varieties of tea, which are still carefully packed by hand. Tea tasting sessions are available here.
Where: 36 Mosque Street
Opening hours: 8am to 7pm from Monday to Saturday, closed on Sunday and public holiday
Contact: Call 6323-3238 or e-mail engwah@peksinchoon.com
YIXING XUAN TEAHOUSE
What's brewing: A long-time neighbour of Tea Chapter, this anachronistic teahouse sits amid a cluster of hip Korean restaurants and bars in bustling Tanjong Pagar Road.
On top of the usual selection, it serves flower-scented teas such as Dragon Pearl tea, in which a flower tied inside a ball will emerge and bloom when the leaves are steeped in hot water.
Where: 30 Tanjong Pagar Road
Open: 10am to 9pm from Monday to Saturday, 10am to 7pm on Sunday and public holiday
Info: Go to www.yixingxuan-teahouse.com or call 6224-6961
PHOENIX HILL TEA MERCHANT
What's brewing: Step into this nondescript shophouse along a quiet stretch of Joo Chiat and you are likely to find owners Julie Low and Steven Lim chatting with customers over a cup of tea. All tea leaves here are harvested from their plantation in Shantou, China, then roasted using traditional methods (over charcoal), before they are flown here.
Where: 32 Joo Chiat Place
Open: 11am to 8pm daily
Info: Go to www.phoenixhill.com.sg/en or call 63487172

This article was first published on November 14, 2014.
Get a copy of The Straits Times or go to straitstimes.com for more stories.