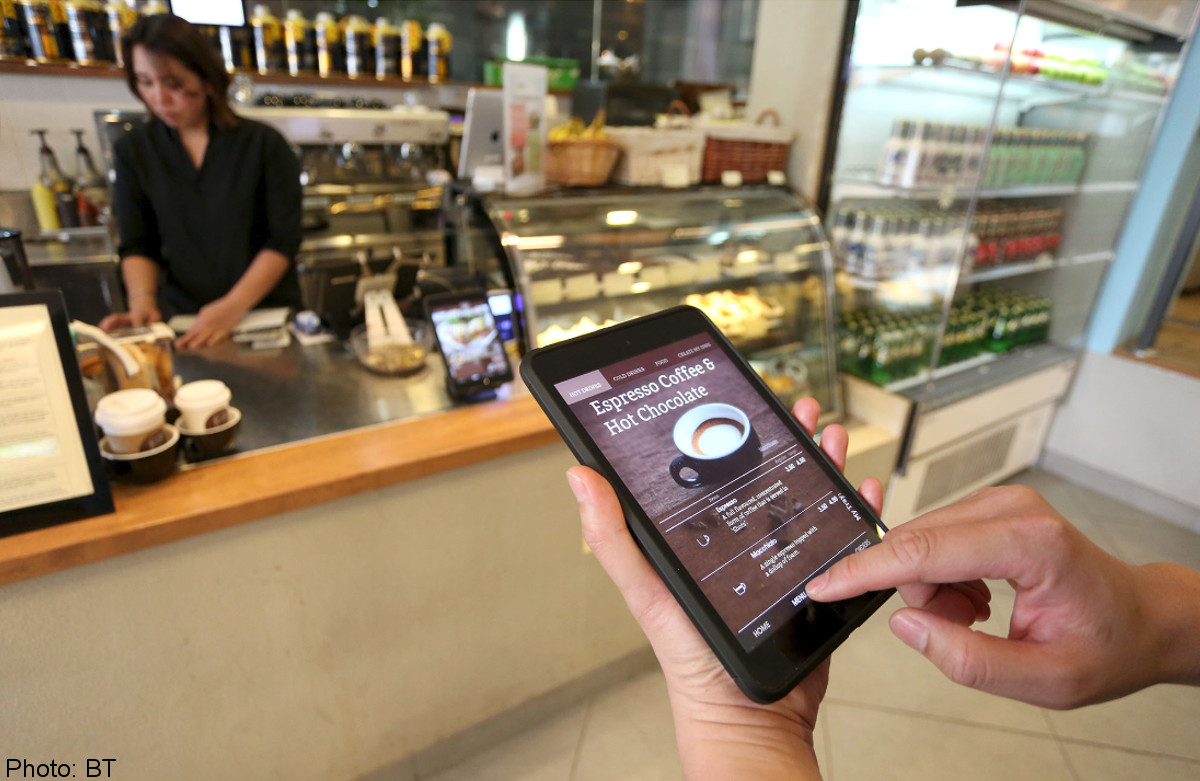 Three local startups are exploring the potential and impact that beacon technology, an indoor-location service, can have on the F&B industry.
Dynamic duo
Asteroid http://getasteroid.com
The days of printing coupons or even searching for the best deals could be history as Asteroid founders Giovanni Casinelli and Gunay Mert Karadogan have set out to consolidate all of that into one application.
By downloading the app, you will have access to almost 100 merchants and their ongoing promotions, plus a number of deals exclusive to Asteroid users. Once you arrive at the F&B location, the restaurant's beacon will transmit the voucher into your "mobile wallet" and you can redeem it on the spot by showing it to staff behind the counter.
Says 23-year-old Mr Casinelli: "If I were to walk into a coffee shop, and I receive a notification for an espresso, I'd be glad. Because I'm probably going to pay for an espresso very soon anyway so, of course I would be happy to get a promotion for it."
Mr Casinelli, who hails from Italy, founded the app earlier this year with his 25-year-old Turkish friend, Mr Karadogan.
lthough they are funded by private investors in Sweden, they decided to come to Singapore to start their venture because of the contacts they had here as well as the vibrant dining industry.
One way to use the app, says Mr Casinelli, is by switching on your bluetooth (which is required to receive vouchers from a restaurant's beacon) and walking down a street, or through the mall you intend to eat at.
The vouchers will then be sent directly to your "wallet", and you can look through them for the best deal that might help you decide where to eat at.
If you keep your eyes peeled, you might even end up with a welcome bonus during your meal. For example, one of the exclusive offers at Wala Wala Cafe Bar is a free beer with every order of a pizza.
You also have the option to switch off notifications, in case you're concerned about being spammed with endless pop-ups. The vouchers will just appear in your "wallet" the next time you launch the app.
In the long run, Mr Casinelli hopes that the app will become a part of his users' lifestyle.
"It would be cool if, in like six months from now, people can just walk around and receive promotions. What we want is for this to become a passive thing and not an active thing. So, instead of you having to check the app, it pops up naturally and you can produce the voucher at the counter."
Hitting the spot
Beacon-In http://www.beacon-in.com
Hungry while in an area you're unfamiliar with? There are two things you can do - hit the closest decent-looking eatery and pray that the food is good, or whip out your phone and spend some time searching for the places in the vicinity with the best reviews.
Beacon-In founder Aditya Haripurkar has come up with a third option that promises to be a lot more efficient. This is because his app utilises a person's location to deliver information to them when it is in the right context - in this case, suggestions on where to eat.
"Essentially, the problem we're trying to solve is that of you not being able to receive information when it's most relevant to you. When you go to a certain area, we want to push out information specific to that area," says the 30-year-old Singapore PR, who also runs a locally based digital advertising agency, The Social Mill.
Mr Haripurkar uses the example of traditional television ads that try to entice a potential customer to get off their sofa and out of the house to visit their establishment as an example of how it is not the most effective way of reaching a consumer.
"This is us trying to counter that . . . Instead of sitting at home and getting all this information which is not even relevant - (because it is) something happening at another part of town - why not get the information on the go and when it matters most," explains Mr Haripurkar.
This information transmitted by Beacon-In can come in any form of media, and cover any category, depending on the merchants who use it. It could notify users of events happening in their vicinity, a traffic jam on the road up ahead, or even outfit-pairing suggestions as they shop at a retail store. Mr Haripurkar reveals that one area he intends to explore is to get opinion-makers such as famous bloggers or local celebrities to provide the content, such as recommended eats or things to do in the area.
The app is currently still being developed, and the Android version will be launched by the end of this month, followed by the iOS version about two weeks later.
However, he promises that spamming his users is one thing he intends to avoid, so they can switch off the notifications whenever they want to.
Speeding up the process
Frunk http://frunk.com.sg
A long queue typically means good food, but these days, a long queue can also be caused by manpower shortage, or worse, maybe inefficient service.
The latter issue is one that 27-year-old Beavan Chua hopes his newly launched app, Frunk (from the words "food" and "drunk"), will be able to solve.
For one, the app carries restaurant e-menus, so diners can browse the photos of each dish and select what they want to eat while queuing.
Says Mr Chua: "Customers don't get angsty because they are distracted and don't feel the time passing by. And it's faster for merchants as well."
In another scenario, once a customer has been seated, they don't need to flag a waiter to take their orders. Instead, they can place the orders directly through the app.
That's where the beacon technology comes in - as a security measure for the merchant, the customer's orders will only be sent to the kitchen once they link their app to the table's individual beacon, which will be physically marked by a Frunk sticker.
"My point for Frunk is to allow the customer to make a decision. If he doesn't want to order then that doesn't matter, but if he wants to order then the merchant must be able to capture that order," says Mr Chua.
He adds: "As we grow the platform, it'll get more powerful. For example we can include reviews, or promotions (as well) as little tweaks that we can provide for merchants to use if they want the service."
At the moment, Frunk's app can be found at a few eateries here including South Korean restaurant BonChon Chicken, Vietnamese noodle shop Pho Stop, and one of Muddy Murphy's bars.
Mr Chua explains that his inspiration for Frunk came from a personal love of local hawker fare, and a concern that it would go extinct eventually if no one solved the existing labour crunch.
Although the app does not cater directly to the hawkers, he hopes that they will feel the ripple effect somehow if his app helps increase the overall efficiency of the sector. Mr Chua reveals that he hopes to take his app into dim sum restaurants or sushi bars further down the road.
He says with a chuckle: "I hate the current paper ordering systems. There are no pictures, and I don't even know what it is - especially if it has a complicated name like "Flaming Fiery Something". I would never order that. At least with Frunk you can scroll the pictures and go, 'Oh, I know what that is and I like it' (before ordering it)."
rachloi@sph.com.sg @RachelLoiBT
This article was first published on Nov 15, 2014. Get The Business Times for more stories.