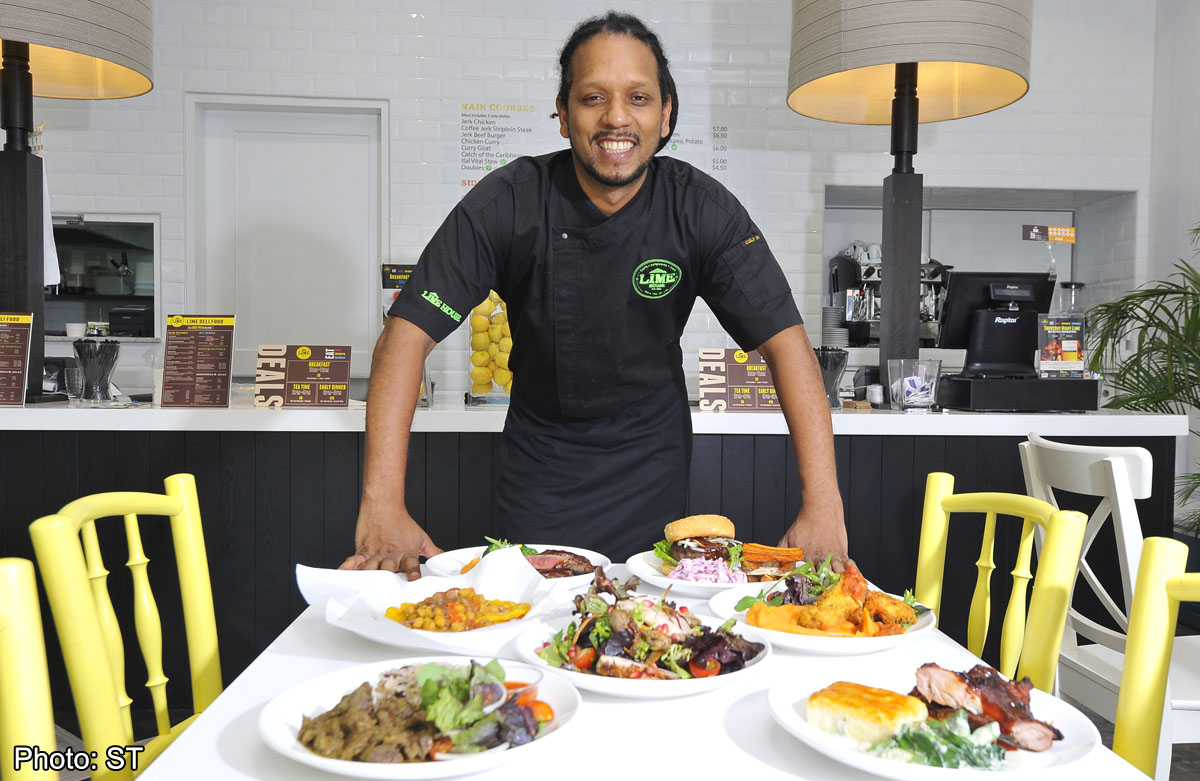 Caribbean chef Hasan Defour does not have to go far to source ingredients for his restaurants here.
In fact, he can find all that he needs in Singapore for the Caribbean dishes served at Lime House in Jiak Chuan Road and its sister outlet Lime Deli in Telok Ayer.
He says: "People always ask us how much we import from back home. But everything can be found here. It's just that in Singapore, the ingredients have different names."
The London-based Defour, who runs Caribbean catering company Defour Catering, returns every few months to check on the restaurants and introduce new dishes.
He says that what is called a Kerala banana back home is called a plantain here. Also, the roselle plant is known as Jamaican sorrel.
Life! joins the 37-year-old chef, who was born in Trinidad and Tobago, on a trip to Tekka Market in Little India, one of his favourite places to look for ingredients.
As he walks through the market, he picks up various vegetables and fruits, and asks the shop owners about those unfamiliar to him.
Proving his point about the ingredient name game, he picks up a starfruit and says: "This fruit, we call it five finger back home. You see, it's just names, really."
Upon seeing tapioca, he makes a note to use it for side dishes.
Next, he picks up lemongrass and says that it is not used for cooking back home. Instead, it is used to make tea and drunk as medicine.
He chances upon dried ikan kurau (Malay for threadfin) and buys a packet, as he is hoping to use it as an alternative to salt cod.
But while he has had to substitute certain ingredients here and admits that sweet potatoes in the Caribbean islands have "more intense" flavours, he insists that the Caribbean taste here is not compromised.
He says: "The food doesn't taste different because the process of cooking is Caribbean. Our food is heavily marinated. Jerk chicken is marinated overnight. It is no less flavoursome."
Thyme and coriander, he says, are key ingredients for jerk seasoning, which he also calls "green seasoning" and says that each island has its own version.
He also has a roasted blend of fenugreek, mustard seed, caraway, cumin, chilli and turmeric, which he recommends for rubbing on meats.
Waxing lyrical about the diverse cultures of the Caribbean islands, with their French, Spanish, Indian and Portuguese influences, the chef, who is also a cooking show host, makes sure he showcases that diversity at Lime Deli.
Offerings include curry goat, considered a Trinidadian and Jamaican dish; and Doubles, a common street food from his hometown. It is a fried bread sandwich filled with spicy chickpeas and mango chutney and reflects Indian influences on the islands.
Spicy food is certainly not an issue for him, as he dismisses the local chilli padi as a walk in the park for him.
Naming spicy peppers, he says confidently: "A scotch bonnet will blow off the top of your head. What's hotter? A scorpion pepper. I can eat that too. No problem."
The chef, whose dreadlocks are tied into a bun, attracts attention in the market.
Curious stall owners whispers to Life!: "Is his hair real?" and "How does he wash it?"
A small group of Indian stall owners forms a mini audience as Life! speaks to him in the market. At the end, he releases his bun of hair to a chorus of oohs and aahs.
"I'm used to it," he says with much amusement. "And there is no secret to how I wash my hair. Soap and water, like everyone else."
euniceq@sph.com.sg

This article was first published on Jan 12, 2015.
Get a copy of The Straits Times or go to straitstimes.com for more stories.