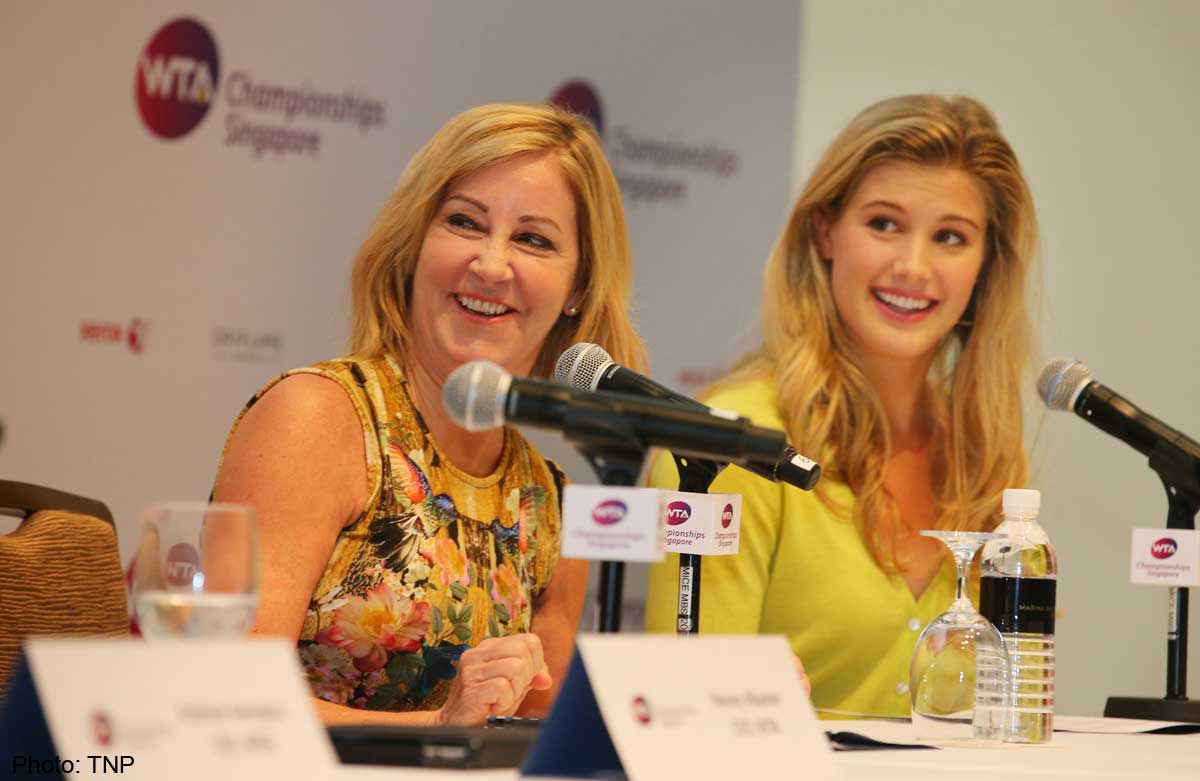 When Chris Evert arrived on stage at the Marina Bay Sands ArtScience Museum on Monday morning, she had just one question for the 100-odd students.
"Do you even know who I am?" asked the 59-year-old former world No. 1 (above, left), raising much laughter from the crowd and current world No. 19, Eugenie Bouchard (above, right), sitting beside her.
Both Evert and Bouchard arrived here on a whistle-stop trip as part of the "Road to Singapore" event, promoting the season- ending Women's Tennis Association (WTA) Championships, which will be held at the Sports Hub from Oct 17 to 26 this year.
Evert, who has collected 18 Grand Slam singles crowns, 154 individual titles and is a fourtime winner of the Championships, took every chance to poke fun at the age disparity with the starry-eyed crowd, mostly aged between 13 and 18.
She broke ice with her easy and friendly manner, while drawing 19-year-old Bouchard into the 50-minute session to talk about her rise in the sport.
But it was not all fun and games, as the duo took the time to hand out advice to the youngsters, many of whom were aspiring tennis players.
Said Evert: "I was not the biggest, tallest, strongest or the fastest player. I never was. I just wanted it badly enough.
"I was hungry and put in a lot of hard work and any girl can achieve what she wants to achieve if she does that."
The questions from the students ranged from their training habits and advice on how to make the leap from junior to the professional level.
The session ended on the same note as it started - cheeky.
Anglo-Chinese Junior College student Jerry Yee, 17, asked Bouchard how she managed to "stay looking so good" on court, again raising a friendly ruckus in the room as the lanky player did a double-take.
Genes
"Genes," Evert deadpanned.
A split second later, Canada's Bouchard replied: "I don't think about it; the most important thing for me on court is the tennis and I wouldn't care if I make any funny faces.
"But it's pretty cool that I can express myself on court with different outfits, whereas in team sports you have to wear the same outfit as everyone else."
Speaking to The New Paper later, Jerry said: "It was pretty insightful to hear from the pros what their routines are like and how much they differ from ours.
"It's all about hard work and being determined at their level," added the school player. And yeah, (Eugenie) is beautiful."
sayheng@sph.com.sg

Get The New Paper for more stories.