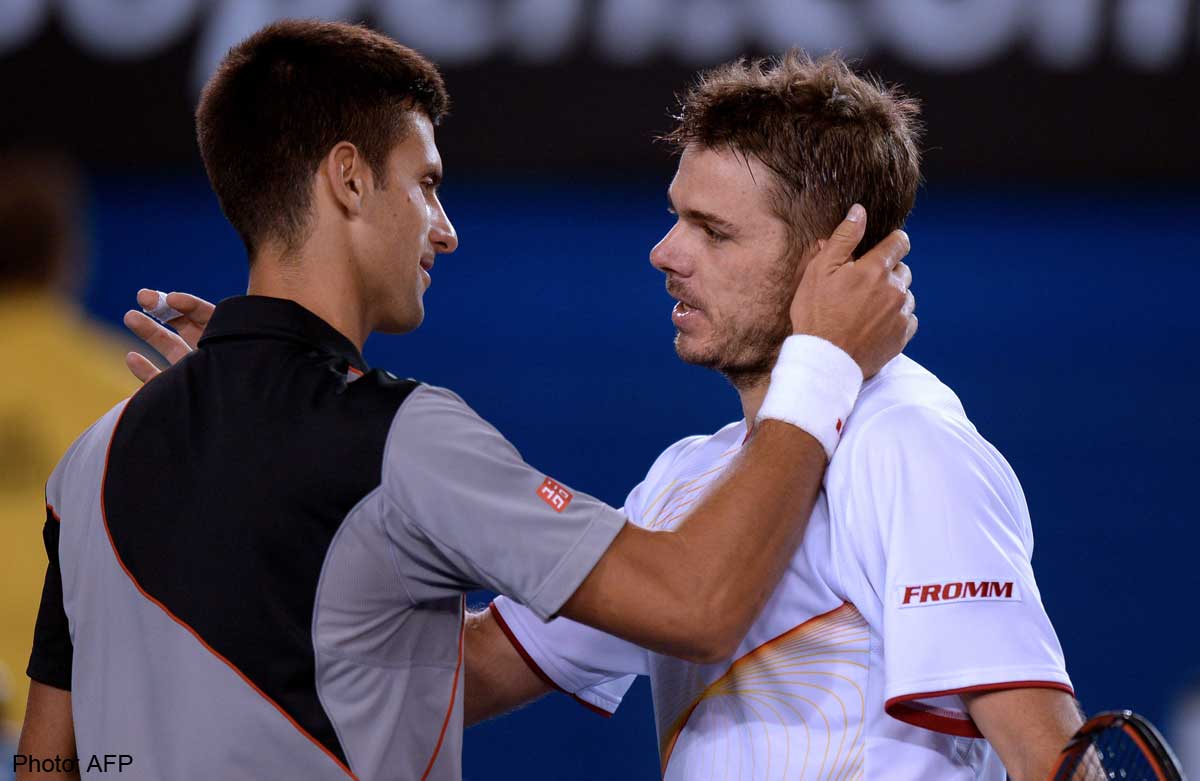 MELBOURNE - Novak Djokovic said he's prepared to give his new partnership with Boris Becker more time despite seeing his 25-match Australian Open winning streak come to a halt in their first tournament together.
The three-time defending champion's unbeaten run in Melbourne was brought to a dramatic end by Swiss seed Stanislas Wawrinka in a five-set epic quarter-final late Tuesday.
It was the six-time Grand Slam champion's earliest exit at a Slam since his quarter-final loss to Jurgen Melzer at the 2010 French Open, and his first defeat to Wawrinka in 15 matches.
But Djokovic refused to blame Becker for his disappointing showing in what was their first official outing since his surprise decision to hire the German great.
"Well, look it's been the first official tournament for us. I'm satisfied with things that we've been talking about and working on," Djokovic said after his defeat.
"Of course, it's unfortunate that we finished the tournament in the quarter-finals. But it's beginning of the season and we'll see what's coming next."
Djokovic hired Becker last month after his regular coach, Marian Vajda, asked for more time with his family, and in hope of sharpening his mental edge. The two will now split coaching duties.
"He's a six-time Grand Slam champion, he won so many trophies in his life, he was a former number one," Djokovic said at the time.
"Speaking to Marian in the last few months of the year, we both came to the conclusion that I'm going to need another legendary player that can eventually help me understand better what I need to do in particular situations, especially in the Grand Slam final stages. To give me that mental edge.
"He can identify with me because he was in those situations so he knows what I go through, so that's what one of the biggest reasons he's on board."
Ironically, Djokovic conjured memories of three-time Wimbledon champion Becker when he gambled to serve-volley on match point, only to steer a regulation forehand wide and hand Wawrinka victory.
"(Wawrinka) had been blocking my serve," he explained. "He'd been chipping the return for the whole match basically.
"And it was actually a good decision. I had a good serve and volley and good volley, but didn't put it away."
Djokovic took his defeat graciously and said: "I've won many trophies in Australia. I love Rod Laver Arena. These are the kind of matches that you work for, you live for, you practise for.
"I have to be very proud of my accomplishments in my whole career, and especially in this tournament. This is definitely by far my most successful Grand Slam.
"You know, unfortunately somebody has to lose in the end. This year was me. I lost to a better player. He showed his mental strength and he deserved to win."