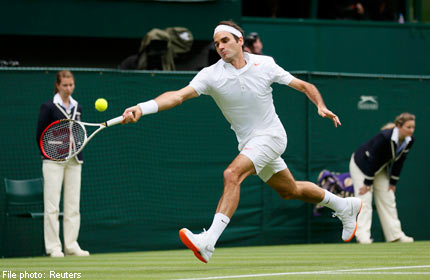 NEW YORK - Roger Federer was clinging to the wreckage of his battered legacy on Tuesday after crashing to another humiliating Grand Slam defeat.
The 32-year-old Swiss, the holder of a record 17 major titles, suffered his earliest US Open exit for a decade when Tommy Robredo, who had lost all 10 previous meetings with him, clinched a 7-6 (7/3), 6-3, 6-4 fourth-round win. 
But Federer is not for quitting despite a year in which he failed to reach a final of any of the Grand Slams for the first time since 2002.
"I've definitely got to go back to work and come back stronger, get rid of this loss now as quick as I can, forget about it, because that's not how I want to play from here on," Federer said. "I want to play better. I know I can."
Worryingly for Federer are the cold, cruel statistics of his defeat to the 31-year-old Robredo.
He won only two of 16 break-point chances and while he hit 45 winners, he also made 43 unforced errors.
"The story of my life - when I lose, people are shellshocked to see me play this way. If I win, it's the best thing," Federer said.
"I can see that. But there's no doubt about it, I'm trying hard out there trying to make it work. Sometimes it just doesn't happen."
It hasn't been happening at all in New York since he captured the last of his five titles in 2008.
The following year, he was defeated in the final by Juan Martin Del Potro in five sets despite being two sets to one to the good.
In 2010, Federer lost a five-set semi-final to Novak Djokovic with the Serb winning again 12 months later at the same stage, again in five sets having been two sets to love ahead.
Last year, he never made it that far, blasted off court by Tomas Berdych in the quarter-finals.
Federer will be 33 by the time the 2014 US Open swings around.
His great hero Pete Sampras quit at 31, going out with a bang on home ground with the 2002 US Open title.
In 2013, Federer reached the Australian Open semi-finals, the quater-finals at the French Open before slumping to a second round exit at Wimbledon at the hands of Sergiy Stakhovsky, the world number 116.
That was earliest exit from a major since a second-round loss at the 2003 French Open and his worst defeat at the All England Club in 11 years.
That loss also ended his astonishing run of 36 consecutive Grand Slam quarter-final appearances, a streak stretching back nine years.
In desperation, he signed up for two post-Wimbledon tournaments on European clay, losing to Argentina's world number 114 Federico Delbonis in Hamburg and then being beaten in Gstaad by Daniel Brands, the 55th-ranked player from Germany.
He even experimented with a bigger racquet, a decision that even Sampras questioned.
Federer is also facing diminishing returns when he faces his three major rivals - Djokovic, Rafael Nadal and Andy Murray.
Although he leads Djokovic 16-13 in career meetings, the Serb has won seven of their last 10 matches.
Nadal has a huge 21-10 advantage and Murray, 11-9.
Federer also came into the US Open at seven in the world, his lowest ranking for 11 years.
Winning what would be a record eighth Wimbledon remains his prime purpose in continuing to play.
If he were to achieve that in 2014, he would become the oldest man in the Open era to clinch the title, beating Arthur Ashe, who was six days away from his 32nd birthday when he triumphed in 1975.
But Sampras won the last of his seven Wimbledon titles as a 28-year-old in 2000 before the great American's last All England Club visit in 2002 ended in the second round at the hands of Switzerland's George Bastl, the world number 145.
Federer has faced down the critics before.
In the French Open final in 2008, Nadal allowed him just four games in his worst Grand Slam title match humbling.
But he recovered from what could have been a shattering loss to win the 2008 US Open, 2009 French Open, 2009 Wimbledon, the Australian Open in 2010 and Wimbledon again last year.
Even the diplomatic Nadal senses the end is near for Federer, five years his senior, as he contemplated the two may never meet in New York.
"We are getting older, so the chances are less today than five years ago," said the Spaniard.