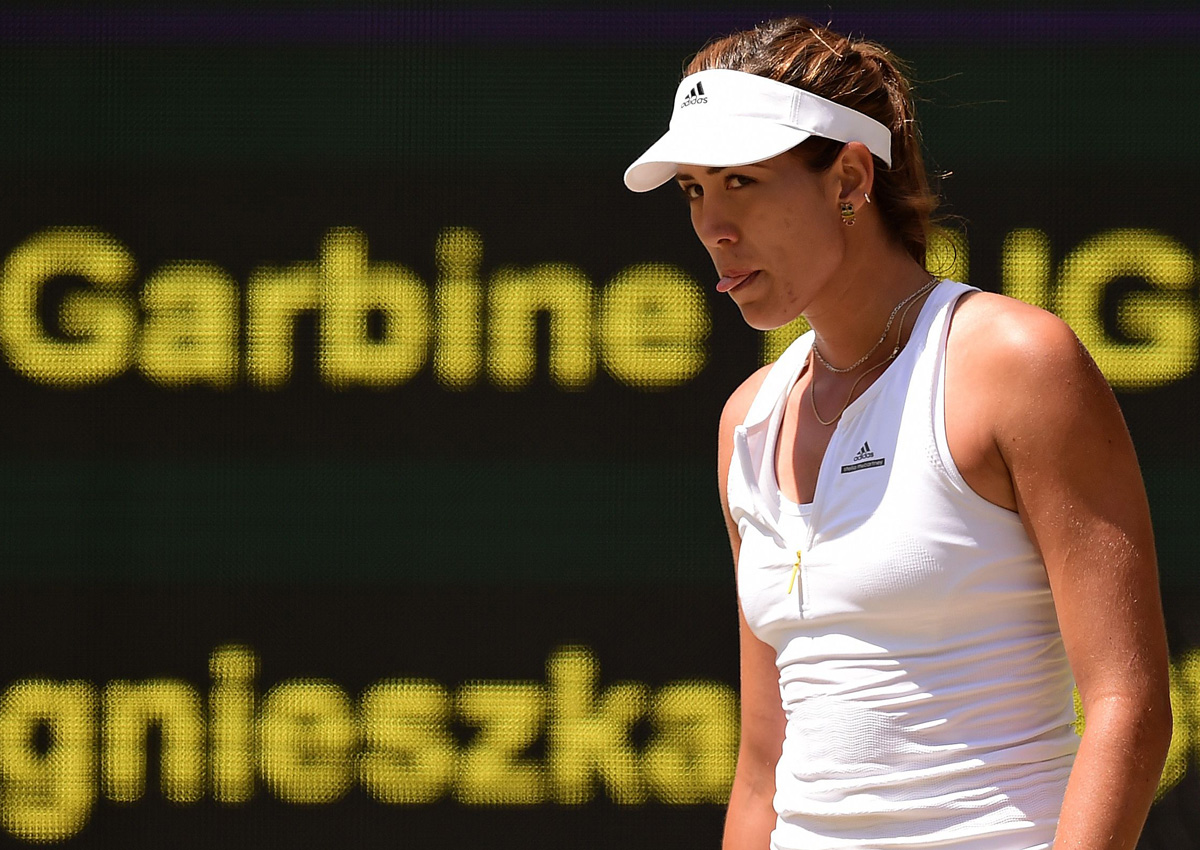 LONDON - Shock Wimbledon finalist Garbine Muguruza has banned her parents from watching her title showdown against Serena Williams as she doesn't want them to jinx her.
The 21-year-old Spaniard has had a set routine on her way to a first Grand Slam final which has included getting up and cleaning her teeth at a certain time while her mother and father stayed in Spain so as not to upset the rhythm.
Now the world number 20 has decided against inviting Jose Antonio and Venezuelan mother Scarlet over to the All England Club.
"My parents, they're going to be in Barcelona watching me on the TV. I don't want to change anything, but I'm not superstitious," she said Friday.
Muguruza also revealed that as a child she had dreamed of facing Williams in the Wimbledon final.
"It's weird. When I was eight, I was dreaming. Now it's happening. It's amazing. It's what I've worked for. Now I'm feeling that all my effort, all the work that I did before, it's like paying off," said Muguruza who couldn't recall who won the match she dreamt about.
But having defeated the world number one in real life - at the French Open last year - she said she will not be intimidated by a player who has lost just once in 39 matches in 2015.
"It's really important because it makes you see and realise that she's also a person. She knows that I can win against her, that I'm not afraid. I don't think she's really used to this. Serena doesn't lose so many matches in the year. I think it's important."
Key role
Muguruza was just nine months old in 1994 when Conchita Martinez became the last Spanish woman to win Wimbledon But 21 years later, Martinez finds herself in the position of playing a key role in convincing her compatriot that she can pull off the seemingly impossible on Saturday and derail Williams's bid to win a sixth Wimbledon crown.
"Well, we were laughing when the tournament started because I was like, Conchita, I'm not sure about grass," said Muguruza, recalling her conversation with Martinez, who defeated Martina Navratilova in the 1994 final.
It was her only triumph at the majors and Navratilova's last appearance in a Grand Slam final.
"She's like, C'mon, you can play good. She's just telling me every day, every match, Keep going, you're doing great. Giving me power," she added.
Muguruza was right to be cautious about her prospects at the All England Club.
Before the tournament began, the world number 20 had won just one match on grass this summer at Eastbourne after losing in the first round in Birmingham.
But the Venezuela-born Muguruza has been rejuvenated at Wimbledon, knocking out top 10 players Angelique Kerber and Caroline Wozniacki to make her first final at the majors.
She will also rise into the world top 10 next week, only the fourth Spanish woman to do so. If she beats world number one Williams, she will become the new world number six.
But the American is the overwhelming favourite on Saturday.
She will be playing in her eighth Wimbledon final, seeking a sixth title.
It's Williams' 25th Grand Slam final where victory will give her a 21st major title, just one behind the Open Era record of Steffi Graf.
She can also complete her second career "Serena Slam" by holding all four Grand Slam titles at the same time.