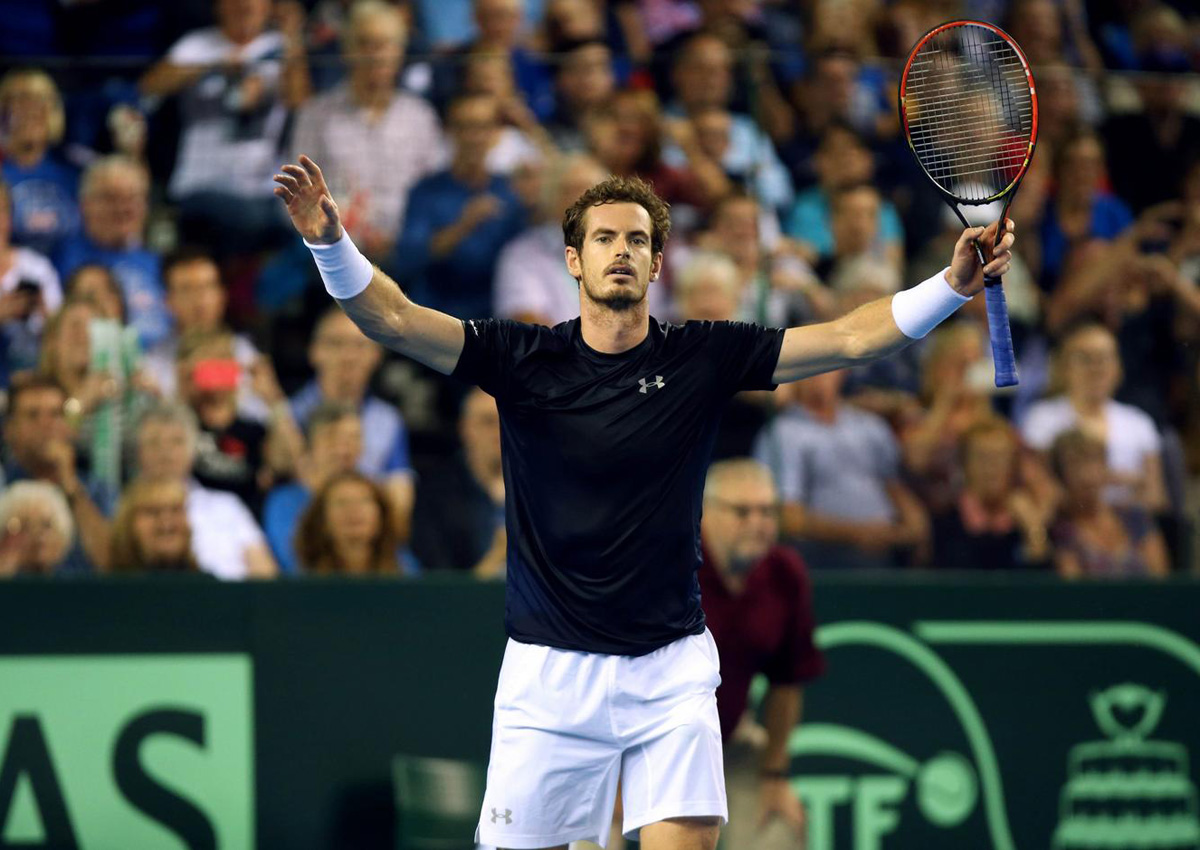 Ghent, Belgium - Belgium host Britain in the Davis Cup final in Ghent this weekend in a matchup no-one expected and an atmosphere no-one wants.
The picturesque Flanders city is just 55 kilometres (35 miles) from Brussels, still reeling from the fallout of the terrorist attacks on Paris that killed 130 people and injured hundreds more.
The Belgian government has declared the highest level of terror alert in the capital city as the hunt for those responsible for the Paris atrocities continues.
Both teams, though, are in Ghent and saying that, despite all the fears and anxiety, the focus is fully on tennis and history-making.
Britain are seeking their 10th Davis Cup win in all, but first since 1936 when Fred Perry ruled the roost. Belgium's only previous appearance in the final came 111 years ago when they lost to what was then the British Isles.
The central figure in the Friday to Sunday clash at the 13,000-capacity Flanders Expo is undoubtedly British number one Andy Murray.
Ranked second in the world, he has been the inspiration behind his country reaching the Davis Cup final for the first time since 1978, winning all eight rubbers he has played - six singles and two doubles - against heavyweights United States, France and Australia.
Should he win both his singles - as he is heavily favoured to do - he would be just the third player - after John McEnroe and Mats Wilander - to win all eight Davis Cup singles matches in the same year.
Murray, who will finish the year ranked second in the world behind Novak Djokovic, is on a crash course to get himself adapted to playing on indoor clay after a week spent on a hardcourt in London for the World Tour Finals.
But the 28-year-old Scot, who is likely to team up again with brother Jamie in what could be a key doubles rubber on Saturday, said he was confident he would be up to scratch by Friday.
"To win the biggest team competition in tennis, having beaten the other three Grand Slam nations, I think it would be a huge victory for everyone in the team," he said.
"It would be well-deserved, as well. It's taken a lot of time and hard work from many of the players, many of the staff, coaches, physios, everyone. It's taken like five years.
"I know when you win like a slam or a big competition, it's years, obviously, in the works. But this is a bit different.
"The last five years it's been a progression from a pretty low place in world tennis to playing for the biggest team competition. It would be big for everyone involved, for sure." Belgium's astonishing run into the final had much to do with good fortune and three home ties.
In the first round they came up against defending champions Switzerland, but neither Roger Federer, nor Stanislas Wawrinka elected to play.
In the next round, Canada's top two players were both missing through injury and they then edged a mediocre Argentina side 3-2 in the semis.
Home hopes rest with their top player David Goffin and number two Steve Darcis both taking points off the second British player, possibly 20-year-old debutant Kyle Edmund, and also winning the doubles.
Ranked 16th in the world, Goffin recently felt the full force of the Murray firepower, winning just one game as he lost in straight sets in under an hour at the Paris Masters.
It was, he said, a chastening experience, but one which he said he has fully put out of his mind.
"I think the day I played Andy in (Paris) Bercy, it was just a day off for me. I didn't play really well. But Andy was really aggressive. He played an unbelievable match there," he said.
"The conditions here, it's a completely different match, another surface. I just have to forget this match and to think about the matches of this weekend."