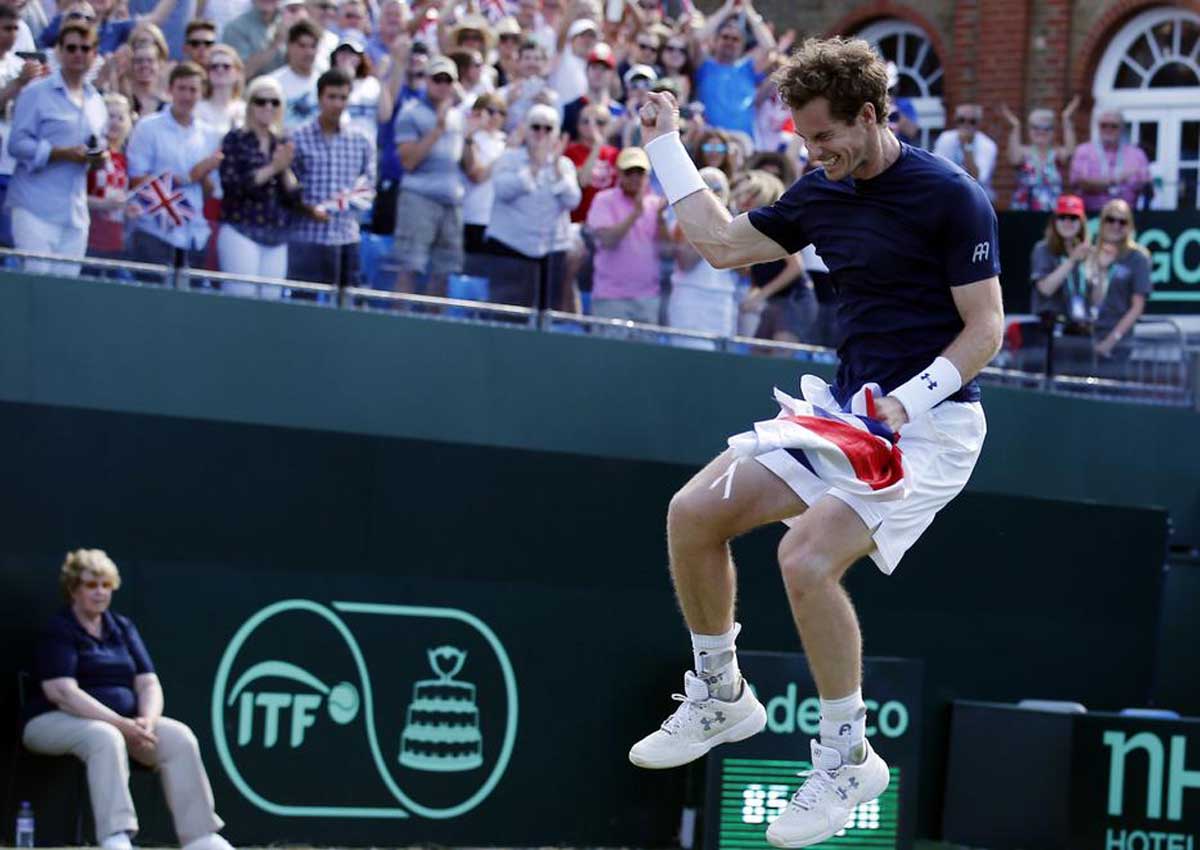 LONDON - Andy Murray insists he is willing to put his body on the line again to keep Great Britain on course for Davis Cup glory when they face Australia in the semi-finals.
Murray played through the pain barrier to grind out a 4-6, 7-6 (7/5), 6-3, 6-0 victory over France's Gilles Simon on Sunday that secured Britain's first last four appearance since 1981.
The world number three was mentally and physically fatigued after a gruelling period that saw him reach the Wimbledon semi-finals before suffering a crushing defeat against Roger Federer.
Ordinarily, Murray would have taken several weeks off to recover, but his commitment to the British cause convinced him to push himself to the limits against France as he won two singles matches and the doubles with his brother Jamie over three days at Queen's Club.
It is the first time two brothers have single-handedly won a World Group tie since 1998, yet Murray will have to repeat his herculean efforts if Britain, who last won the Davis Cup in 1936, are to reach the final for the first time since 1978.
The home showdown with Australia will take place from September 18-20, just a week after the conclusion of the US Open, and Murray is already adamant he will play even if he makes the latter stages in New York.
"We are in the semi-finals now and every match is going to be extremely important. I think I will find a way (to play)," he said.
"I'll do it because I believe we can win. Also because I love the team and the people around it.
"I've always enjoyed playing Davis Cup but right now we are in the World Group playing in big matches against fantastic players. It's hard not to get up for that.
"Obviously it does come at a price. I would have taken 10 days off after Wimbledon, but the memories of the unbelievable atmosphere you have in the Davis Cup, you don't get that in other matches."
Tenacious win
Murray's respect for the group built by British captain Leon Smith over the last five years inspired him to one of the most tenacious wins of his glittering career.
After finally seeing off world number 11 Simon, Murray collapsed into his chair and wiped away tears of joy.
"You can't control your emotions, so it was good to let it out. It's been a tough 10 days," Murray said.
"It's just a build-up of everything you feel over the last few days. Today was a very difficult match, so I'd imagine it was something to do with that.
"I'm tired. I've played a lot of tennis lately and this weekend was tough. I'm fatigued but I managed to win." Although Australia boast a strong squad including former world number one Lleyton Hewitt and rising stars Nick Kyrgios and Thanasi Kokkinakis, Murray is confident Britain have a good chance of making the final.
"It's a very good achievement for everyone. When you look at history and see how long its been since we've been there, that gives you an idea how difficult it is," he said.
"We had Tim (Henman) and Greg (Rusedski) for many years and never won a World Group match.
"To win two is fantastic and we obviously go into the match in September with an opportunity as well." Smith was quick to salute the 28-year-old's remarkable effort, saying: "It's actually incredible how he finds a way to dig so deep. It's phenomenal. He just fights and fights and fights.
"This is why he does all the hard work and gets in those dark places when he's training. I have nothing but immense respect for him."