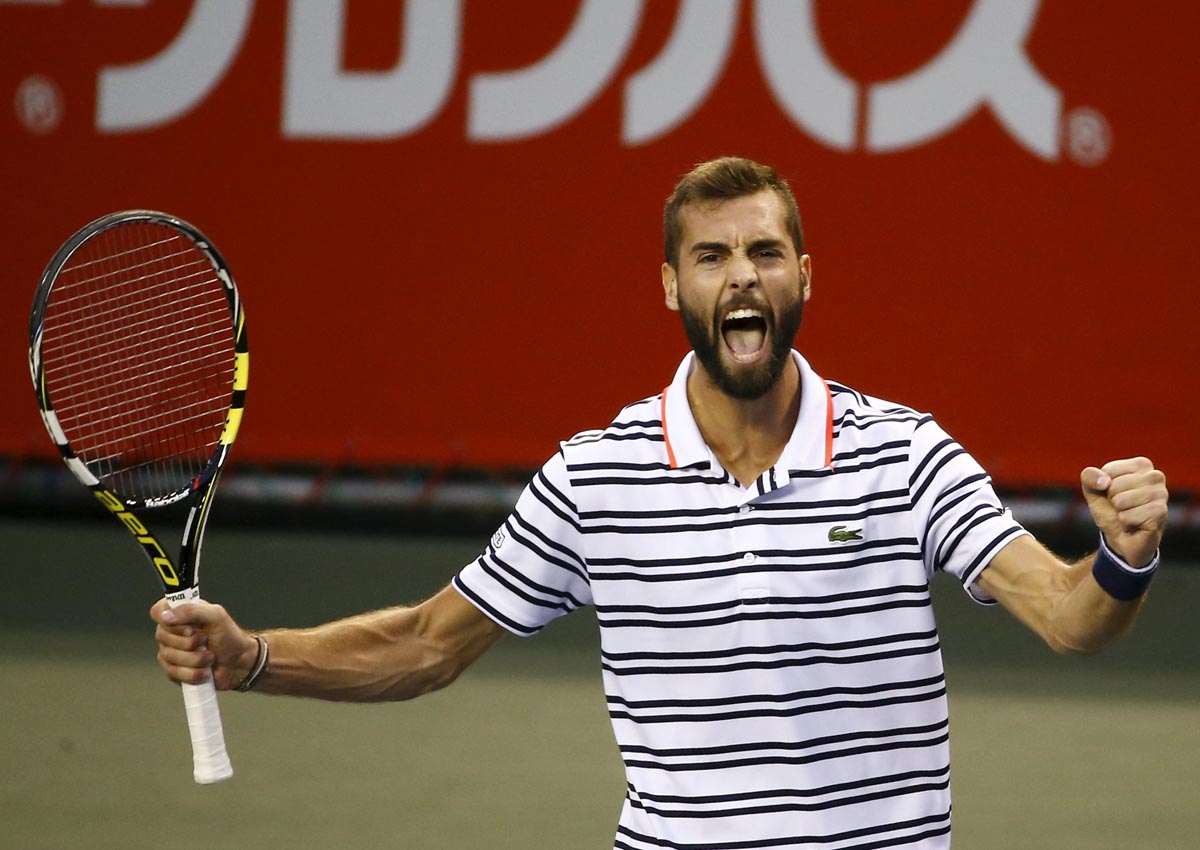 TOKYO - Lightning struck again for a dazed Kei Nishikori on Saturday as the defending champion was ambushed by "shoeless" Frenchman Benoit Paire in the Japan Open semi-finals.
Paire, playing in a pair of badly torn sneakers following a forlorn dash to buy some new ones, won a nail-biter 1-6, 6-4, 6-2 to prove his first-round upset over Nishikori at the US Open six weeks ago was no fluke.
Top seed Stan Wawrinka awaits his close friend in Sunday's Tokyo final after the French Open champion produced a clinical 6-4, 7-6 win over Luxembourg's Gilles Muller.
Nishikori's bid for a third Japan Open crown in four years came to a shuddering halt as Paire roared back from dropping a whirlwind first set in just 20 minutes.
His tattered yellow shoes held together with medical tape and with only one spare racquet in his kit bag, Paire levelled the match by ripping a backhand down the line, celebrating with a gunslinger's pose as a sellout crowd of 12,000 fell silent.
The bearded Frenchman broke early in the decider and the world number 32 fought off a late Nishikori salvo to deliver the coup de grace after an hour and 48 minutes with a massive forehand into the corner.
"I like these shoes," smiled Paire, who spent the morning searching in vain for replacements, then borrowed some Cyprus's Marcos Baghdatis had left in the locker room before opting to stick with his old, dishevelled pair.
"I've won a lot of matches with them and I'll play with them tomorrow," added Paire, aiming to win his second title of the season after missing much of 2014 with a knee injury. "I'll tape them together again and I hope they're lucky for me against Stan the man. If not, I'll throw them in the trash." Nishikori was at a loss to explain his collapse.
"One minute he was missing, the next he wasn't," shrugged the Japanese superstar, who squandered two match points against Paire in New York and displayed clear signs of anxiety as Saturday's match went on.
"When he lifted his game, I didn't seem to be able to cope. He's a very difficult opponent." In contrast, Wawrinka never looked troubled in his semi-final, taking the opening set with the minimum of fuss, a vicious body serve giving the Swiss the advantage.
Twice Muller double-faulted to gift Wawrinka a break in the second, only for the world number four to immediately surrender his own serve.
But Wawrinka, chasing a fourth title of the year and the 11th of his career, knuckled down in the tiebreaker and closed out proceedings with a crunching forehand return which Muller could only volley wide.
"Benoit is a great player and a fun player to watch," said Wawrinka, looking ahead to the final. "He is crazy in his game and can play shots nobody else can play."