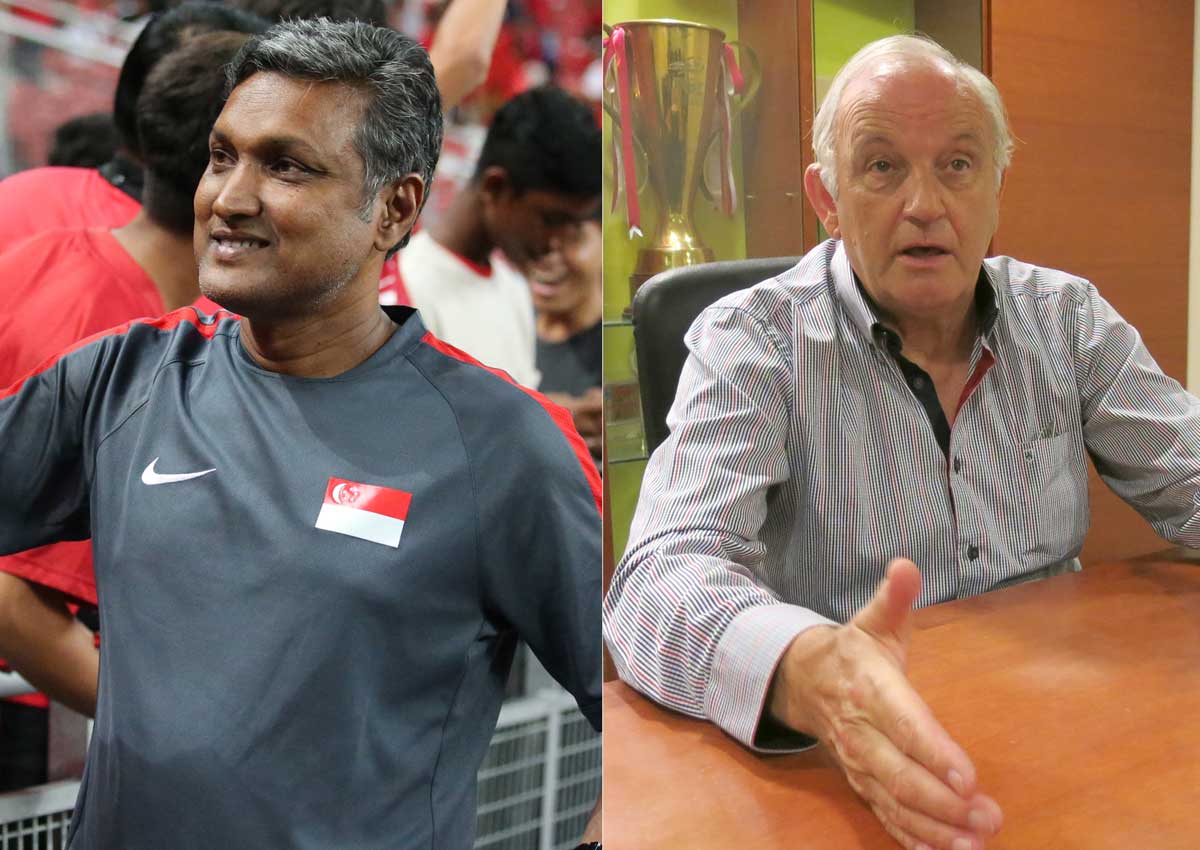 The Football Association of Singapore (FAS) announced on Monday that it will offer two-year contract extensions to two key technical staff in its stable - national coach V Sundramoorthy and technical director Michel Sablon.
The move comes just as the FAS prepares to call for the first democratic election of its leadership, where a team led by FAS provisional council president Lim Kia Tong are likely to be challenged by Hougang United chairman Bill Ng's team.
Former Singapore international and ex-Tampines Rovers coach Steven Tan feels that the timing is right to offer the duo contract extensions.
"If they (FAS) don't do this now, then when? Sablon's contract ends in March and we still don't know when the election will be," the former national striker told The New Paper.
"They had to make a decision. They (Sundram and Sablon) are professionals, we can't expect them to continue working even after their contracts run out."
Tan added that whether or not the FAS election is around the corner, both men deserve more time to accomplish what they had set out to do.
"It's a good thing that they've given Sundram a two-year extension," said the 46-year-old Tan of his former international teammate, whose contract was supposed to end in May.
"Giving a national coach just one year is nowhere near enough time for him to put things in place and to get the team playing how he wants them to.
"Now that he has two more years to get things done, it's fair, and then we can judge how well he does after that - not after one year."
Likewise, Tan said that Belgian Sablon has put in the groundwork for football development in Singapore and needs more time to see it out.
"For a technical director, the first two years are just for laying the groundwork for what needs to be done for the plan.
"The next two years are to make sure that the plans start to bear fruit.
"The School Premier League is into its first year and it's a good thing but there are still several issues to be tackled, like how clubs' youth teams still struggle to get pitches to train on.
BURDEN ON NEW FAS TEAM
"We should let both of them (Sundram and Sablon) get on with their jobs."
However, there are those who dispute the move, pointing to the fact that Lim's provisional council has now placed a burden on the new FAS team who will take office after an election that will take place by the end of May.
An observer of local football, who spoke on the condition of anonymity, said: "A provisional council, as the name suggests, is transitional and should merely seek to maintain status quo and not bind any staff to long-term contracts. So, it would seem quite inappropriate to do so.
"This ties the incoming team to the contracts and, if these two men are not in the new team's plans for Singapore football, they might have to be terminated and then there is the issue of compensation for breach.
"It could be the case where if the new FAS is sued, they might have to join the provisional council as parties to any lawsuit. Hence, it is overall a needlessly ugly situation that can prevail."
shamiro@sph.com.sg

This article was first published on March 15, 2017.
Get The New Paper for more stories.