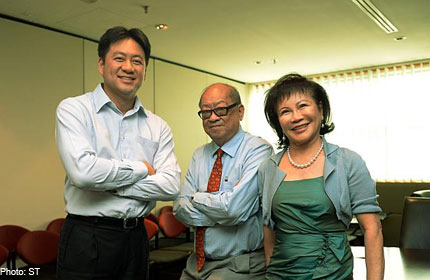 Home-grown publisher World Scientific is on a roll.
The 32-year-old family business, which churns out 500 scholarly books and journals a year, now aims to publish 1,000 books a year by 2018.
To do that, says its founder Phua Kok Khoo, who is 71 and known better as KK, he would personally have to secure three new book projects a day from now on.
Many of those books will be written by Nobel laureates, with whom World Scientific has had long and fruitful working relationships. They include six who won the Nobel Prize this year, among them physicist Peter Higgs, economist Lars Peter Hansen and chemist Michael Levitt.
World Scientific, which enjoyed revenue of $50 million last year, has also just launched a new journal - Technology - edited by Professors Martin Yarmush and Mehmet Toner of Harvard Medical School, in a bid to rival long-vaunted journals Science and Nature.
The private company is now working with the National Book Development Council of Singapore to launch a non-fiction book prize next year.
That will dovetail with the company's forthcoming launches of books by Singaporean luminaries, among them former foreign affairs minister George Yeo, former civil service chief Lim Siong Guan and former Singapore Airlines chairman Lim Chin Beng.
All this is because Dr Phua and his Hong Kong-born wife and distant cousin, Ms Doreen Liu, want to be the No. 1 publishing house in Singapore. It is already Asia's leading publisher of English-language specialist titles, in a market half-dominated by the United States, and another third by Europe.
Dr Phua is a theoretical physicist and founding director of Nanyang Technological University's Institute of Advanced Studies (IAS), which hosts scores of Nobel laureates and other scientific and technological thought leaders yearly.
Many among them were his friends long before IAS was set up in 2005.
These friends, among them Pakistani physicist Abdus Salam, a 1979 Nobel laureate, and China-born physicist Yang Chen-Ning, a 1957 Nobel laureate, urged him to champion the works of Asian scientists like themselves.
Dr Phua decided to do so because the West dominated specialist publishing in those days, which left Asian thinkers in the lurch. "All the scientific books and journals were then controlled by the West, meaning Asian university researchers would suffer because international publishing houses looked after Westerners first."
Also, the costs of publishing in Asia were then, as now, cheap enough for him to go into business and price his books at US$30 to the West's US$50, which he says his authors did not mind as they prized influence over profit.
Today, he says, the tide has turned and many Western scientists want to grow an audience for their ideas in rising Asia; in that sense, he was well ahead of the curve.
He admits that he is on this frenetic publishing drive to "make more money so we can grow the company". World Scientific is a all-in-the-family endeavour, and they want to keep it that way.
"Why should we maximise profits?" Mrs Phua demands. "How much happier would you be if you could buy, say, a Rolls-Royce?"
Over the years, the Phuas have grown their business from Dr Phua's platinum Rolodex of the global scientific community, where he even persuaded many big names to edit many series of academic books.
He says he has solved likely conflicts of interest between his business and his duties as adjunct don at NTU and the National University of Singapore by not drawing a salary for his university work since 1989.
On top of that, says their only son Max, 39, World Scientific's team of 200 staff in Singapore - and about 240 staff in its other offices in five countries - pride themselves on serving their authors from A to Z to take the hassle out of finalising books, whether it is preparing manuscripts for publication or promoting their works online.
The younger Mr Phua, an alumnus of the London School of Economics who is the company's executive director, also makes at least two trips a year to the key markets of Britain, China, India and the US just to listen to what present and future authors need and want. His only sibling, elder sister Phua Nee, is a director and helps out in the business.
In 1981, Dr and Mrs Phua mortgaged their house to start World Scientific on $200,000, with five people in one rented room in Amoy Street. "We nearly lost the house," recalls Mrs Phua. "But by 1984, we had broken even and our cashflow had improved so much that I was able to buy a brand new black BMW car for myself."
That year, the company also bought its first office lot, at Gordon Warehouse in Old Airport Road. Its present headquarters is in Toh Tuck Link.
How was such an early spurt in growth possible?
Mrs Phua puts that down to the lucrative nature of academic, or specialist, publishing. She says: "The yearly subscription fee for just one of our journals is US$4,000 (S$5,016) a year. If I publish 300 such journals, I make more than US$1 million - and our production costs for that are only about US$200,000.
"Compare that to a mass market book which is priced at, say, US$10. Of that, the bookseller takes $5, the printing cost is $2, the distribution cost is $2, so your profit per book is $1."
For all the company's achievements globally, it is still up against a challenge locally: the small appetite for intellectual pursuits.
Mr Max Phua muses: "The big stories in Singapore are 'This property development sold out in Punggol' or 'COE prices are up again'. So we have to do a lot more to promote science and technology here."
suk@sph.com.sg

Get a copy of The Straits Times or go to straitstimes.com for more stories.