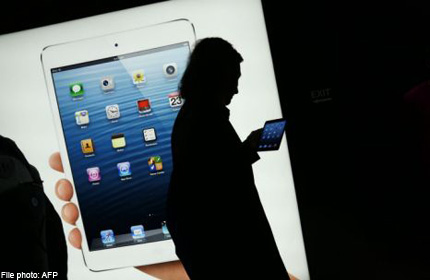 SEOUL - Apple is set to introduce a thinner version of its iPad and a new iPad mini with a high-resolution screen, the United States media reported.
Bloomberg, citing industry sources, said that the US-based tech powerhouse is planning to release the new iPad models in the last three months of the year.
The slimmer iPad is expected to be a full-sized model with a 9.7-inch screen and a thinner bezel. It will also "have a body that more closely resembles that of the current iPad mini".
The new iPad mini is speculated to be the first one equipped with a high-resolution Retina screen, which has been unavailable in the model, unlike the iPhone and larger iPad.
The move came as its rival Samsung Electronics expanded its global market share.
While Apple remains the top dog in the tablet market, the second-placed Samsung recently narrowed the gap with its rival by launching an array of tablet models.