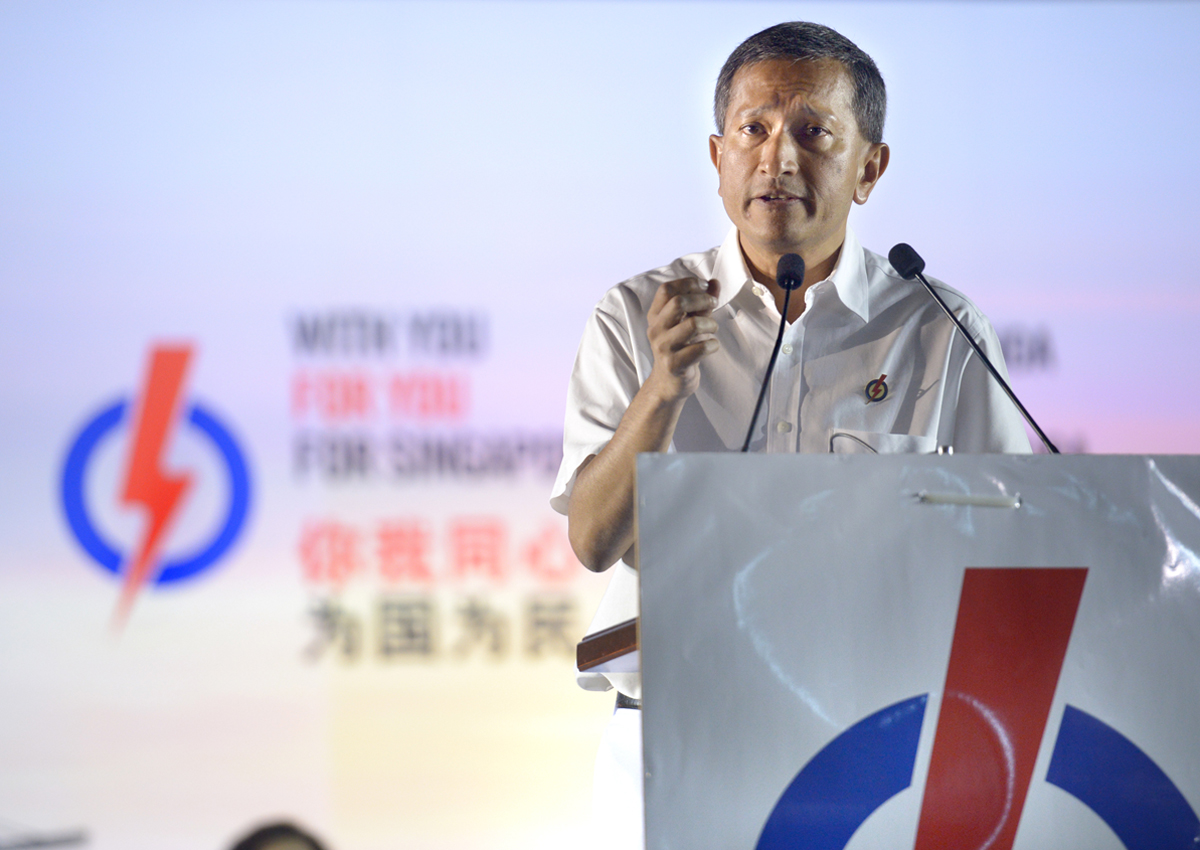 The People's Action Party (PAP) and Singaporeans have had a 50-year relationship, but there are now third parties trying to "barge into our home", said Holland-Bukit Timah GRC anchor minister Vivian Balakrishnan yesterday.
The PAP takes politics seriously but some people think of elections as a game, where some win and some lose, or as entertainment or a debate. But the PAP has built up a relationship with Singaporeans over time.
"A relationship is not a one-night stand," Dr Balakrishnan said. "It's not just finding the most interesting, the most entertaining partner but it's about someone (with) whom you're going to spend another 50 years or more."
People trust the PAP government to do what is good for them and for the country, he said, whether the PAP does the popular or unpopular thing. The opposition, however, will campaign on the basis of the politics of anger, envy, jealousy and class division, he said.
"We see a party coming to our home, telling us 'you should be angry, you should be feeling shortchanged, you should be feeling jealous, and you should have a political system based on paralysis and gridlock'. They call it checks and balances," he said.
"There is a proper way of having checks and balances but actually what they're trying to do is to barge into our home." In his 50-minute speech at a rally beside Commonwealth MRT station, Dr Balakrishnan, who is Minister for the Environment and Water Resources, stressed that Singapore is special and the PAP has played a part in making it so.
He listed a strong armed forces, healthy reserves, respectful bilateral relations, one of the world's lowest yet progressive tax regimes, and one of the world's best healthcare outcomes as some of the successes the nation can celebrate. Among the achievements of its education system is that the Institute of Technical Education here has better facilities than some universities in First World countries, he added.
While there is much to be happy about, there are also challenges Singapore faces, such as climate change, globalisation and disruption due to technology. A technological revolution could lead to unemployment and inequality, wiping out jobs.
And many more people may need social assistance, he said, if demographic trends continue.
"Many opposition politicians like to talk about 6.9 (million) and they use it to hit us on the head with.
"My greater fear is that our population will never go anywhere close or never go much beyond six (million)... The greater threat, in fact, is stagnation, ageing and shrinkage," he said.
He drew a link between this demographic challenge and the need for Singapore to have its own unique model of social assistance, which emphasises personal and family responsibility and targeted subsidies.
It is unlike the Western welfare model as it is sustainable even with an ageing population.
In this way, those who need help can get help and the reserves are not raided, said Dr Balakrishnan.
"The Singapore system is not perfect, it can be improved. But don't make the mistake of completely dismantling a model that works," he said. "It has worked and, with appropriate modification, it will continue to work and it will serve us well."
joseow@sph.com.sg
Additional reporting by Yeo Sam Jo

This article was first published on September 8, 2015.
Get a copy of The Straits Times or go to straitstimes.com for more stories.