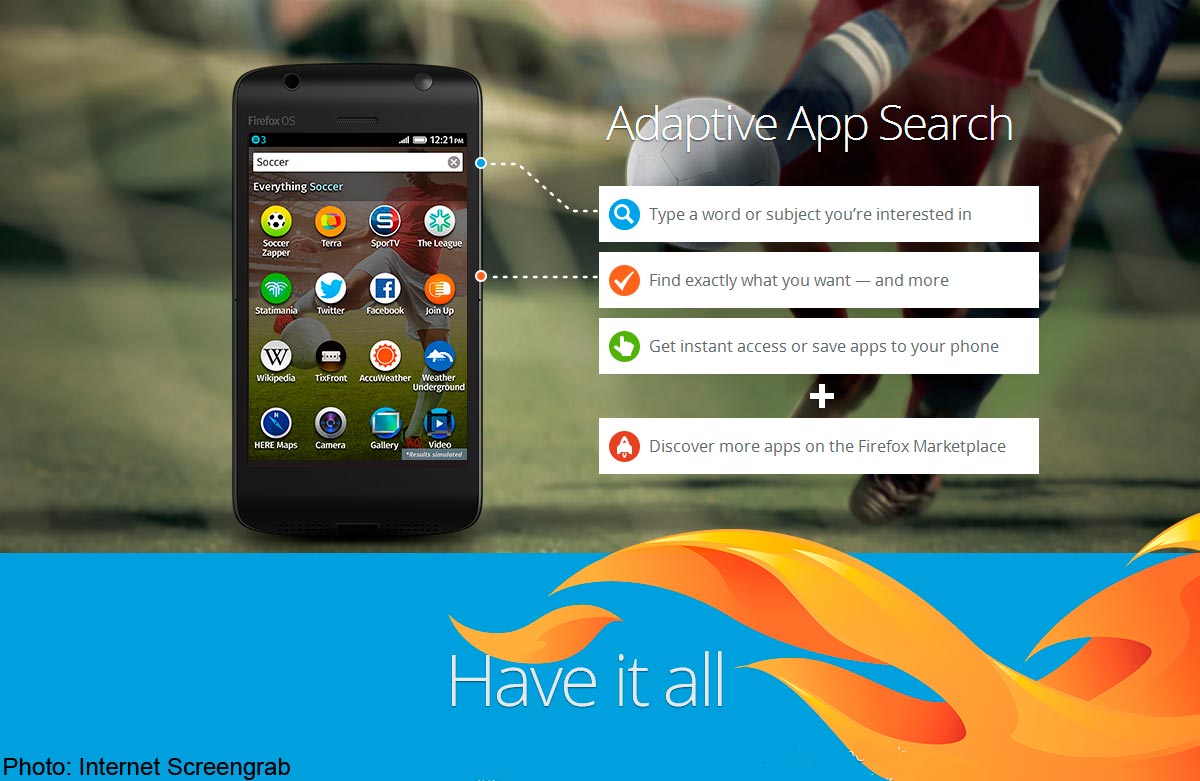 You may have heard of the operating system Tizen (you may even know how to pronounce it: tie-zen, not tee-zen or tiz-zen). But the chances of it running your smartphone are slim, about the same as having had one of its predecessors or rivals: Maemo, Moblin, MeeGo, Bada, Ubuntu, Sailfish or Firefox.
That's not for want of trying. Every Mobile World Congress in the past four years has featured an announcement about one of these operating systems (OS). This year is no different, as handset makers, carriers and chipmakers try to break the stranglehold that Google Inc and Apple Inc have on the software that runs the world's mobile phones.
But for many this war, at least for now, is already lost.
Instead, attention is shifting to winning a share of a potentially bigger pie: the software that runs your car, camera, fridge, smartwatch or TV. The thinking here is that if web-based operating systems like Firefox or Tizen can gain a foothold in those internet-connected devices, they could then gain broader acceptance among users and app developers on mobile, too.
"If the Firefox OS can succeed in the TV market, it will mean that many developers contribute either content or apps,"says William Liang, Taiwan-based senior director at contract manufacturer Foxconn, which works closely with developers of the Firefox Mobile OS. "Then probably the mobile market will also accept a web-based OS." Liang stressed he was speaking in a personal capacity.
The scale of the challenge of taking on the existing mobile duopoly is daunting.
Google's Android and Apple's iOS operating systems account for more than 95 per cent of smartphone sales worldwide last year, according to Strategy Analytics, up from about 88 per cent in 2012. Strip away Microsoft Corp's paltry slither, and other OS' share of the pie fell to 2 per cent last year from 9 per cent. In October-December, it fell to below 1 per cent.
A paper released by the mobile industry's GSM Association ahead of this week's congress in Barcelona noted that at least 36 telecoms operators had pledged support for one of the four open source challengers - Firefox, Ubuntu, Tizen and Sailfish.
But the GSMA said that if anyone is to make a dent it needs to win at least 5 per cent market share within the next year or so "to have a chance of being a long-term competitor."
EMERGING MARKETS
This has prompted a race into places where smartphones are still a relative luxury - emerging markets, which will collectively add 130 million new subscribers each year until 2018, according to the GSMA.
Leading the charge at Barcelona is Mozilla Corp, best known for its open source Firefox browser, and whose Firefox mobile OS is already on three devices sold by four operators in more than a dozen markets. China's ZTE, for example, was encouraged enough to launch two more devices running Firefox this year.
Firefox accounted for less than 1 per cent of the 42 million phones ZTE shipped last year, according to a company executive, but he said that over the next three years up to a fifth of ZTE smartphones would run on operating systems other than Android or iOS. Alcatel has announced three new handsets running Firefox, while Huawei Technologies has announced its first Firefox phone.
Firefox may be first out of the door, but it's still a drop in the ocean of smartphones sold - up to 750,000, according to interim chief operating officer Jay Sullivan. Gartner expects nearly 1 billion Android handsets to be shipped this year.
Reducing the price of components is key. Firefox's OS takes up half the space Android does in a phone's memory, said Firefox's mobile chief Li Gong, reducing one of the device's three biggest costs.
Chipmaker Spreadtrum Communications on Sunday announced a chipset and reference design using the Firefox OS making it possible for manufacturers to sell smartphones for as little as $25 retail. "This is an important start," said Diana Jovin, a vice president at Spreadtrum.
THE INTERNET OF THINGS
But many remain sceptical that these initiatives can dent Google and Apple's dominance. Smartphone prices have been falling anyway and will fall further. Prices for entry-level smartphones running Android in India, for example, halved last year and could drop to $30 this year.
And, while carriers are one of the main supporters of alternative operating systems, they don't have much sway in markets where most handsets are bought from retailers."Launching to retail is like a flood," acknowledged Mozilla's Li, who said the company was focusing on this market this year."You don't know where the water will go."
More promising, some say, is the opportunity presented by the profusion of devices connecting to the internet - the so-called Internet of Things - and wearable devices. All require an operating system to work, and an interface for display.
"Wearables and other connected devices other than phones or tablets are still up for grabs," said Jordan Edelson, CEO of Appetizer Mobile, an app developer and consultancy.
Samsung Electronics Co Ltd, for example, has yet to launch a phone running Tizen, the OS it has championed since 2011, but the South Korean group has released a Tizen camera, and on Sunday said the second version of its smartwatch, the Samsung Gear, would abandon Android in favour of Tizen.
Intel Corp, Samsung's co-creator of Tizen, also stresses the operating system is as much about other devices as mobile. "We do see some landscape changes, in devices in general, not specific to mobile," says Imad Sousou, general manager of Intel's Open Source Technology Centre. "And what we see is a huge growth coming in all sorts of devices, the Internet of Things and consumer electronics."
Firefox, too, is looking as much to devices beyond the mobile phone. Panasonic Corp earlier this year unveiled a TV running Firefox. Mozilla's Li points out that the Japanese firm is the world's largest maker of infotainment systems for cars. "That's where things are headed," he says.
All such operating systems leverage a new generation of web technologies, including HTML5, which in theory make them more open than the standalone apps favoured by Android and iOS.
This also means, in theory, that these devices would not be hidebound by a shortage of developers and apps - the chicken-and-egg problem that has bedevilled Microsoft's Windows Phone and BlackBerry's new BBOS operating systems.
Browser developer Opera Software ASA, for example, is working with TV manufacturers and chipmakers to build a sort of app store for TV content, where publishers could design HTML5-based apps that should work on other devices. Opera already counts Samsung, Sony Corp and TCL Corp among its customers. "We're not going to try to compete on the OS," says Aneesh Rajaram, senior vice president for TV and Devices at Opera."We're going to be the friends of the publishers, carriers and content providers."
GETTING SMART
Not everyone is convinced. For one thing, there are a lot fewer smart TVs in the world than mobile phones, so the latter are likely to influence the former.
Sales of smart TVs are in the low hundreds of millions, says Richard Lim of GSR Ventures, which invested in a mobile OS that was later bought by Baidu Inc. "This will never translate to phones with unit volumes in the billions, so it's more likely to go the other way around."
Indeed, the big players have also made moves into smart devices. Google and Apple have each focused on devices that plug into existing TVs and act as sort of set-top boxes, channeling content through their own services. Apple, Microsoft and Google have launched initiatives to put their respective operating systems into cars.
But for the likes of Samsung, the strategy makes sense, some say. By launching first with devices like cameras and TVs, it allows the company to hone the operating system and "try to make people comfortable with a new OS," said Katyayan Gupta, India-based analyst at Forrester.
"Slowly Samsung will give people a flavour through consumer electronics and then later into phones."