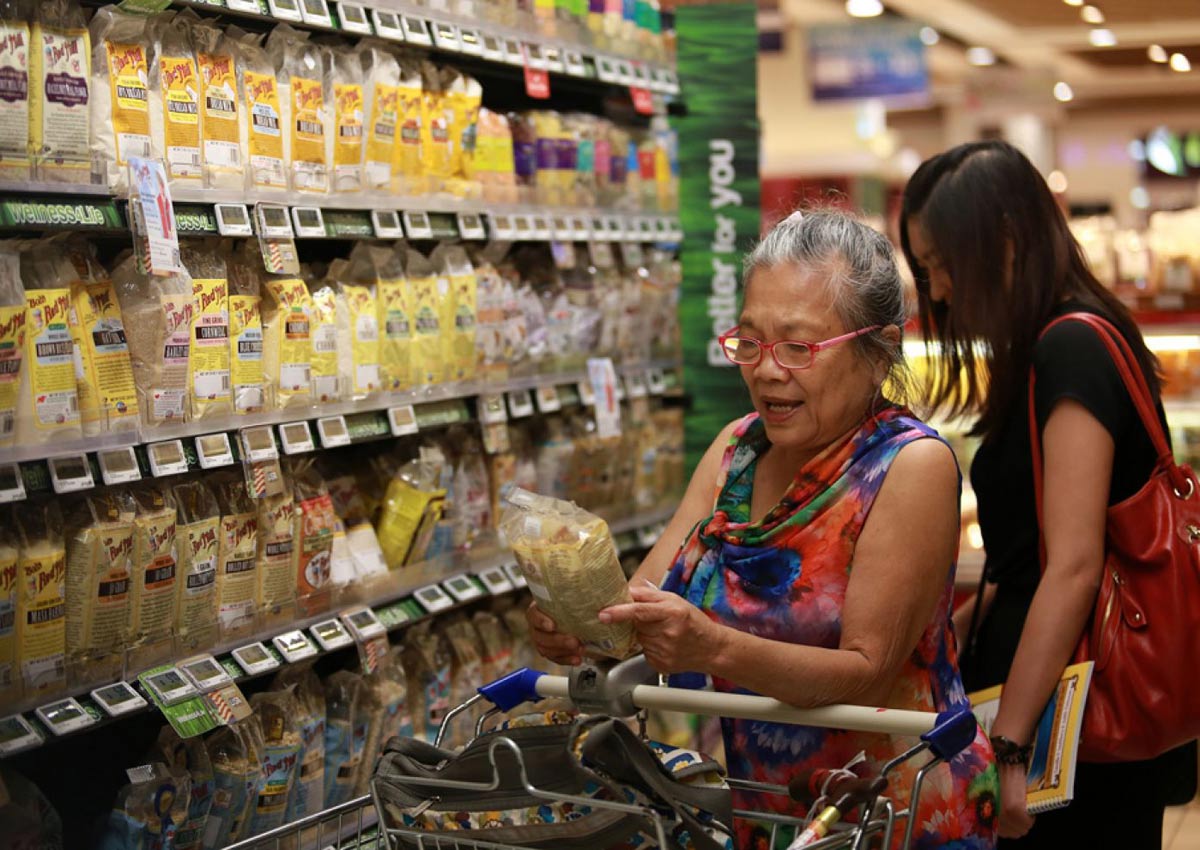 At supermarket and convenience store tills, young shoppers fumble with cash - until a white-haired saviour appears.
"So simple!", Uncle Sim exclaims, showing them how to live the cashless, contactless life with Visa payWave.
The fictional star of a video ad series, Uncle Sim is nevertheless very real.
With his technoliterate ways and strong purchasing power, he is the face of a new wave of Asia's elderly.
According to a recent study by the Asia Pacific Risk Center, Asia is ageing faster than any other region in the world, with another 200 million people passing the age of 65 in the next decade or so.
By 2030, there will be some 511 million elderly people in this region.
This demographic wave brings exciting opportunities.
With Asia's middle class having burgeoned over the decades, its ageing cohorts represent a massive market of affluent, savvy consumers with more leisure time and disposable income than ever before.
The 2015 Asia Pacific Silver Economy Business Opportunities Report projected that the Asia-Pacific's greying market will reach US$3.3 trillion in 2020.
Paying more attention to this growing yet relatively neglected market segment could reap rich rewards for consumer businesses.
To attract the silver dollar, companies must know what these consumers want. Such insights could lead to the discovery of new products with vast potential.
For example, the Asian market for "functional foods" - supposed to improve nutrition and prevent diseases, such as calcium-enriched products for stronger bones - is estimated at US$40 billion to US$70 billion, and set to grow 7 per cent annually.
However, innovative products and services are not enough.
Companies must also actively seek to understand the whole user experience: how elderly customers learn about a product, how they access it, as well as the post-purchase customer service they seek. In other words, companies must develop the whole end-to-end experience taking the elderly consumer as the starting point, rather than being driven simply by technological possibilities.
On-the-ground research is useful to learn about the consumer psyche.
For example, a 2016 Nielsen poll of Singaporeans aged above 55 revealed that 65 per cent wanted supermarket aisles dedicated to products that meet ageing needs, while 63 per cent hoped for wheelchair-friendly facilities.
Part of the consumer experience is ease of access.
Here, the elderly should not be underestimated when it comes to digital literacy: A whopping 72 per cent wished for online retail options and free delivery.
This shows that digital and social media should not be neglected when courting the silver dollar, as the baby-boomer generation can be as technology-savvy as millennials.
Consumer companies can also partner research institutions to gain insights into their elderly customers.
For example, companies in Singapore can work with Singapore's Institute on Asian Consumer Insight (ACI).
The ACI, a research institute focusing on pan-Asian issues, enables brands to tailor their growth strategies for diverse Asian markets.
CATCHING THE SILVER WAVE
For companies that want to capture opportunities from Asia's ageing middle class, Singapore is the place to be.
With its mature consumer market, vibrant research and development (R&D) environment and government support for age-related initiatives, the city state provides an ideal foothold for firms offering products and services for the greying generation.
The nation of five million has the perfect conditions for test-bedding silver products.
By 2030, one in four Singaporeans will be 65 years or older - making the republic of seniors an ideal market for launching silver products.
Indeed, Singapore emerged tops in the 2015 Ageing Asia Silver Economy Index of 15 regional economies, reflecting the high market potential of its ageing population.
Singapore's smartphone-using seniors, for instance, are an ideal pool of early adopters for silver-friendly apps.
One transforming app could facilitate queuing at food and beverage outlets - an activity that could be particularly strenuous for older customers.
Even new styles of stores can be tested here.
Supermarket chain NTUC FairPrice's Enabled Store is customised to the needs of the elderly as well as people with disabilities, with features such as call buttons located along aisles so customers can ring for assistance, and magnifying glasses for easier reading of product labels.
Unlike some advanced economies where silver products are crafted to suit just the local market, elder-friendly products and services developed here have travelled worldwide.
Siemens Medical Instruments launched the Ace hearing aid in its manufacturing and R&D facility here.
International food and beverage players also see Singapore as an important base from which to reach the region, with the city-state playing host to one of three Asia R&D centres of US-based healthcare firm Abbott Nutrition.
Singapore's diverse yet dense ecosystem of capabilities and talents makes it easy for innovation to bloom too.
Companies coming here will find a wealth of think tanks, consultancies, startups and consumer research companies with whom they could partner to develop new business models, products and services.
Procter & Gamble and the University of Cincinnati, for instance, worked with Singapore Polytechnic to establish the Live Well Collaborative Singapore, an innovation research centre developing products for consumers aged 50 and above.
Another example is innovation centre LumenLab, set up by insurance giant MetLife to seek new models in financial services such as wealth and retirement planning.
It brings together specialists from startups and sectors beyond insurance, encouraging these disruptors to work together to spur innovation.
The city state also hosts the annual Ageing Asia Innovation Forum which provides a valuable platform for business, government and community leaders to collaborate on ideas for the silver market, from healthcare and wellness to technology and senior care.
Smaller elder-focused entrepreneurs can thrive in Singapore's startup-friendly environment.
The annual Modern Aging programme, co-organised by ACCESS Health International and NUS Enterprise, brings together students, researchers, health professionals and entrepreneurs to develop business plans, with a top prize of S$50,000 in seed funding.
One product nurtured by Modern Aging is the Pillpresso, a pill dispenser for seniors which signals medication time with an alarm and dispenses pills at the touch of a button.
Indeed, the alarm is sounding for silver businesses, with the market for seniors expected to boom from 2020.
For forward-thinking consumer companies, there is no better time than now, and no better place than Singapore, to court the gleaming silver dollar.
The writer is director of consumer businesses at the Singapore Economic Development Board.
The views expressed are his own.

This article was first published on December 23, 2016.
Get The Business Times for more stories.