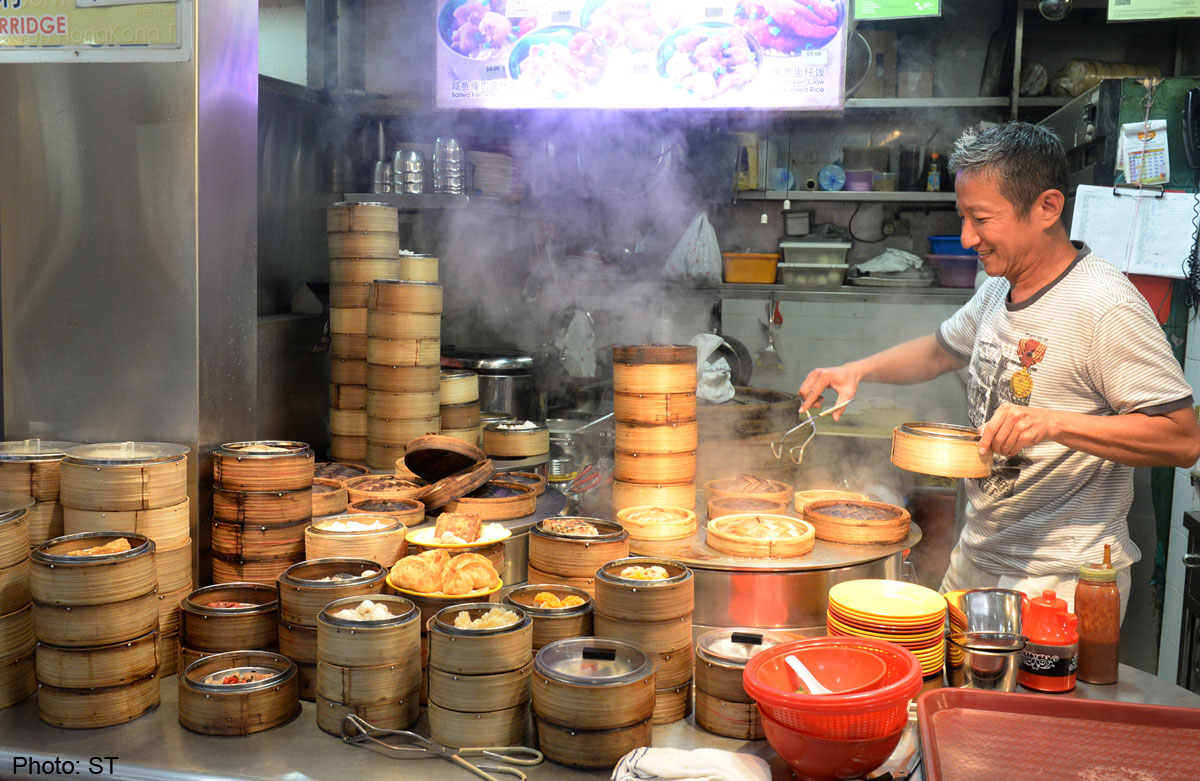 SINGAPORE - Five months after the famous Longhouse food centre in Upper Thomson Road closed, it is time to bid farewell to another hawker institution.
Lavender Food Square's last day of operations is on Sept 30, a week longer than the original Sept 23 date. The extension was made because of customer demand.
The iconic food centre and neighbouring Eminent Plaza, both built in the 1980s, will make way for a 16-storey freehold development called ARC 380, which is slated to be ready by 2018.
Located at the junction of Lavender Street and Jalan Besar, the hawker centre - which houses 35 stalls - used to be called Bugis Square. It closed for renovations in 1990 due to drainage problems, and reopened in 1992 as Lavender Food Square.
Unlike the closure of Longhouse, where the hawkers moved to two locations - Balestier Market and Broadway Coffee Shop, next to Jalan Besar Stadium - the Lavender Food Square hawkers are moving to several coffee shops and food centres.
Old-timers lament the closure of the food centre, saying they regard one another as friends, even family.
With the deadline to move looming, many stalls are still undecided about their future. Hawkers say high rentals and smaller shop spaces are among the problems they face in looking for new premises.
The Straits Times understands that hawkers currently pay rental of $4,000 to $6,000 a month at Lavender Food Square, and will pay at least $8,000 a month at their new locations.
Popular stalls such as Kok Kee Wanton Noodle, Whitley Road Fishball Noodle and Eminent Frog Porridge are still uncertain about where they will move to.
And, if they cannot find a suitable location, both Albert Street Prawn Noodle and Pei Yun Hong Kong Tim Sum are likely to close for good.
In the meantime, Somboon Thai Food is looking to move to a coffee shop in Bedok.
Other locations in Lavender include a coffee shop in King George's Avenue, Broadway Coffee Shop, and a former restaurant now being renovated into a coffee shop at Hoa Nam Building, next to Lavender Food Square.
Tan Beng Yen, who has been at Lavender Food Square since it opened and sells char kway teow and Hokkien mee, wants to stay in the area for her regular customers.
She will be moving to Broadway Coffee Shop.
She says in Mandarin: "Business at Lavender Food Square has always been good and all of us have been working very hard all these years. Just because the hawker centre is closing doesn't mean we stop cooking for our customers. I hope they will look for me."
Other stalls, which are branches of their main outlets, are moving resources back to the flagship.
These include 98 Bread at Block 19, Toa Payoh Lorong 7 and Kin Turtle Soup, whose flagship outlet is in Geylang Lorong 35. Kin Turtle Soup at Lavender Food Square closes next Monday.
Two stalls - Macpherson Barbeque Seafood and Miow Sin Popiah - will move to Balestier Market.
Ong Chin Quay, 60, of Miow Sin Popiah, will reunite with fellow Longhouse hawkers at Balestier Market.
The hawker, affectionately known as Ah Kai, has been making popiah for 34 years, first in Boon Keng Road in 1980, then at Longhouse food centre from 1985 to 1999.
He says in Mandarin: "It is definitely a pity because after all these years, everyone has become friends. But I also have friends in Balestier, since they are also from Longhouse."
Diners, too, lament the loss of their foodie haunt.
Logistics officer Ian Ferroa, 30, dines at Lavender Food Square two to three times a week.
He says: "Some of my favourite foods are popiah, fried carrot cake and prawn noodles. I come on weekdays when it's not so crowded and there's lots of seating available."
euniceq@sph.com.sg
---
Lavender stalls moving to...
BALESTIER MARKET
Where:
414 Balestier Road
MACPHERSON BARBEQUE SEAFOOD
What:
Known for its barbecue stingray and other seafood dishes, the stall will reopen at Balestier Market on Oct 4. Lim Chye Liang, 40, runs another branch at Block 539, Bedok North Street 3, which opened in July.
His older siblings run three other stalls under the same name: in South Bridge Road, Chomp Chomp and Block 496, Jurong West Street 41.
MIOW SIN POPIAH
What:
Formerly located at the now-defunct Longhouse food centre in 1985, Miow Sin Popiah's owner, Ong Chin Quay, 60, will reunite with some of the Longhouse hawkers on Nov 1.
MDIS BUILDING
Where:
190 Changi Road, #01-01
OLD BIBIK'S NONYA RENDANG
What:
After about 2 1/2 years at Lavender Food Square, the owners of this stall, Adrian Loh, 38, and Wee Phang Lui, 36, are opening a 60-seat restaurant cum photo gallery on Oct 1. Their signature items still remain wallet-friendly. Prices start at $7.90 for a chicken rendang set meal with rice, egg, vegetables, soup, achar and belacan. Other meal options include beef rendang, mutton rendang and fried pomfret.
For updates, go to www.facebook.com/oldbibik
COFFEE SHOP AT HOA NAM BUILDING
Where:
27 Foch Road (formerly Zhuge Kaoyu restaurant, now under renovation)
TEOCHEW FISH SOUP
What:
Fans of the fish soup will not have to go very far for their fix, as this stall is moving to this coffee shop next to Lavender Food Square.
CHONG PANG HUAT BBQ CHICKEN WINGS
What:
The stall selling the finger-licking-good chicken wings is also relocating to the coffee shop, which used to house a Sichuan restaurant.
TIAN XIANG CAN SHI COFFEESHOP
Where:
Block 803, King George's Avenue
POLY WESTERN
What:
This Western food stall is slated to open next month.
GUAN LEE SEN SEAFOOD
What:
The stall has already started operating at its new stall, selling fish porridge and fish soup. Come Sept 25, it will also offer zi char dishes.
BROADWAY COFFEE SHOP
Where:
100 Tyrwhitt Road (near Jalan Besar Stadium)
BUGIS STREET CHAR KWAY TEOW
What:
Tan Beng Yen used to sell her food in Bugis Street. She will sell char kway teow, fried Hokkien mee and the increasingly difficult-to-find Hakka dish of "abacus seeds" made of yam at her new stall from Oct 1.
SING HIN HUAT KOPITIAM
Where:
52 Foch Road
CARROT CAKE
What:
This stall has shared the same premises with Miow Sin Popiah since their days at Longhouse food centre.
Owner Koh Chye Heng, 58, will move to the coffee shop next month, across the road from Lavender Food Square.
This article by The Straits Times was published in MyPaper, a free, bilingual newspaper published by Singapore Press Holdings.
Get the full story from The Straits Times.