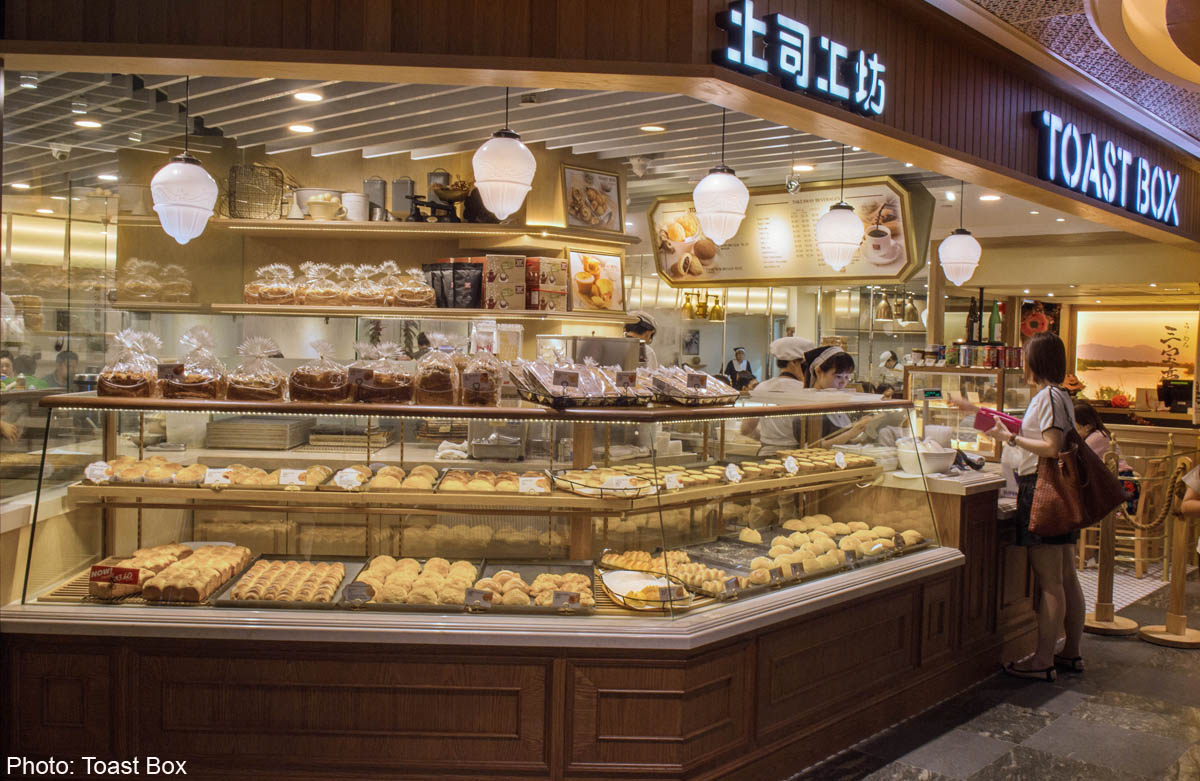 Toast, soft-boiled eggs and coffee are a traditional breakfast set for many.
Now, there is one more outlet in Orchard Road to have breakfast or tea at, with the opening of Toast Box's 100th store.
The outlet at Shaw House is modelled in the style of the late 70s and has an open-concept kitchen.
However, it is the bakery counter at the entrance, featuring speciality baked goods, that catches the eye.
Be spoilt for choice with a selection of over 30 freshly baked traditional items such as egg tarts, bo luo buns, sausage buns, kaya buns and pumpkin cheese buns.
To celebrate the opening of its 100th store worldwide, Toast Box has launched an instant 2-in-1 version of its signature Nanyang-style coffee.
Available in stores, the 2-in-1 Kopi-O comes in a box of 20 sachets at $7.80.
Toast Box's other new product, the Kopi Card, is a smart card that customers can use to pay for their coffee or tea.
At $18.80 inclusive of the card fee, it entitles you to 12 cups of coffee or tea at $1.40 each.
Customers enjoy savings of more than $4.80 when they use the card. Subsequent top-ups of the card cost $16.80.
Look out for a limited-edition 100th-store version of the Kopi Card, to be launched next month. This card gives a 10 per cent discount on subsequent top-ups until March 31.
Toast Box takes its coffee seriously: from the type of beans used, the temperature of the water, the roasting process and even the "pulling" method used in pouring coffee.
Without any interruptions, staff are trained to churn out 450 cups of coffee in an hour.
Toast Box, part of the BreadTalk Group, has also launched a new Nanyang Kopi roasting laboratory at the BreadTalk headquarters.
There, coffee is roasted according to strict standards to ensure quality and consistency before it is delivered to stores.
The roasting lab doubles as a research facility for its coffee.
The coffee used is a blend of arabica, robusta and liberica beans.
Toast Box also works with partner plantations in Malaysia and China as part of its efforts to support sustainability in the coffee-farming trade.
From Monday to next Sunday, visit Toast Box's Facebook page for a chance to win an exclusive coffee-appreciation workshop at the roasting lab.
Toast Box's 100th store is at Shaw House, 350 Orchard Road, #B1-03. It is open daily from 7.30am to 10pm.
For more information, call 6235-5354 or visit www.toastbox.com.sg

This article was first published on Nov 28, 2014.
Get a copy of The Straits Times or go to straitstimes.com for more stories.