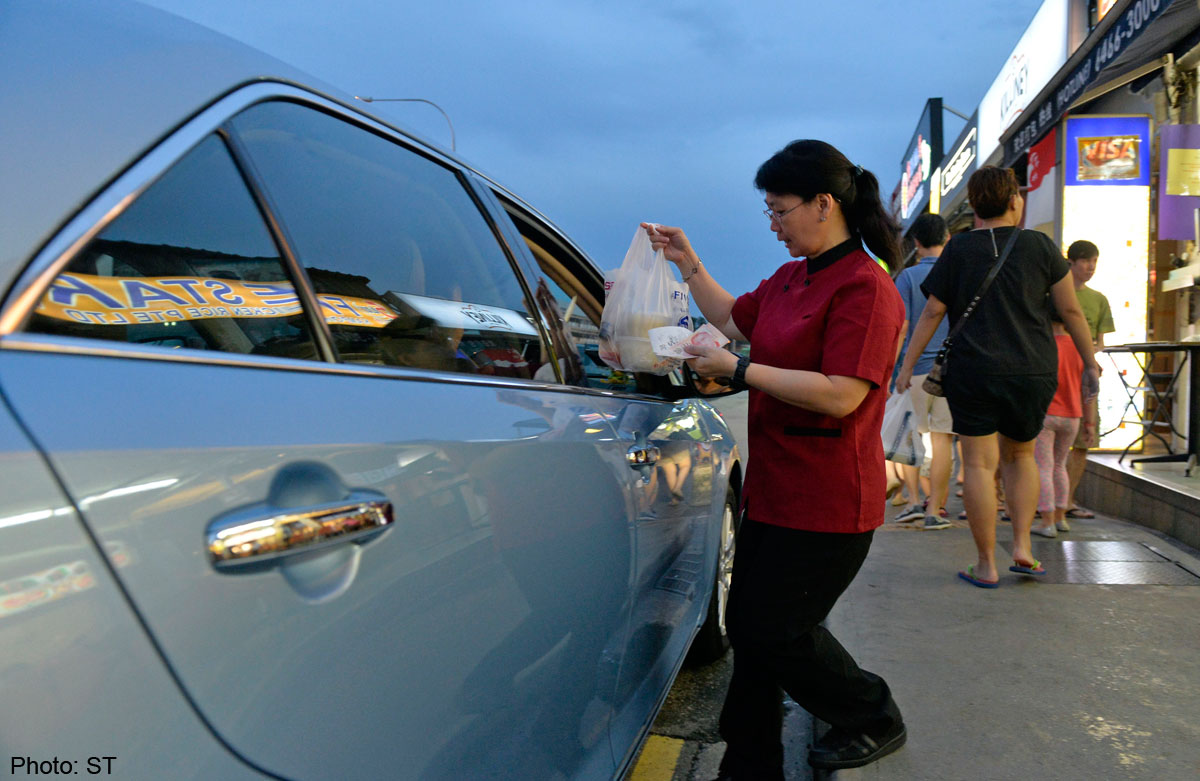 SINGAPORE - To save time and money, more people are using "drive-through" services offered by some eateries here.
From restaurants serving chicken rice to chilli crab and prata, customers can place orders over the phone, drive up to the kerbside later and pay for and collect their food without getting out of their vehicle.
Customers say this helps them save time waiting for a table or parking space - and hence, parking fees - while eateries say the service is an alternative to home deliveries, which they cannot provide due to the labour crunch.
The kerbside takeaway service has proven to be a hit among customers, especially on weekends and rainy days.
"A few years ago, we had about 10 such orders on weekdays and 50 on weekends and special occasions," said the 54-year-old owner of the No Signboard Seafood restaurant in Geylang, who wanted to be known only as Madam Yeo.
"Now, we get about 20 on weekdays. On weekends, Christmas or Mother's Day, we can get more than 70."
The service is also popular among customers who are unwilling to wait between 10 and 20 minutes for a table at its Geylang outlet on weekends, said Madam Yeo, even though the restaurant offers a valet service so that parking is not a problem.
She attributed the rising demand for the kerbside takeaway service to growing awareness and more people who are too busy to cook at home.
At Five Star Chicken Rice's Cheong Chin Nam Road outlet in Upper Bukit Timah, the kerbside takeaway service has helped to boost its revenue, after overall business was affected by the construction of the Downtown Line, said Brendan Yeo, one of the restaurant's directors.
Parking in the area was a problem, as a row of parallel parking spaces on the one-way street where the restaurant is was obstructed by the construction works.
With the kerbside takeaway service, patrons need not hunt for a parking space - they can drive up and pick up their food in as quickly as 10 seconds, said Mr Yeo.
"We have staff on standby at the side of the road and they are trained to look out for the (customers') cars. They also prepare the change in advance," he said. "It's more like a pitstop."
The service is also available at Five Star's two other outlets, in Katong and River Valley.
Ramamoorthy Mathan, 41, a supervisor at Al-Ameen Eating House in Upper Bukit Timah, said: "We have a van, but no driver."
The 22-year-old halal restaurant, which serves Malay and Indian cuisine, stopped doing home deliveries two years ago and started the kerbside takeaway service instead.
People who use the kerbside takeaway service like it for its convenience. Engineer T. C. Loh, 37, picks up chicken rice from Five Star's Cheong Chin Nam Road outlet about once a month, when he shuttles between his offices in Tuas and Paya Lebar.
"I don't have time to sit down and eat there. It's also hard to find a parking space in the evening, and especially on the weekends," he said.
mellinjm@sph.com.sg
Get MyPaper for more stories.