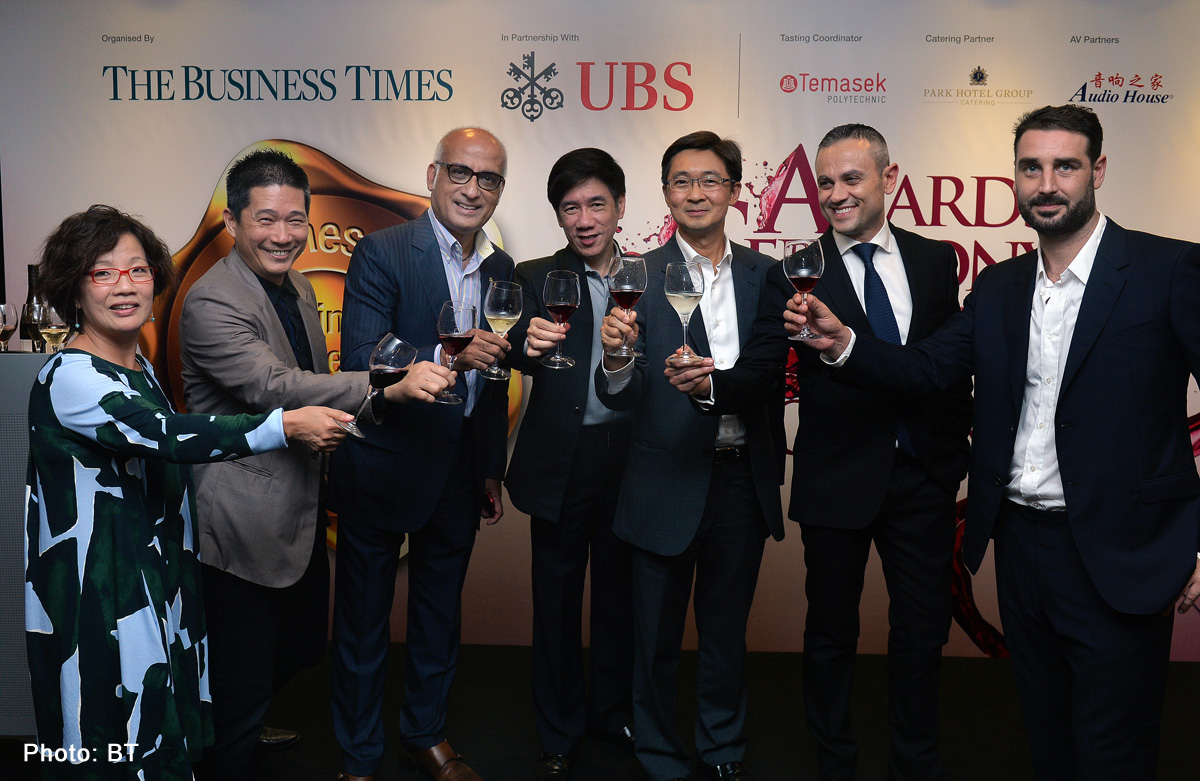 The Business Times (BT), Singapore's leading financial daily published by Singapore Press Holdings (SPH), announced the results of The Business Times Wine Challenge 2014 - CEOs' Choice at an awards ceremony at UBS AG, One Raffles Quay today.
Into its second year, this event is held in partnership with Swiss banking group, UBS AG.
In July, the first round of sampling saw 30 best wines shortlisted from 130 entries that were submitted by registered wine wholesale companies and merchants based in Singapore. The wines entered for evaluation had to come in standard-sized 750ml bottles and be commercially available in Singapore at hotels, restaurants, bars and specialist wine retail shops at a minimum of $50 (before GST).
The 30 best wines were shortlisted by a panel of experts comprising head judge and wine specialist Mr Lim Hwee Peng, together with notable wine connoisseurs Mr Maximilien Fedkiw, founder and sommelier of Le Bistro du Sommelier, and Mr Timothy Goh, Les Amis Group's director of wines. They were assisted by three guest judges - Larry Jorgensen, CEO, Wines of Western Australia who's an international wine judges; Stephane Soret, Director of Wines, Raffles Hotel; and Jeremy Sim, Asst Professor, Culinary Institute of America.
The shortlist covered both red and white wines from countries such as Australia, France, New Zealand, Spain, and Germany, among others.
Subsequently in Aug, the top ten wines were picked by a panel of CEOs who are all wine lovers in their own right.
They are: Ms Susan Sim, Deputy CEO, ARA Trust Management (Suntec) Limited Mr Mohd K Rafin - Chief Corporate Officer, Park Hotel Group Mr K C Lai - Chief Commercial Officer, MyRepublic Mr Richard Eu, CEO, Eu Yan Sang Mr Michael Su, CEO, Pontiac Land Mr John Lim, Group CEO & Eexcutive Director, ARA Group Mr Wong Kim Yin, CEO, Singapore Power Mr Anthony Wong, CEO, Creative Eateries Dr Wong Chiang Yin, President, Thomson International Mr Gerald Lee, CEO, Far East Hospitality Trust
The trio of wine experts were on hand to take the CEOs through the judging, which was a blind tasting session where wines were served with their labels covered. The CEOs recorded their scores based on aroma, complexity and balance, intensity and length of flavours in each wine.
The top ten wines, or the CEOs' Choice, are: Schloss Lieser Brauneberger Juffer Riesling Kabinett 2012 (Artisan Cellars) Chateau de Puligny-Montrachet, St Aubin, En Remilly, 1er Cru, 2011 (Berry Bros & Rudd, Singapore Pte Ltd) Loimer Gruner Veltliner Kamptal DAC 2012 (Wein & Vin Pte Ltd) Domaine Rossignol-Trapet, Latricieres Chambertin, Grand Cru, 2008 (Vinum Fine Wines) Jean & Michel Gonnet Chateauneuf du Pape 2011 (Corney & Barrow Ltd) Le Potazzine Brunello di Montalcino DOCG 2009 (Richfield Brands & Services Pte Ltd) Produttori del Barbaresco, Barbaresco DOCG 2009 (KAL Wine Source Asia Pte Ltd) Allegrini Valpolicella Classico DOC 2013 (Enoteca Co., Ltd) Bodegas Roda Sela 2010 (Alfa International Pte Ltd) Schloss Vollrads Riesling Auslese 2010 (Richfield Brands & Services Pte Ltd).
Mr Eddie Gan, Managing Director, Country Team Head Singapore, UBS Wealth Management said: "UBS is delighted to continue our partnership with The Business Times for the BT Wine Challenge 2014 CEO's Choice. The success of last year's event and the interest in this year's event definitely shows a deepening appreciation of wine, especially among business leaders in Singapore. Enjoying high quality food and beverages in the company of family and good friends have always been a large part of our Singapore culture so it is not surprising that the interest in quality wine that has value for money has grown steadily over the years. I definitely see a higher appreciation for wine amongst my colleagues, clients and business associates. Wine has become a staunch accompaniment to good food. It is also a topic of conversation and a hobby for like-minded individuals to appreciate together. Singaporeans also enjoy the luxury of being able to experience so many excellent wines of different grape types and vintages imported from all over the world."
Mr Alvin Tay, Editor of The Business Times, said: "The level of interest in this second year of The Business Times Wine Challenge shows how compelling our CEOs' Choice approach is. Everyone wants to know what CEOs like to drink, and no one has a stronger relationship with CEOs than BT. Thanks to our partner, UBS, we also have the perfect venue for showcasing these fine wines, and for unveiling the Top 10 CEOs' Choice labels."
All 30 wines that made the shortlist were featured in The Business Times every Saturday from Aug 3 to Sep 27, as a run-up to the awards ceremony.
Supporting The Business Times Wine Challenge 2014 - CEOs' Choice is Temasek Polytechnic, which served as the Tasting Coordinator for the event.