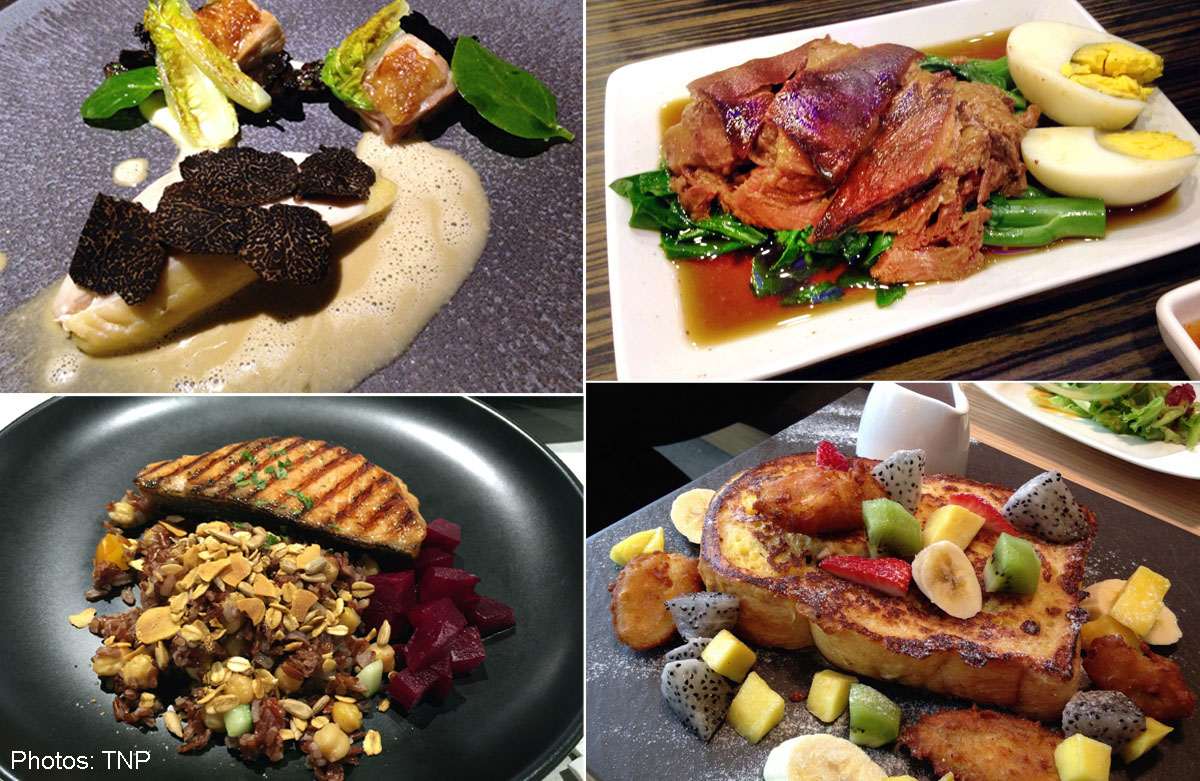 Aren't we lucky that eating in Singapore is such a diverse experience? Whatever you seek, there is something for almost everyone.
This year, I've had many meals that were worth the calories.
I've picked 15 memorable dishes to recommend for different budgets and cuisines. They were delicious and gave me hope that the culinary scene is indeed thriving.
PORK
The tender kha moo ($9.80) at Khun Mee Thai Noodle Bar (#02-32/34, Bedok Point, Tel: 6445-9932) is better than most I've tasted in Bangkok and Singapore.
The recipe comes from the owner's grandmother and involves the pork being cooked for eight hours.
My favourite item at pork burger joint Dojo (72, Circular Road, Tel: 6438-4410 is the pork grillets ($6).
It is fatty pork in a salty, dark soy marinade. It's simple and sinful - the best combination ever.
The pork knuckle ($14, at Sugarhall (102, Amoy Street, Tel: 6222-9102) is nearly mushy with hot paprika to balance the tender fattiness of the meat.
Click on the gallery for more.
SEAFOOD
&Sons bacaro (#01-19, China Square Central, Tel: 6221-3937) has among its offerings calamari and 'nduja ($13). The 'nduja (a spicy, spreadable pork sausage from Italy) tickles the tongue, while the squid provides the chew.
Go to Element at Amara Singapore (165, Tanjong Pagar Road, Tel: 6879-2607) for Basque cuisine. My favourite is the sopa de pescado ($16) with cayenne pepper, onion and garlic-infused fish stock. It's not for the faint-hearted but it's a keeper.
Pince & Pints (32/33, Duxton Road, Tel: 6225-7558), with its all-lobster menu and the stream of trendy diners, has become a place to be seen at. The delicious and overstuffed lobster roll ($48) started the lobster roll craze and launched many imitations.
Nude Seafood (Marina Bay Financial Tower 3, #01-02) has a delightful hickory smoked salmon ($16), which has a sexy and sophisticated aroma that makes eating healthy fun.
CHICKEN
The Missing Pan's (619D, Bukit Timah Road, #01/02-01, Tel: 6466-4377) French toast salpicon ($19) is chicken, spinach and mushroom stuffed into a toast, with banana nuggets, mixed berries and a strawberry smoked maple syrup. It's heavenly.
My first encounter with Southern comfort food was at The Beast (17, Jalan Klapa, Tel: 6295-0017). The must-try is the chicken & waffles ($20) - juicy, fried chicken on waffle with bourbon maple butter sauce over it.
It'll make you feel like one of the Real Housewives Of Atlanta.
Very few people leave Corner House (EJH Corner House, Singapore Botanic Gardens, Tel: 6469-1000) unimpressed.
Just order the free range chicken and you'll understand why. Be sure to sop up the foie gras sauce. It's part of the set menu, from $98 per person.
The always-packed Diamond Kitchen (5000F, Marine Parade Road, Laguna Park, Tel: 6448-0629) serves my sort of comfort food. I love the mellow superior chicken soup ($20).
Milagro Spanish Restaurant (#08-06, Orchard Central, Tel: 6238-6248) may have Singaporeans as chef and owner, but it serves amazing Spanish food.
The paella Valenciana ($47) is seductively sweet and spicy, and definitely worth the 20-minute wait.
DESSERT
Although Portico (991B, Alexandra Road, #01-10, Tel: 6276-7337) serves amazing food, the dessert tarte aux citron and onion ice cream ($15) had me gasping. Adding cream to caramelised white onion seems like a fiendish experiment but it worked.
The smoked sawdust pudding ($5) at Hatter Street Bakehouse & Cafe (Blk 212, Hougang Street 21, #01-333, Tel: 6988-4591) was unforgettable. The aroma was meant to evoke incense but I got cigar instead - perfect for former smokers.
I rarely drink alcohol, so a sip of Remedy ($23, at Anti:Dote (Fairmont Singapore, 80, Bras Basah Road, Tel: 6431-5315) was enough to get me giggling to myself in a corner.
It's refreshing - blanc vermouth, mango, bergamot, citrus and tequila mix - and I especially loved the lingering scent of bergamot in my mouth after I was done with the drink.
weeteck@sph.com.sg

This article was first published on Dec 31, 2014.
Get The New Paper for more stories.