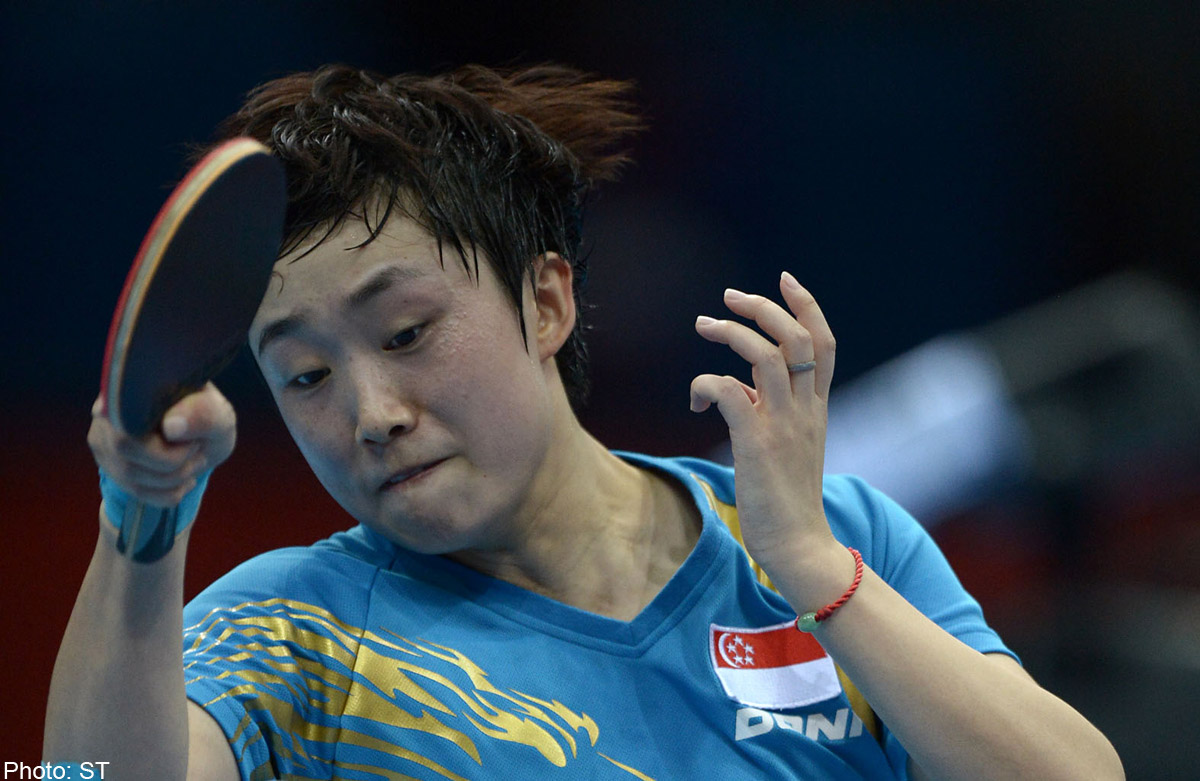 After two years of renewal and rebuilding, Singapore's national women paddlers are coming face to face with their first major test on the world stage as a team.
The World Team Table Tennis Championships, which begins today in Tokyo, will be the first time that the Republic's double Olympic medal-winning side is replaced by a new-look squad.
Realistically, it is no secret that Singapore's chances of wresting the Corbillon Cup back from China are next to none.
The national women's team, after all, are now a much weaker side than before, with world No. 7 Feng Tianwei the only player remaining from the line-up that sensationally dethroned mighty China in 2010 to become world champions.
But truth be told, it is not just Singapore's paddlers going through a period of transition. Several other major nations will also be put through a litmus test at this championships.
South Korea, whom Singapore are drawn with in the group stages, are in a similar plight.
Long-time stalwart and 2004 Olympics singles bronze medallist Kim Kyung Ah retired after the 2012 London Games, while Park Mi Young and Dang Ye Seo have also taken a step back.
Young guns will be taking the lead for Hong Kong, with three of the team's five players aged 21 and below.
While 34-year-old Tie Yana has been named in the team, the veteran has been absent from international competition since giving birth after the 2012 Olympics, while 29-year-old Jiang Huajun has been short of form recently.
Hosts Japan, meanwhile, will miss lynchpin Ai Fukuhara, who is injured.
But for national women's team head coach Jing Junhong, Singapore are still the ones faced with the greatest challenge of having to blood new talent.
"Our situation is the most drastic. Our third player is completely new and doesn't have any big-match experience," she said, referring to local-born Isabelle Li, who is making her debut at the team event.
Yu Mengyu, now ranked No. 18, has had some encouraging results since making the step up after the retirements of Li Jiawei and Wang Yuegu. She most recently finished third at the Asian Cup last month.
Ian Marshall, the International Table Tennis Federation's publications editor, also felt that Singapore could find the going tough against their Asian counterparts.
He said: "I think Singapore may prove successful against European female teams, (but) against Asian teams it could be much different."
Other than South Korea, the Republic is also drawn with Russia, the Netherlands, France and Luxembourg in Group C.
Both Jing and Marshall, however, have taken China out of the equation altogether. According to their shared viewpoint, the true test at the event will be to see which team is the best among the rest.
Said Marshall: "For China, their depth is so great (that) they are well ahead of the field."
Added Jing: "Other than China, which stands head and shoulders above the rest, everyone else is starting on a clean slate. I don't think anyone is completely confident in themselves.
"This WTTC is for the up and coming, and whoever does well will have a psychological boost for the 2016 Olympics."
While she admitted that her charges no longer command the kind of fear in opponents as they did before, Jing also felt Singapore's youth and inexperience can simultaneously be a disadvantage and an advantage.
"People's perspective of us has definitely changed," she said.
"But compared to the other teams, we still have the time and space to grow. I just hope our players don't go into the tournament with a burden."
The women's team will open their campaign against Luxembourg today, while the men face an uphill task against Germany.
This article was published on April 28 in The Straits Times.


Get a copy of The Straits Times or go to straitstimes.com for more stories.