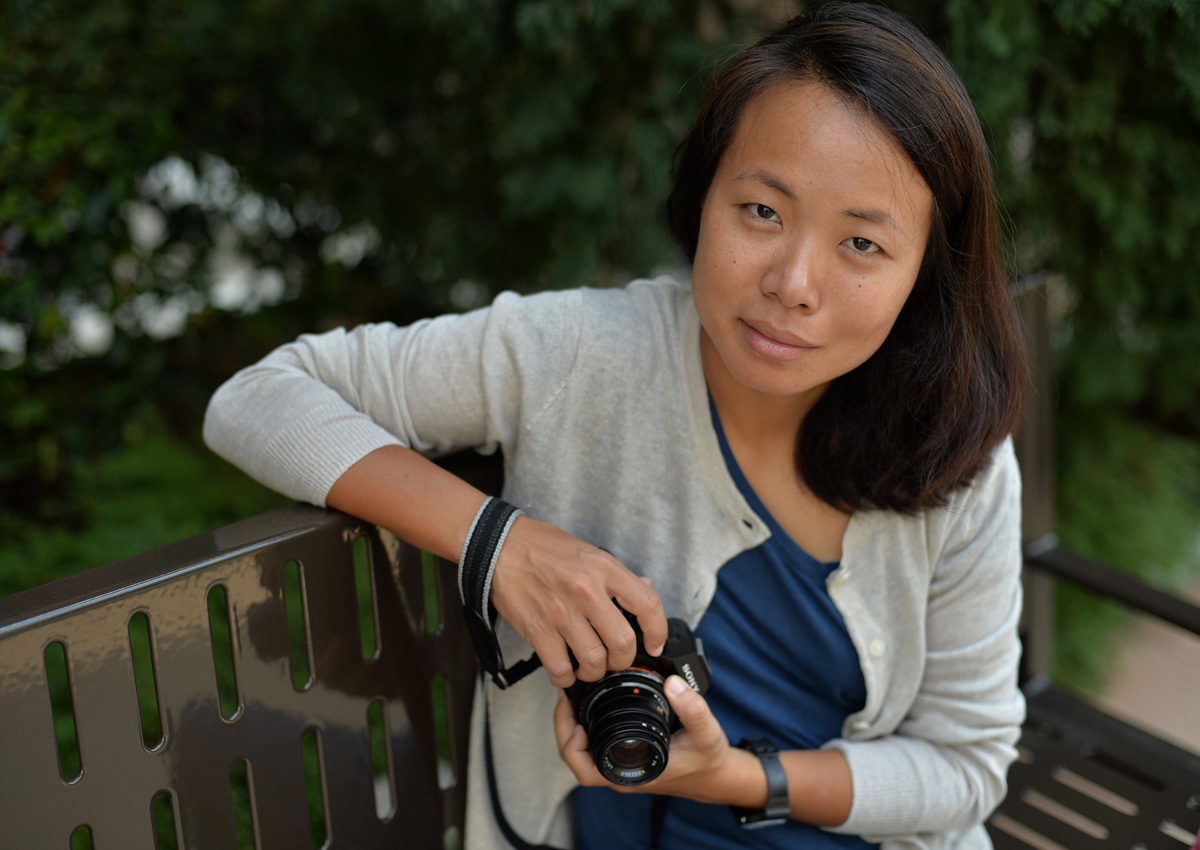 Most families would be proud to have a monument dedicated to their late father.
But for a long time, that was not the case with the Sims.
For over 60 years, the five siblings - who are now in their 70s and 80s - refused to visit their ancestral village of Gaoshang in Meixian, in east Guangdong, China, where their father, Mr Shen Huansheng, had been buried as a Communist martyr.
But when a curious granddaughter started asking questions, the first step in a journey to recover their lost history began.
It all started eight years ago, when Miss Sim Chi Yin was shown a photograph of her paternal grandfather with a twin-lens reflex camera and told of a monument built for him in Gaoshang.
The Singaporean freelance photojournalist - who worked at The New Paper for three years as a reporter - was intrigued, and began finding out more when she quit her job as The Straits Times' China correspondent in 2010. A four-year investigation eventually led to Miss Sim publishing a book, Roots: A Granddaughter's Belated Search.
Her first lead came from one of her uncles. She was handed a decades-old letter with an address and a phone number on it. Her cold call was answered by surprised relatives in China who thought she was a swindler.
"This old woman got on the phone - basically she is my granddad's cousin - and she tested me and asked me to name my dad and all his siblings," said the 36-year-old.
RECONNECTING
She passed the quiz and visited the village and monument in 2011 despite her family's unease.
In contrast, her China relatives were excited to reconnect.
Returning to Singapore with pictures and stories, Miss Sim went on a "roadshow" and successfully convinced her father and his siblings living in Malaysia to visit their father's remains in China.
"For 60-over years, nobody talked about him and nobody went back from Singapore or Malaysia," she explained. "They severed all ties with China and the Chinese relatives until I started asking about him."
Mr Shen, who grew up and spent most of his life in Kedah and Penang, was arrested in 1948 at the start of the Malayan Emergency, either for writing anti-colonial editorials as Ipoh Daily's chief editor or for helping secure funds for the Malayan Communist Party's armed insurgency.
Faced with a choice of prison in Malaya or deportation to his ancestral village in China, he chose the latter and promised to send for the family after settling down.
He never did.
Instead, Mr Shen joined the local Chinese Communist guerrilla army unit, which ran into the Kuomintang in 1949. He was imprisoned and later executed at the age of 38.
When the Communists took control of China, an obelisk monument was built in honour of him.
To Mr Shen's wife, however, he had chosen politics over the family. She forbade her children from getting involved in politics and talking about their father or China ever again.
Unaware of this family story at first, Miss Sim was drawn to the history of communism in China at a young age and wrote her undergraduate thesis on it.
Later, she resigned from her job to pursue photography full-time in China.
"I was very different from the rest of the family. So they frowned upon what I did because of their background," said the Beijing-based photographer who has won international accolades for using photography to champion social issues.
"It's fascinating to find out there was such a person in the family who had a lot of conviction, and lived and died for his conviction. I feel a sense of comfort or vindication that it's okay to be like that in this family."
What began as a project to retrace her family's past has also unexpectedly spawned one of Miss Sim's many signature photo essays on migration and labour, several of which have been published in the international press such as The New York Times.
Just last week, a picture of the steps at the jetty in Songkou town, east Guangdong, which her paternal great-grandfather and many Hakkas from nearby impoverished mountains walked down to get onto small boats to set sail for Shantou and later South-east Asia at the turn of the 20th century, was published in the International New York Times.
BRINGING FAMILY CLOSER
A selection of 15 images she shot over multiple trips to her ancestral village have also been reproduced in Roots: A Granddaughter's Belated Search, which is available now from visual arts centre Objectifs and twentyfifteen.sg for $25.
This is part of TwentyFifteen.SG, a collection of 20 photo books published by a group of Singapore photographers led by Mr Tay Kay Chin and Mr Darren Soh to commemorate the nation's 50th anniversary this year.
There's also an ongoing related photography exhibition at Jendela (Visual Arts Space) at The Esplanade showcasing images from this project. It runs till Jan 3 and admission is free.
Roots marks the first chapter of Miss Sim's continuing pursuit of her grandfather's history, which has brought the family closer and which she hopes to turn into a more comprehensive book and short film.

This article was first published on September 15, 2015.
Get The New Paper for more stories.