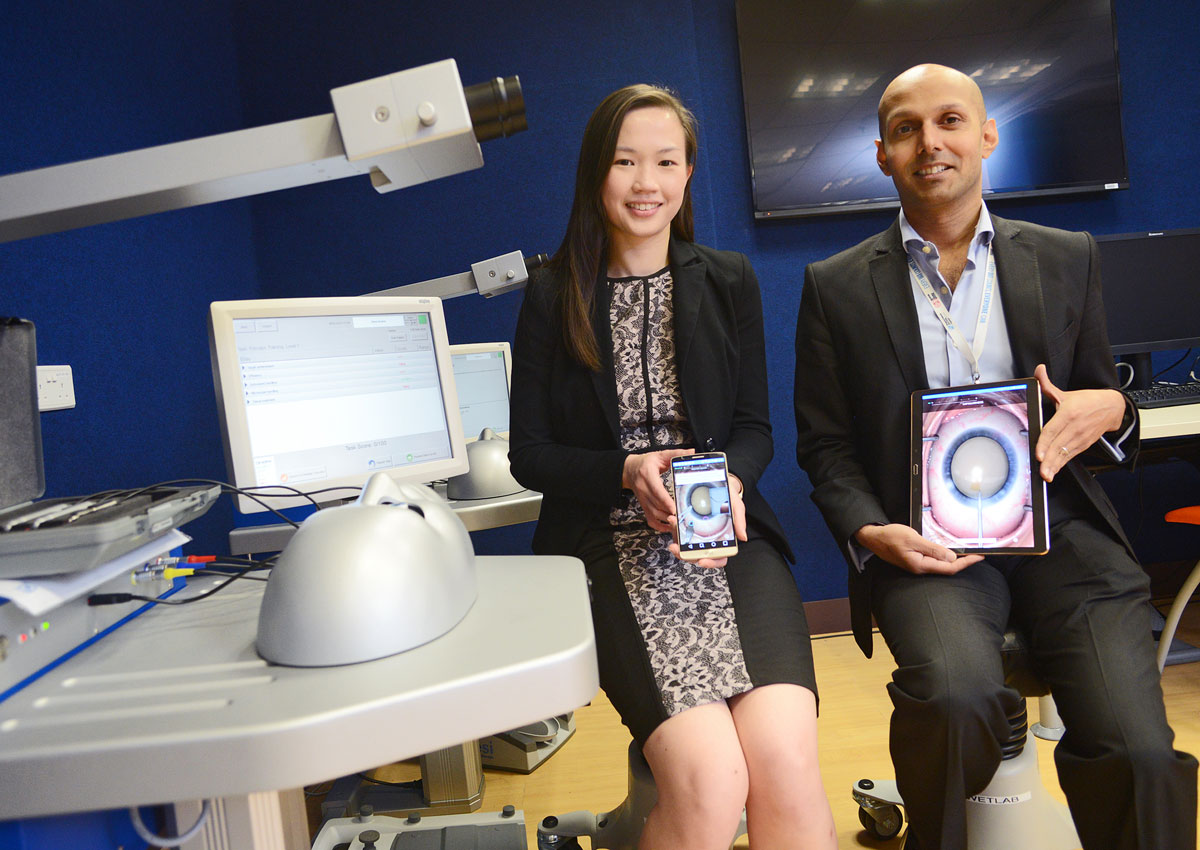 Trainee eye doctors say they are benefiting from a free simulation app that helps them practise their surgical skills on mobile devices.
Touch Surgery is designed for doctors of various disciplines and users can pick from 60 different operations to practise.
It was introduced in Britain three years ago but a new version showing cataract surgery in four parts was launched here in May at the Singapore National Eye Centre's (SNEC) 25th anniversary celebrations.
The module, developed in Singapore, shows a digital image of an eyeball on which users can carry out surgery while receiving instructions on each step. They can also be tested on their skills.
The app has been downloaded about 13,000 times worldwide since the new procedures were added. First- and second-year resident doctors in ophthalmology at SNEC, National University Hospital and Tan Tock Seng Hospital have been using it to complement their training.
Dr Sameer Trikha, senior clinical research fellow from the Singapore National Eye Research Institute, and Adjunct Associate Professor Shamira Perera, senior consultant at SNEC, spent three months developing the eye module, using data collected from SNEC operations.
Cataract surgery is the most common procedure carried out at SNEC, with about 14,000 cases each year.
Resident doctors like Dr Christine Yau find that the eye module complements existing training for eye doctors in the lab and on simulators. While simulators tend to break up a procedure into individual steps for doctors to practise their spatial awareness, the app helps them remember how the steps link together. It also revises the theory behind each step.
Dr Yau, a second-year resident in ophthalmology, said: "When you're starting out, the steps may not be at your fingertips. It's good to refresh your memory before you go into the operating theatre."
Professor Wong Tien Yin, medical director of SNEC, said: "Innovative technology such as this app will enhance our ability to train junior doctors for surgical procedure and allow a quicker transition to having more and better trained ophthalmologists for Singapore."
byseow@sph.com.sg

This article was first published on October 24, 2015.
Get a copy of The Straits Times or go to straitstimes.com for more stories.