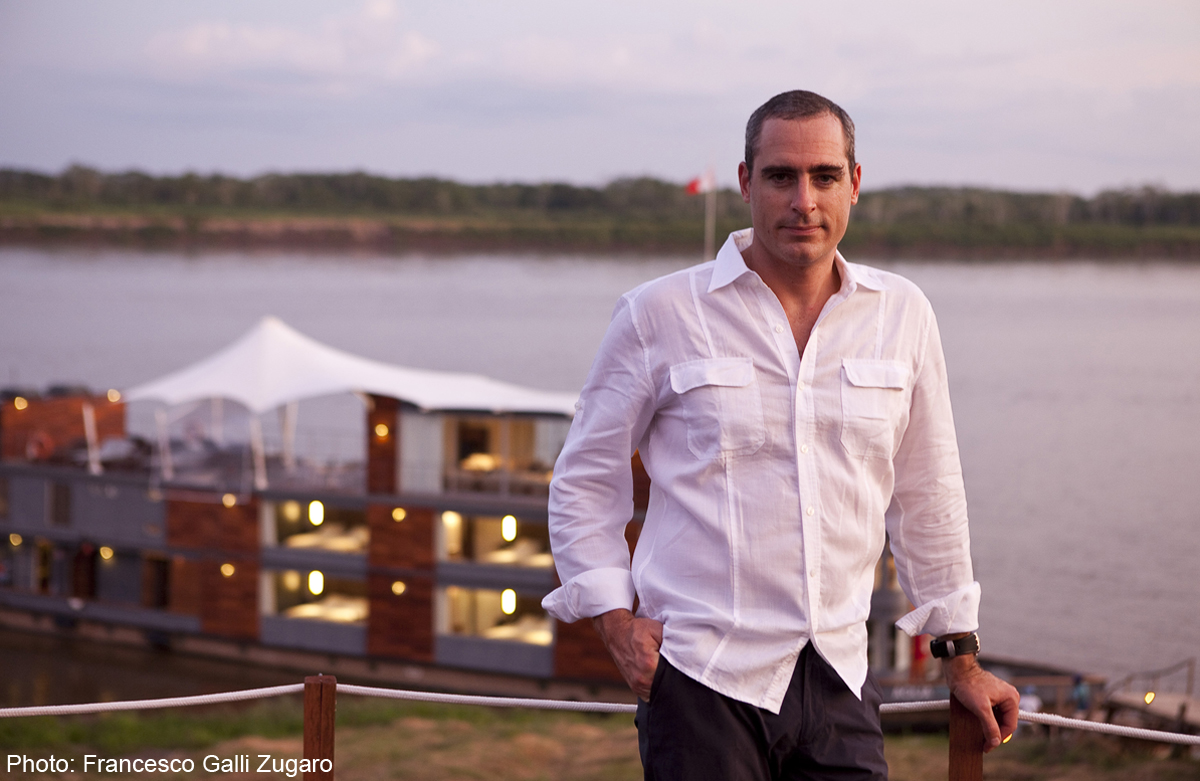 Francesco Galli Zugaro's
TRAVEL BLACK BOOK
Who: Francesco Galli Zugaro, 41, is chief executive and founder of Aqua Expeditions, a luxury cruise line in the Peruvian Amazon and Mekong River. The American lived in Lima, Peru, for five years before moving to Singapore with his wife and three children two years ago.
Favourite destination: Lima, Peru
Why: Lima encompasses a sense of adventure, culture and world-class gastronomy.
Best place to stay
Hotel B (hotelb.pe) for its boutique mix of colonial and modernist style, and Belmond Miraflores Park (www.belmond.com/miraflores-park-lima) for its location in the heart of the Miraflores district known for its shopping, gardens and beaches.
Best place to eat
Chef Rafael Osterling's El Mercado restaurant (www. rafaelosterling.pe/es/el-mercado.html) because it serves the best ceviche, a dish of citrus cured fish native to Lima (45 to 60 nuevo sol or S$20 to S$26 a plate).
Favourite museum
The private collection of Enrico Polli (Lord Cochrane 466; tel: +51-1-422-2437; admission 50 nuevo sol; tours by appointment). It is the most impressive collection of colonial silver and paintings in the world.
Favourite tourist site
I love going to the colonial churches in the old part of town. The Monastery of San Francisco is my favourite because it is one of the most impressive colonial churches in South America.
Visiting the old churches is like taking a trip back in time to see the opulence of the colonial times and understand the history of Peru. The amount of gold that was used in these churches and the quality of the paintings are second to none.
Best breakfast
Tanta by Chef Gaston Acurio (Av. 28 de Julio 888, Larcomar Shopping Miraflores) gives a Peruvian twist to your breakfast favourites, such as croissants, empanadas and eggs done 11 ways.
Best retail therapy
When in Lima, buy silverware. You can get some of the best prices and quality silverware in the world in Lima. Calle La Paz is the official Silver Street, and Petit Thouars Market in Miraflores, where vendors sell local crafts and silver, is perfect for walking around. You will find everything you want, but don't need in these markets.
Best view
Larcomar, a shopping centre in the Miraflores district, overlooks the sea and has a great sunset view.
Best hidden find
Canta Rana restaurant in the Barranco neighbourhood of Lima (Calle Genova 101, Barranco, Lima; tel: +51-1-247-7274) is an old restaurant mainly frequented by the people who have lived in the neighbourhood for years. You feel like you are stepping back in time.
It serves authentic street food from Lima and a meal here costs less than US$25 (S$32) a person. Recommended day trips
Take a three-hour drive to the famous Nazca Lines in the desert south of Lima. The lines are impressive geoglyphs that can be seen only from the sky.
There, you can do a short fly-over or climb an observation tower to see the hundreds of designs, including birds, fish, llamas and jaguars, which were drawn in the desert over a thousand years ago and no one knows why.
Event to bookmark
The Inti Raymi Festival in Cusco is the most famous festival in Peru. It is held on June 24 in honour of the Incan god Intic and in celebration of the winter solstice and the Inca new year.
Recommended reading
Any book by Peruvian author Mario Vargas llosa is a classic and should be read. Pick one up before you go to Peru to get a better understanding of this amazing country and its people.
A favourite of mine is Captain Pantoja And The Special Service (or you can cheat and watch the movie). It is a short comedic novel about a general in the Peruvian army who is asked to start a river cruise business in the heart of the Amazon. It reminds me of my own story.
Best Advice
Spend at least four days in Lima, five days in the Andes to visit Machu Picchu and Cusco, and four nights on a cruise on the Amazon. Go between December and June.
vlydia@sph.com.sg
This article was first published on Nov 23, 2014. Get a copy of The Straits Times or go to straitstimes.com for more stories.