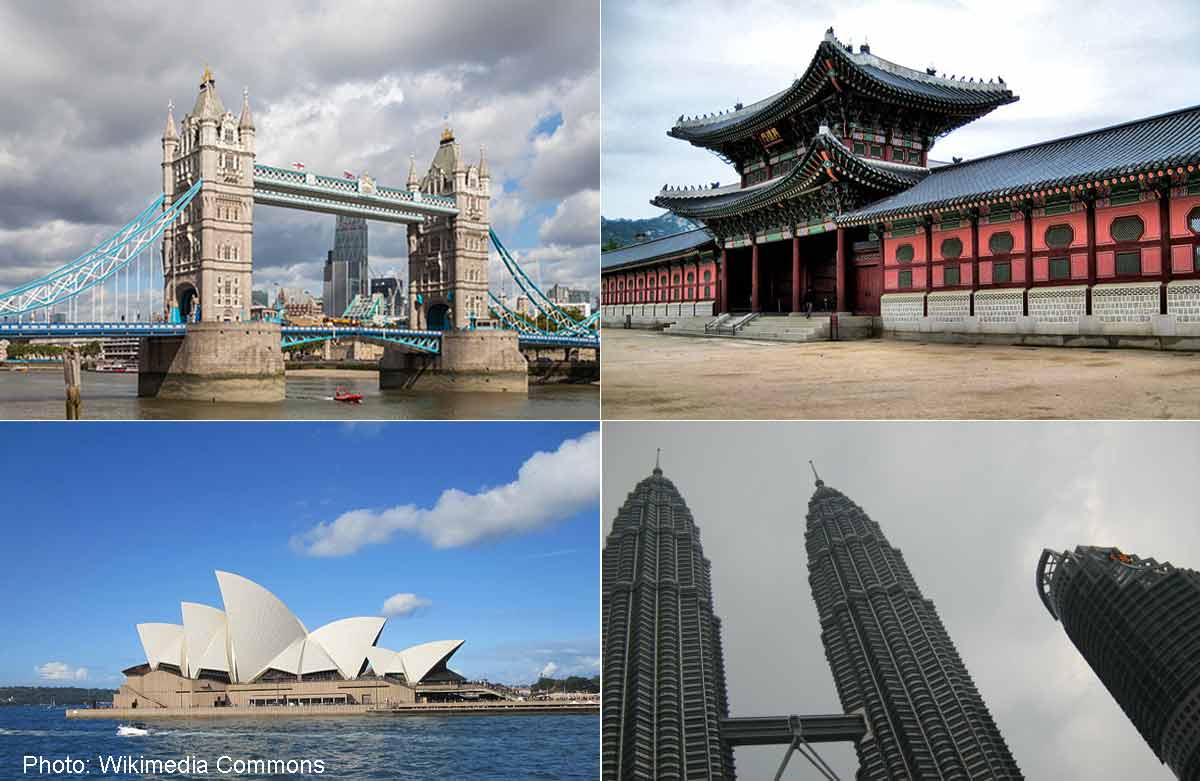 Stock markets are jittery and many currencies are tumbling as the US dollar gets ever stronger. But it's not all doom and gloom.
If you hanker for some holiday retail therapy, here are five places where you can can get the best bang for your Singapore buck:
1. Malaysia: S$1 = RM2.63 (up 2.3 per cent)
A trip across the Causeway has never made more sense, with the ringgit hitting a 10-month low to the Singapore dollar on Monday. The ringgit has fallen to RM2.63 for one Singapore dollar, from RM2.57 in June.
Falling oil prices have hurt investor confidence in Malaysia, as its government draws almost a third of revenue from state oil company Petronas.
2. Japan: S$1 = 90.5 Yen (up 11 per cent from six months ago)
After all those months of pain it has caused export rivals and Japanese households, the falling yen makes that ski trip to Japan more affordable.
Travels there have always been pricy, but a trip to Tokyo comes with a bit of a discount now as the yen has weakened to 90.5 yen for one Singapore dollar, from 81.5 yen six months ago.
On Monday, the yen hit a seven-year low against the US dollar. Blame or thanks goes to Abenomics, which has resorted to massive monetary easing by the Bank of Japan to fight deflation.
3. Australia : S$1 = A$0.90 (up 4.7 per cent)
The vast vineyards and coastlines of the land down under have a lower Australian dollar adding to their allure, as one Singapore dollar now buys A$0.90, up from A$0.86 in June.
The iron ore and coal-exporting continent with a huge mining sector has a currency that often moves in sync with commodity prices. As commodity prices weakened and exports to China, Australia's top trading partner, slowed, the Australian dollar took the heat.
4. South Korea: S$1 = 849 won (up 4.2 per cent)
Whether for sight-seeing or star-gazing, Seoul makes for a popular holiday spot, and a falling won sweetens the deal. The won has depreciated to 849 won for a Singapore dollar, from 815 won to a dollar in June.
Given the close export rivalry between Japan and South Korea, the won and yen tend to track each other. The sliding yen has therefore sent the won into accelereated decline, with the Bank of Korea cutting interest rates twice in recent months.
5. United Kingdom: S$1 = £0.487 (up 2.5 per cent)
Shopping in the UK has never come cheap, but there are occasional treats for the conscientious exchange rate-watcher. One Singapore dollar now buys £0.487, a slight gain from £0.475 in June.
For months now, the pound has been sensitive to incoming data points on the health of the economy - take the construction purchasing mangers' index for example, which posted the slowest growth in more than a year on Tuesday - as investors wait with bated breath for the Bank of England to come to a decision on interest rates.

This article was first published on Dec 3, 2014.
Get a copy of The Straits Times or go to straitstimes.com for more stories.