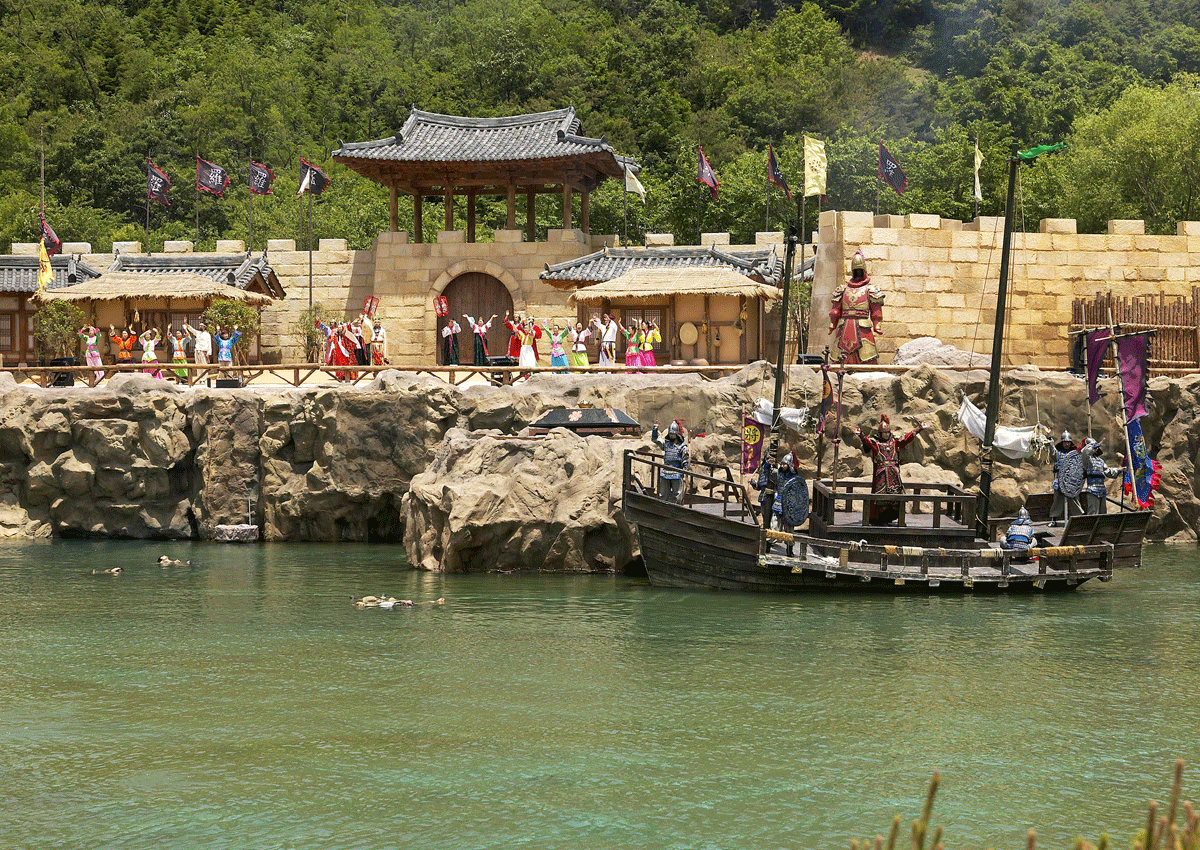 This article first appeared on Skyscanner's 5 unique BnB hotels in Seoul, Korea you have to stay at.
You don't have to speak Korean to get around South Korea on your own these days. Independent travel is on the rise in its capital, Seoul, where the subway is touted as a safe and efficient way to reach must-see spots like Seoul Tower, Myeongdong, Hongdae and Dongdaemun.
There's more than hotels and hostels when it comes to memorable accommodation in Seoul. Many travellers recommend BnBs (bed & breakfasts) for their affordability, convenience and character. Don't miss these five unique BnBs on your next visit there for a trip to remember!
1. Cozy Theme - for quirky types
The themed rooms at this BnB are inspired by things you see in everyday Korean life. Check in here and look forward to falling asleep in a giant-sized soju bottle or rolled-up stack of ₩5,000 banknotes! The rooms aren't that big, but they have everything you need for a pleasant stay including TV sets, kitchenettes and bathrooms. Some even come with a hydrotherapy bathtub! Staying at this BnB is a joy, even if cutesy rooms aren't your thing - just pick between the special- and luxury-themed rooms.
Hotel name: Cozy Theme
Address: 604 Baekdun-ri, Buk-myeon, Gapyeong-gun, Gyeonggi-do
Closest railway station: Gapyeong
Rooms start from: S$116 (₩99,000)
Visit their website: Cozy Theme

Go bananas!
Photo: Cozy Theme

Pass out in a big soju bottle at the end of the day. Shots not included!
Photo: Cozy Theme

Feel like a VIP in the blinged-out Special room.
Photo: Cozy Theme
2. UNIQUE Pension - for the brand-conscious
True to its name, every single room at UNIQUE Pension is meticulously designed to its respective theme. Whether it's Starbucks, Heineken, Volkswagen Minibus, Shin Ramyun or iPhone, the hues of the wallpaper and the furniture details are all in line with the brands. Outside the BnB lies a heart-shaped swimming pool, perfect for taking a romantic dip with your partner. There are only five rooms at UNIQUE Pension and they book out quickly. Act fast if you'd like to stay here!
Hotel name: UNIQUE Pension
Address: 1689-23, Hoban-ro, Gapyeong-eup, Gapyeong-gun, Gyeonggi-do
Closest railway station: Gapyeong
Rooms start from: S$129 (₩110,000)
Visit their website: UNIQUE Pension

Feels like you're on the set of 'Honey, I Shrunk the Kids!', doesn't it?
Photo: UNIQUE Pension


Sleep in a giant bowl of South Korea's beloved Shin Ramyun, only at UNIQUE Pension.
Photo: UNIQUE Pension

More comfy than spending the night on an overnight coach to Malaysia, we promise.
Photo: UNIQUE Pension
3. KPOPSTAY - for K-pop fans
Big Bang, EXO, 4Minute - which of these K-pop bands is your favourite? If you're a fan of this genre, KPOPSTAY is your best choice in Seoul. Hang out at the cafe to watch K-pop music videos, ogle at pictures of your favourite stars, or stay in touch with the latest happenings in the K-pop world via its news service. Feeling social? Then head to the large hall and balcony on the second floor to meet and connect with other K-pop fans. With a mix of dorms and private rooms, KPOPSTAY caters to budget-conscious independent travellers as well as groups travelling together. Its convenient location in Hongdae also makes it an ideal base from which to explore the city.
Hotel name: KPOPSTAY
Address: 6-153, Changjeon-dong, Mapo-gu
Closest subway station: Hongik University
Rooms start from: Pods S$29 (₩25,000), Rooms S$82 (₩70,000)
Visit their website: KPOPSTAY
Book rooms: here

Fangirls welcome.
Photo: KPOPSTAY

Meet other K-pop fans and gossip about your favourite stars at this cosy lounge.
Photo: KPOPSTAY
4. Urban Art Guesthouse - for art lovers
If you like art, Urban Art Guesthouse is right up your alley. Situated in Seoul's Mullae Arts Village, this BnB often hosts art events and talks on its premises. As a guest, you'll receive complimentary entry to shows at the event space next door. Soak in live music performances or be inspired by the art works on display. The venue also gives you the opportunity to get up close with featured artists to learn more about the creative process behind their works.
Hotel name: Urban Art Guesthouse
Address: 58-77(2F), Mullae-dong 3-ga, Yeongdeungpo-gu
Closest subway station: Mullae
Rooms start from: Dorm S$19 (₩16,200), Rooms S$37 (₩32,000)
Visit their website: Urban Art Guesthouse
Book rooms: here

Every art lover's dream.
Photo: Urban Art Guesthouse

Modest yet comfortable rooms await guests at Urban Art Guesthouse.
Photo: Urban Art Guesthouse
5. GIWA House - for architecture and history buffs
Experience local culture and gain a deeper understanding of it at GIWA House, a BnB built in the traditional Hanok style. It retains the architectural style of the olden days, with wooden doorframes and flooring that reflect the passage of years. Despite the air of nostalgia, a modern design studio and gallery has been incorporated into the house - a hit with architects and design buffs alike. Guests, of course, receive complimentary entry to the ongoing exhibitions at the GIWA House.
Hotel name: GIWA House
Address: 18-8 Jongno-gu, Chebu-dong
Closest subway station: Gyeongbokgung
Rooms start from: S$69 (₩59,000)
Visit their website: GIWA House

Experience traditional living at GIWA House.



Wooden door frames and furniture lend a natural, earthy feel.
Photo: GIWA House
Stay at these lovely BnBs the next time you're in Seoul! Book cheap flights, hotels and car rentalsvia Skyscanner today, or check out and download our free mobile app for easy browsing and booking on the go.