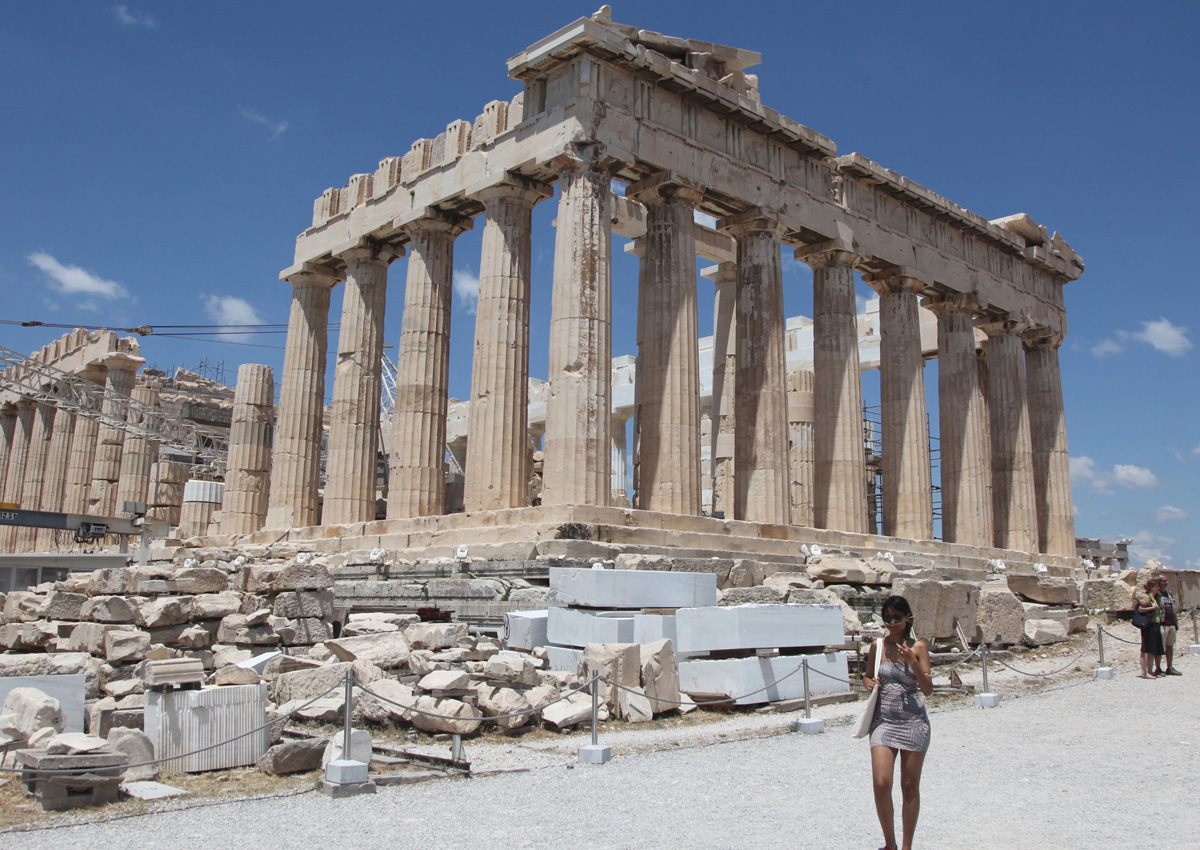 I am walking past a row of souvlaki restaurants in downtown Athens when a waiter, in a bid to draw me into his eatery, shouts: "Jackie Chan! Bruce Lee!"
I am amused, but seriously, call me Gong Li or Zhang Ziyi and maybe we can talk.
My husband and I are in the Greek capital on the last stop of our Greek holiday.
We have just arrived from the islands, where the azure seas segue into the cloudless blue skies at the horizon, and I am suffering from a bit of culture shock in Athens.
While Greece is known for its beautiful islands such as Santorini, reputedly one of the most romantic places in the world; and Mykonos, the Greek party island to rival Spain's Ibiza, Greece's capital Athens is the less glamorous sibling.
It is a gritty place. Many of its buildings are old and grey and graffiti rules the place.
But, as I discover, travellers should not be quick to dismiss the city as just a gateway to the outlying islands. Athens has its fair share of treasures.
Archaeology lovers will, of course, fully appreciate the Acropolis, the most important ancient site in the Western world and the accompanying glass-and-steel Acropolis Museum.
Then there is the Temple of Olympian Zeus, a place of worship dedicated to the king of the Greek gods; and the Ancient Agora marketplace, the heart of Athens in the time of philosophers Socrates and Plato.
But besides these leading landmarks, there are also many archaeological sites scattered across the city in unexpected places such as metro stations.
At Panepistimio metro station in town, for example, there is a permanent exhibition of relics excavated from large burial grounds during the station's construction.
Monastiraki station, near the Ancient Agora, also has a section with a glass bridge over the remains of ancient settlements, also discovered during the station's construction.
And if you are looking for a taste of island life in Athens, you might want to walk around Anafiotika, a small residential area tucked beneath the towering Acropolis.
This 19th-century neighbourhood was built by people from the tiny island of Anafi, who came to Athens to work.
Anafi is part of the Cyclades group of islands, which include Santorini and Mykonos.
The enclave is constructed in the typical Cycladic island-style of whitewashed houses with trims of electric blue and narrow winding alleys, some so tight only a child can pass through easily.
The lanes are lined with flower pots and cats snoozing on perimeter walls. A quick visit here is a pleasant interlude from the concrete trappings of town.
FOOD TOUR
And then there is the food.
I wanted to find out more about Greek food besides the usual moussaka, a casserole of eggplant layered with minced meat; and gyros, sliced grilled meat wrapped in a pita.
And for that, I sign up for a three-hour food walking tour with Athens Walking Tours (www. athenswalkingtours.gr; €49 or S$78 an adult, €43 a child), which will take us on an exploration of traditional Greek cuisine in places off the main tourist track in town.
The first thing I find out from our guide is that moussaka is not of Greek origins.
For that matter, neither is the name. The word is likely Arabic and many Middle Eastern countries have their own versions of the dish.
The moussaka myth busted, we set off on our walk led by a flaming redhead named Artemis, after the Greek goddess of forests and hills, the moon and archery. (An aside: There is also an Aristotle in the tour company's stable of guides. Big names to live up to.)
Our first stop is at a pushcart stall at a corner of a busy street, selling sesame seed-encrusted bread rings called koulouri.
But before we sample that, a quick quiz. "What do many Greeks have for breakfast?" asks Artemis.
We venture an answer. Greek yogurt? Cornflakes? Granola bars?
Artemis shakes her head.
"Coffee and cigarettes" is the answer - Greece has one of the highest number of smokers among European Union member states.
But, says Artemis, by mid- morning, people are starving and so they grab these koulouri as a late breakfast.
She buys a few from the stallholder, breaks them up into pieces and hands them to us.
The bread is delicious. Its crust is crispy and every bite fills my mouth with the fragrance of sesame. It tastes like the fried butterfly snack we get in Singapore, but minus the oil.
Next, we head to a shop which sells agricultural products from the Greek island of Crete, famous for its fertile lands and excellent climate.
We sample Cretan products such as thyme honey, cheese, three types of olives and, a surprising find, olive jam, which is like fruit jam, except with the fragrance of olives.
We also go to a spice shop, where I buy a pack of tea laced with saffron at €3 for a 50g bag ("ridiculously cheap", says Artemis); a cured meat shop where we sample pastourma, beef cured with spices and sliced paper-thin; and a loukoumades cafe for the Greek version of fried doughnuts that are slightly chewy and come with chopped nuts and syrup that oozes out when I bite into it.
There is also a fish, meat and vegetable market, which is not unlike Singapore's wet markets, except it is much bigger and everyone is shouting in Greek.
We end off with a lunch of gyros at a roadside eatery in rough- and-tumble but fast-gentrifying neighbourhood Psyrri, a short walk from shopping district Monastiraki.
ECLECTIC AREA OF PSYRRI
Psyrri (sometimes spelt Psiri or Psyri) is where you have to go if you fancy yourself as a person who knows where it is at, for this eclectic area is still not on the tourist radar and could earn you bragging rights.
Called "the Soho of Athens", Psyrri is a working-class area in the day, home to shops and businesses that are more practical than frivolous, such as candle-makers, leather shoe workshops and typesetters.
But at night, the place transforms into an edgy dining and nightlife area, with tables from bars and restaurants spilling over onto the streets filled with hip young Athenians.
Establishments here range from contemporary cafes to traditional Greek tavernas with live music to 1960s-style ouzeries specialising in small dishes (mezes) served with ouzo, an anise-flavoured aperitif.
A place worth a look in Psyrri is the Gastronomy Museum (www.gas tronomymuseum.gr/museum/), a restaurant set up last year which comes with changing food-related exhibitions and a shop selling food products made in Greek monasteries such as olive oil, honey, wine and herbs.
We are, however, looking for a place that serves seafood and the owner of the apartment we rented recommends Atlantico's Fish Restaurant (7 Avliton Street).
We find it in a back alley so dark that we have to take a few deep breaths before carrying on, but no regrets there.
The hole-in-the-wall eatery serves hearty, unpretentious and downright delicious food and our meal of seafood platter, salmon pasta and grilled vegetables costs only €21.50.
The owner speaks only a smattering of English and clearly does not expect to see tourists here because shortly after we sit down, he asks us how we got to know about his restaurant.
The modern bohemian cafe, with its plastic chairs and tables sprawling across the tiny lane outside, soon fills up with young people who have animated discussions with drink in one hand and cigarette in the other.
On our way back from Atlantico's, we decide to take a detour and stumble on a koulouri factory and wholesaler in another alley.
To Koulouri Tou Psyri (Agias Theklas 23) supplies koulouri to most of the street vendors around Athens, is open round the clock and, as a bonus, the koulouri, which you pick out of a huge rattan basket, is likely to be still oven-warm.
Each koulouri costs 50 euro cents, a small price to pay for such authentic goodness.
ECONOMIC CRISIS
But all is not right in Athens, or Greece overall.
The country is facing an unprecedented debt crisis and owes hundreds of billions of euros to the International Monetary Fund, the European Central Bank and the European Union.
The first sign we are in the middle of interesting times in Athens is a notice pasted on the ticketing machine at a subway station, which states that all public transport is free for the next week.
No explanation is given, but the reason quickly dawns on us.
On June 29, during our period in Greece, the government closed all banks in the country, allowing people to withdraw only €60 a day from automated teller machines.
Without much cash in hand, it is hard to get by and free transport is the government's bid to make life just that little bit less difficult for the people.
The economic crisis also manifests itself in small ways.
We are at a shopping street near Monastiraki - lined with touristy shops selling worry beads, evil eye charms, all kinds of olive oil products, bags and T-shirts - where we try to buy a pouch.
A leather pouch costs €25. My husband, ever the haggler, tries to get a lower price.
The shopkeeper shakes her head apologetically. "It's a very good price," she says. "And besides, because of the euro crisis, prices are lower now."
We feel her pain and the price does seem reasonable, so we hand over the money without bargaining further.
The service we receive at shops and restaurants seems to be that bit better too - people are friendlier and smiles are brighter because tourist dollars are appreciated.
So despite the economic gloom in Greece, there is a silver lining for travellers, which is good - even if it means restaurant waiters address me as Jackie Chan.
kengyao@sph.com.sg
Getting there
Singapore Airlines operates direct flights to Athens seasonally and flies codeshare with Turkish Airlines and Aegean Airlines the rest of the year.
Make time for pretty Nafplio
If you have a few extra days in Greece, it is worth taking a side trip from Athens to a Peloponnesian port town called Nafplio (or Nafplion or Nauplio), which is said to be one of Greece's prettiest towns. It is also, for now, a playground for rich Athenians and has yet to fully catch the attention of foreign tourists.
To get there, we rent a car from Athens and drive two hours.
While there are not a lot of full-fledged attractions in the old part of Nafplio, it is a wonderfully atmospheric place that will take travellers a full day to explore.
The old part of town is lined with elegant Venetian houses and neo-classical mansions that are now part-chic shops and hip restaurants, and part-guesthouses.
Especially appealing is the palm tree-lined waterfront where a row of seafood restaurants stand.
Bougainvillaeas hang around corners of the town's alleys and over restaurant tables that spill onto pavements, while children run freely on the traffic-free walkways.
We also drive up to Palamidi Fortress, which is built on a cliff above the town. If you are feeling extra fit, you could hike up about 900 steps to the top.
This fortress is great for ruin- lovers, but also offers an unparalleled view of the area below.I see a little cove with a pebbly beach hemmed in on both sides by towering cliffs and swimmers in the sea so small, they are but flesh- coloured specks.
We make our way down from the fortress and head for the beach itself and are greeted by hordes of sun worshippers lying on towels of cotton-candy colours, which, when seen against the deep blue water and the imposing cliffs, make for a very pretty scene.
Nafplio is also an accessible base to tour the archaeological sites of Epidavros, famous for its late fourth- century BC theatres constructed to host religious ceremonial events; and Mycenae, an ancient town.

This article was first published on September 6, 2015.
Get a copy of The Straits Times or go to straitstimes.com for more stories.