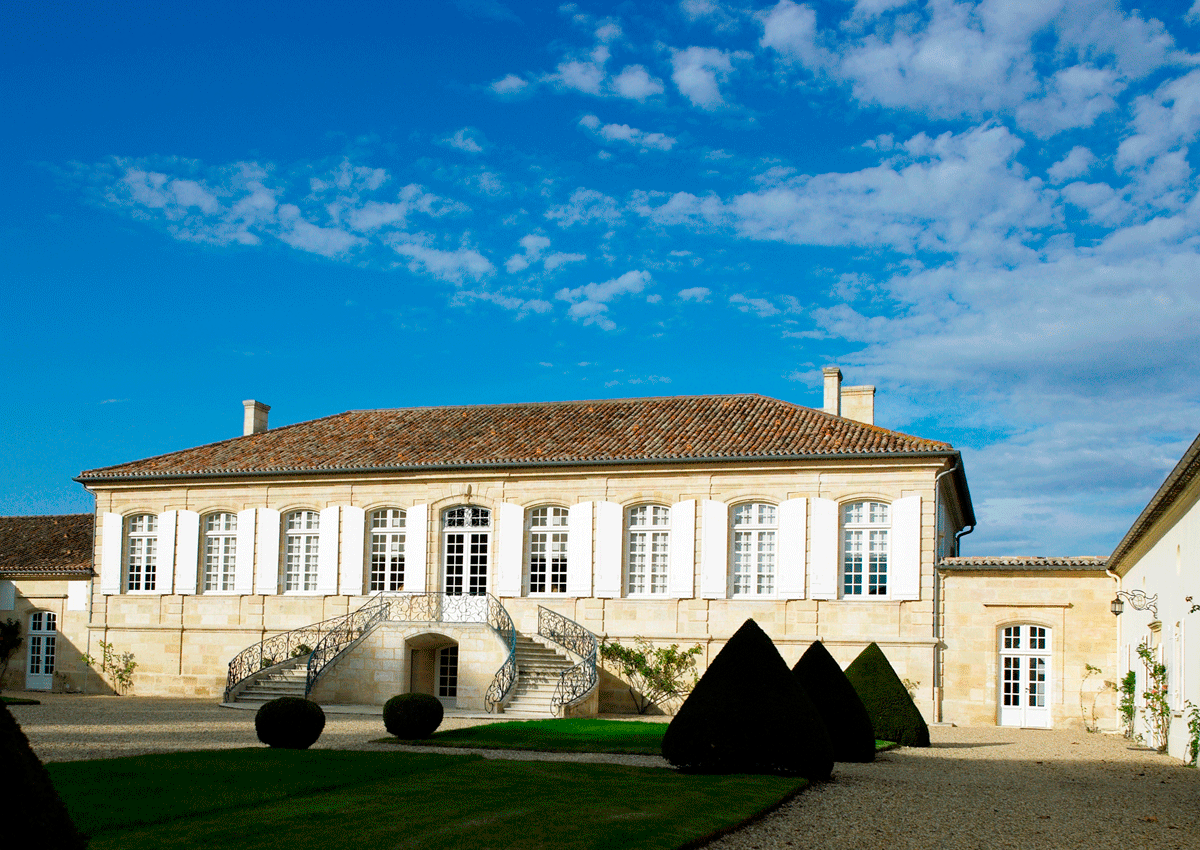 The Napa Valley has it charms and so does Margaret River.
However, Bordeaux in south-west France, which has been associated with wine-making since Roman times, is in a league of its own.
Meticulously kept vineyards are punctuated with stately wine chateaux bearing famous names such as Margaux, Latour, Lafite-Rothschild and Haut-Brion.

Photo: Chateau La Lagune
In late October last year, when I visit, the skies are an impossible blue, a relief from the oppressive haze hanging over Singapore, and the trees are blazing with fall foliage.
I am in Haut-Medoc, a guest at Chateau La Lagune, a winery owned by the Frey family.
The third-growth Grand Cru Classe producer's history goes back to the 16th century, when a Monsieur Eyral bought the crumbling hamlet of La Lagune and turned it into a wine-growing estate.
The chateau was built in 1729 and its fortunes waxed and waned as mildew and phylloxera hit Bordeaux in the later part of the 1800s. In 1931, a hailstorm destroyed the vineyard, and frost in 1956 decimated the vines.
Things turned around in 1958, when the chateau was sold to a Mr Georges Brunet, who got La Lagune back in shape by renovating the vineyard and building a new vat room.
In 1961, he sold it to Mr Rene Chayoux, owner of champagne house Ayala.
Mr Jean Jacques Frey, a businessman who is in real estate, bought La Lagune in 2000 and his daughter, oenologist and winemaker Caroline, 36, has run it since 2004. It makes three wines.
Chateau La Lagune, made with Cabernet Sauvignon, Merlot and Petit Verdot; and Moulin de La Lagune, with a higher proportion of Merlot, together with Cabernet Sauvignon; are made with grapes grown on 90ha of land at the site of the chateau. It is quite something to look out onto the rows of vines on a stroll before breakfast.
Mademoiselle L, introduced in 2004, is a blend of Cabernet Sauvignon, Merlot and Cabernet Franc. It is made with grapes grown on another 30ha vineyard nearby.
But more than making elegant, balanced wines, Chateau La Lagune offers the opportunity to experience chateau life. Unlike many wine chateaux in Bordeaux, it takes in guests.
For lovers of Bordeaux wine, this might well be the holiday to beat all holidays.
Instead of booking a hotel room or renting an apartment, villa or cottage, consider spending a night or two here. The best time to visit is during harvest, from September to October or late October to November. Spring, from March to June, is also good. Block out August as all chateaux are closed, and the end of March and early April as that is the busy En Primeur or wine futures season, when the wine world descends on Bordeaux to taste young wine with an eye to buying those that are promising.
Once in Chateau La Lagune, explore its winery and barrel rooms, located on the grounds a short walk from the main house.
Then use it as a base from which to explore the rest of Bordeaux by car.
The staff will personalise trips by arranging visits to wineries in the area, giving oenophiles access to the best Bordeaux producers.
Restaurant reservations, special meals, visits to farms in the area and cooking classes are also possible with advance notice.
The entire chateau is plush, filled with family heirloom furniture and rich fabrics. The large drawing room can hold up to 50 people for aperitifs.
There are three guest rooms in the chateau.

Photo: Chateau La Lagune
The Louis XVI suite has a four-poster bed with flowers as the theme. There is also a Chinese room decorated chinoiserie style, complete with two small pagodas flanking the bed, and the Daisy Room, with a bathroom that has been done up to look like a circus tent.
These rooms cost €700 (S$1,090) a night, including breakfast.
In an annexe accessible through the chateau, there are three other rooms which cost €600 a night with breakfast. These are not quite as opulent as the ones in the chateau and have a more modern decor, with beautiful bed linens.
If a couple books a room in the chateau, it will accept no other guests. However, the chateau welcomes groups of friends or families and the six rooms can accommodate 12 in total.
The surroundings might be formal, but the warmth of the staff is anything but.
There are two main ones, and what I must assume is an army of invisible cleaners. Every room I go to is meticulously kept, the cushions plumped after anyone leans against them.
Butler Stephane Morin, 39, who is from Paris and used to work for the Caudalie spa in Bordeaux, pulls out all the stops to make guests feel welcome, right down to hanging the flag from a visitor's country on the grounds.
Asked how he managed to find a Singapore one, he says he tracked it down in a "special shop" in Bordeaux city.
He says: "This is my job, to make people feel special."
That is in addition to looking after the property, overseeing the housekeeping and making sure the gardens are immaculate, with the help of a gardener.
However, the job also requires savoir faire, and he has it in spades.
When a guest wanted a a pair of Tod's shoes, he tracked it down. He also ordered canele moulds online to be delivered to another guest. When he overheard yet another mention her favourite roses, he sought them out for her.
Chef Catherine Stewart, 32, who is from Vancouver and used to work at L'Atelier de Joel Robuchon in London, whips up beautiful meals using what is in season. The hearty French country cooking I am treated to during my stay is soulful and comforting, anything but stuffy.
However, her experience in the fine-dining kitchens of Joel Robuchon in London and La Pyramide in Vienne means she can put out showstopping haute cuisine meals too.
I ask if she misses working in those kitchens and she shakes her head.
"This is exactly the kind of cooking I love," she says. "For me, cooking has to come from the soul."
She is kept busy cooking with and for visiting chefs, making jam from the fruit in the chateau's orchards and scouring nearby farms and markets for ingredients. The chateau has a vegetable garden too, and the harvest finds its way into her food.
The rosy-cheeked chef susses out quickly that I love cooking and organises a class, where I learn to make the canele, a Bordeaux speciality. Its burnished brown and caramelised exterior reveals a custardy inside. The batter is easy to make and I am inspired to order copper canele moulds online.
I also help to make the main course of roast chicken.
But first, we go shopping at La Ferme de Vertessec (www.fermedevertessec.com), a short drive away, and I am awed. The farm, run by the Petit family, is surrounded by green fields and chicken barns.

Photo: Marina Ann Mendez
The birds - white, brown and mottled - run free and are at least 120 days old before they are slaughtered. In their last few weeks, they are fed powdered and liquid milk to ensure their meat is tender. Commercial chickens are raised for 90 days or less.
Breeds such as Faverolles and Limousin are raised on the farm, besides guinea fowl.
At the shop, row upon row of beautifully prepped chickens look nothing like the supermarket ones I am used to cooking with.
The birds are larger, but they are not plumped up with water, and their skin is tinged with yellow.
A Faverolles wrapped in two layers of netting is what we are cooking for lunch.
Do not leave the shop without buying some of the excellent nutstudded terrines and rillettes, made without preservatives. The store also carries jams, condiments and eggs.
Back at the chateau, we hustle into the kitchen and begin to prepare a poaching liquid for the bird. Milk, thyme, garlic, carrots, onions, cloves and bay leaves are added to a large pot. The bird, with one layer of netting removed, goes into the liquid for 10 minutes before it is liberated from the other netting and roasted until golden.
Lunch, like all the other meals I have at the chateau, is in the sprawling kitchen which has a table that seats 12. A La Cornue stove takes centre stage. The look is French country and the tables are set with Villeroy & Boch crockery and crystal glasses.
The chicken tastes like the bird of my dreams. It has a robust but not gamey flavour and is tender but with a little bit of a bite. String beans and ever-so-creamy mashed potatoes, a secret recipe from the chef's time at Joel Robuchon, round off the meal.
For dessert, there are caneles cut in half to sandwich a scoop of house-made vanilla ice cream, with a river of hot chocolate sauce poured over everything. I could get used to this, I think to myself.
Guests can request Chateau La Lagune wines with their meals, and the 2004 Chateau La Lagune, the first vintage by Ms Frey, is elegant and mellow with hints of tobacco.
But it is the 2012 Mademoiselle L that draws me, with its lush berry and blackcurrant notes and a hint of spice. The wine is perfect with an omelette topped with thick, succulent, foraged cepe mushrooms that I have for dinner after a long day.
Breakfast, which is included with the stay, is an elaborate affair.
Freshly squeezed orange juice, juicy strawberries, sweet clementines, yogurt and honey made from the chateau's hives greet visitors in the morning. There is also a platter of toasted baguette, croissants and pain de chocolat, with house-made jams and French butter.
Guests do not have to stay at the chateau to sample the chef's cooking and the chateau's wine. They can arrange to have lunch or dinner there.
The four-course Menu Decouverte with three wines costs €95 a person, while the more elaborate five-course Menu Prestige, which starts with champagne and includes three wines, costs €168 a person.
Other places to visit in the area include wine shop La Cave d'Ulysse (www.caveulysse.com/en/), a friendly wine shop which carries bottles from all over Bordeaux, including difficult-to-find vintages.
Bordeaux city, just a 30-minute drive away, is full of things to do as well.
Ecole du Vin de Bordeaux (www.bordeaux.com/us/wineschool) offers two- to four-day courses that seek to decode the wines of the region.
The city is also undergoing something of a renaissance.
Famous chefs opened restaurants there last year. There is Gordon Ramsay's Le Pressoir d'Argent, a fine-dining restaurant at the five-star Grand Hotel de Bordeaux & Spa ( www.ghbordeaux. com/fr/le-pressoir-d-argent.php) in the city, and Joel Robuchon at La Grande Maison ( www.lagrandemaison- bordeaux.com/fr/hotel-luxe-bordeaux), another high-end restaurant with rooms.
In June, the Cite des Civilisations du Vin ( www.laciteduvin.com/accueil.html) will open.
Housed in a glass building that might conjure up images of wine swirling in a glass, the knotty trunk of a grape vine or perhaps a decanter, it will offer exhibitions, events and workshops built around the theme of wine.
Bordeaux is happening and there is no better time to visit.
hsueh@sph.com.sg
The writer's trip was sponsored by Chateau La Lagune.
To book a stay at Chateau La Lagune, e-mail Karine Joffre at k.joffre@chateau-lalagune.com or call +33-5-5788-8277. Bordeaux is about an hour by plane from Paris. Pick up a rental car at Bordeaux-Merignac airport.

This article was first published on January 31, 2016.
Get a copy of The Straits Times or go to straitstimes.com for more stories.