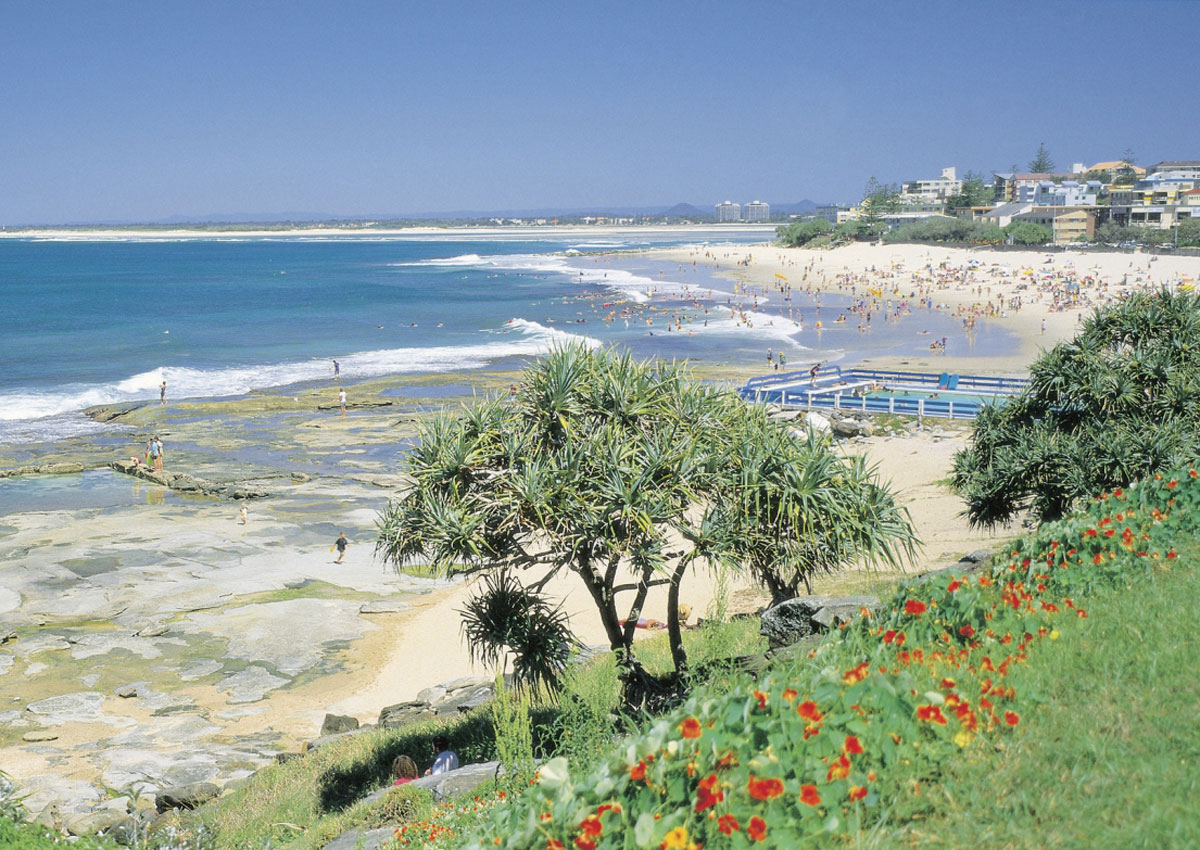 Been to the Gold Coast before? Enjoyed the sand and surf and done the rounds of the theme parks?
If you think you have covered all that is worth visiting in this part of Australia, think again.
What you need to do is venture a little beyond the usual tourist draws, and you will discover worlds you never know existed.
The Great Beach Drive
Imagine travelling on a beach in a four-wheel drive - miles and miles of sand before you, the vast Pacific Ocean on one side, and wild bushland on the other.
Such an adventure can be had not far from the Gold Coast.
Australian tour operator Sunset Safaris can take you on an exhilarating three-day two-night jaunt over 100km of beaches in comfortable four-wheel drive buses.
Starting your journey from the Gold Coast, look out for the wild kangaroos as you travel along Noosa North Shore. On Teewah Beach, the white sands seem to go on forever.
Next, you will encounter Rainbow Beach with its stunning cliffs of multi-coloured sands. It is said that there are as many as 72 different shades, ranging from white to rich ochre and red to black.
A short ferry ride across the ocean, and you are on World Heritage- listed Fraser Island, where more pristine beaches beckon.
Continue your journey on the magnificent 75 Mile Beach - the de facto highway on this, the world's largest sand island.
Fraser Island is also the only place on earth that has a rainforest growing on sand. Marvel at this wonder of nature as you walk along the rainforest boardwalk at Central Station, a former forestry camp.
The island is also famous for its purebred dingoes, which have rarely mated with dogs of other species.
Another attraction are its many crystal-clear freshwater lakes, great for a dip on a hot summer's day.
There are over a hundred of them dotted all over the island, including beautiful Lake Birrabeen and Lake Wabby, the deepest among the lakes.
You can also swim in numerous freshwater streams, such as the sand-filtered waters of Eli Creek.
If you prefer to soak in saltwater, there are the Champagne Pools, a collection of rock pools filled by waves from the ocean. The constant churn from the crashing surf makes them bubble like a natural jacuzzi.
While you are on the beach, visit the wreck of the SS Maheno which washed ashore in 1935 and has been left there.
The island is a chance to get away from the urban jungle. Take advantage of the limited mobile reception to set aside your smartphone and simply be at one with nature.
This rugged tour will appeal to those with a sense of adventure and a love of the outdoors. There is also the chance to make new friends with like-minded people in the group.
World Heritage Drive
For families with children, and those who want more control of their itinerary, a self-drive holiday may be preferable.
With the eight-day six-night World Heritage Drive package, you can still get to experience the beaches, lakes and rainforests of Fraser Island by booking a tour with an experienced driver to handle the four-wheel drive vehicle on the sands.
But for the rest of the trip, you are free to make stops as you please as you drive along bitumen roads in a regular car - starting from the Gold Coast, traversing the Sunshine Coast and Fraser Coast, before parking your car at Hervey Bay and taking a ferry to Fraser Island for a two-night stay at the lovely Kingfisher Bay Resort.
On returning to the mainland, your self-drive journey continues to Bundaberg.
The package also includes a scenic flight from Bundaberg or Hervey Bay to Lady Elliot Island.
Located at the southern tip of World Heritage-listed Great Barrier Reef, this coral cay teems with some 1,200 species of marine wildlife. Snorkel to discover its wonders, or take a glass-bottom boat tour.
As you drive along this route, there are many detours you can take and gems to explore.
In cosmopolitan but laid-back Brisbane, hipster hangouts and acclaimed restaurants entice.
Maleny Botanic Gardens, near the Sunshine Coast, is worth a visit not just for its thousands of plant species but also for the amazingly friendly birds in the aviary and magnificent views of the Glass House Mountains.
The Sunshine Coast is also well known for its markets. Check out two of the most popular - Noosa Farmers Market on Sunday mornings, and Eumundi Markets on Wednesday and Saturday mornings.
Horse-riding along the beach is another experience you may want to try. Rainbow Beach Horse Rides' offerings range from standard beach rides to a Beach Full Moon Ride.
In Bundaberg, you can take a tour of Bundaberg Brewed Drinks, known for Bundaberg Ginger Beer and other delicious non-alcoholic craft-brewed fizzy drinks. For those who prefer spirits, the Bundaberg Rum Distillery also offers tours.
If you are in the area in November and December, don't miss the annual turtle nesting season at Mon Repos, a 15-minute drive from Bundaberg. Hatching season is from January to March.
You can watch the nesting and hatching only on guided tours booked in advance. This is to ensure the turtles are not disturbed during the delicate process.
Scoot to the Gold Coast
Fly direct to the Gold Coast on premium low-cost carrier Scoot's new 787 Dreamliner.
Enjoy the pluses of a premium aircraft at the price of a ticket for a budget airline flight.
These include a more spacious cabin and roomier seats, larger overhead bins and quieter engines. With an advanced air filtration system and four times more cabin moisture, you will also feel less dehydrated and enjoy fresher air.
To find out more about trips to the Gold Coast on Scoot, visit flyscoot.com/goldcoast
This article was published by the Special Projects Unit, Marketing Division, SPH.
This article was first published on September 27, 2015. Get a copy of The Straits Times or go to straitstimes.com for more stories.