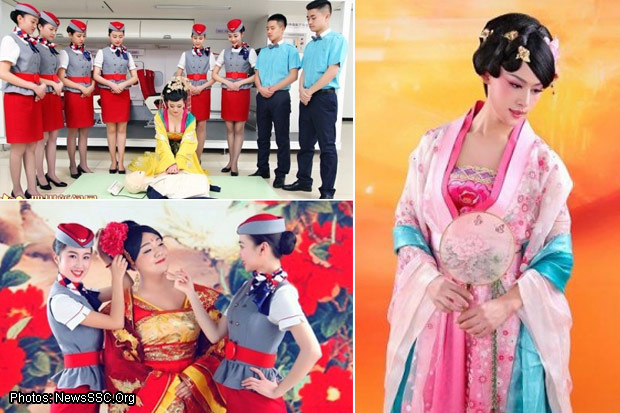 HNTV's high-budget historical TV drama "The Empress of China" has been attracting a good deal of buzz from viewers and non-viewers alike, thanks in part to controversial editing the show underwent as a result of some pushed-up cleavage shots that were deemed 'bad for the healthy growth of juveniles'.
The show's popularity has also inspired cosplay, and lots of it.
Recently, a group of Sichuan flight attendant trainees dressed up as characters in the show and posed inside of a cabin simulator.
Their photos have made waves on the internet, and web users were wowed by the authentic costumes, detailed makeup and most impressive, the fact that some of the characters are played by men.
The flight attendant trainees are said to be demonstrating airplane etiquette by combining traditional and the modern approaches, report Netease and Shanghaiist.
"We are doing this to challenge ourselves and to show the best part of us to the world," said one of the flight attendants.
And possibly to become semi-famous online. A male airport security trainee also joined in the cosplay.
"My body is plump, which was considered beautiful in the Tang Dynasty. If we travelled back to that era right now, I would be the prettiest of us all. The others wouldn't be seen as beauties.
"As for Fan Bingbing [who plays Wu Zetian in the TV series], she's pretty skinny. I don't think she would be considered as beautiful as me in the Tang Dynasty."
Visit STOMP for more stories.