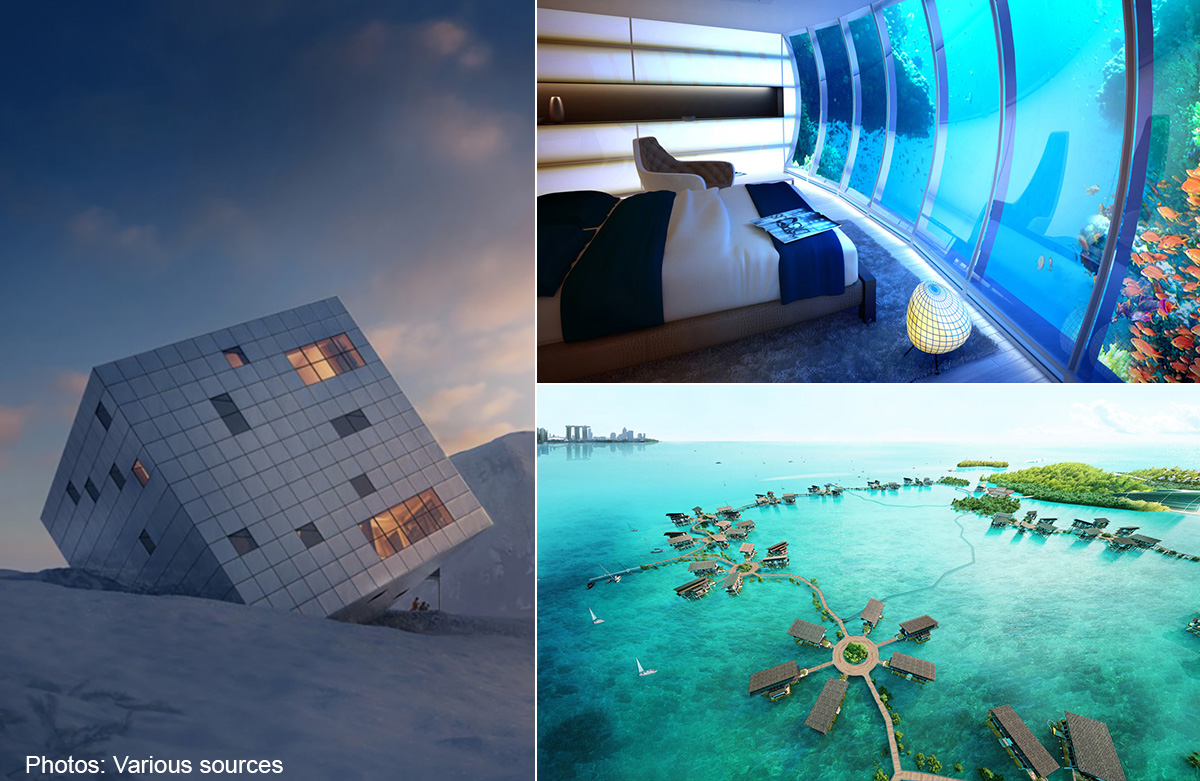 Glass dome, lush gardens and the world's highest indoor waterfall - these are just some of the spectacular features which Changi Airport's Jewel will bring to visitors when it opens in 2018.
But how do these features compare with the world's future attractions?
UK-based home exchange club Love Home Swap has shortlisted 50 of the world's future attractions which will join the ranks of current top tourist spots such as the ancient Great Wall of China and the ever-popular Disney franchises.
Visitors to China can look forward to nine new tourist spots, of which two are already opened to public and four are set to welcome visitors this 2015.
One of the exciting new attractions in the Chinese nation includes a "high-tech" amusement park in the capital. Called the Eternity Passage, the family-friendly park will merge traditional Chinese elements with the latest technology, said Love Home Swap.
Developer of the theme park, Fun Capital, said it will encompass China's past, present, and future in 15 different zones, and feature 5D/6D interactive theatres.
Another awe-inspiring attraction set to open in China in 2018 is the Phoenix Towers. Standing at a height of almost 1km, the eco-friendly towers will be the world's tallest building and costs US$1.2 billion (S$1.6 billion) to build.
Other Chinese cities of Hong Kong, Taiwan and Macau will also be welcoming visitors to their new attractions.
Hong Kong will be adding a hotel composed of containers to its list of high-end stays, while geometric patterns and a large sphere will dominate Taipei's new Performing Arts Centre.
Macau will be adding another skyscraper to its skyline with a twisted cuboid hotel designed by renowned Iraqi-British architect Zaha Hadid.
In other parts of the world, travellers will be able to seek tranquillity at Copenhagen's House of Peace - a floating "cloud" across the Nordhavn harbour.
House of Peace is designed by Svendborg Architects, Junya Ishigami and associates, and will appear as a cloud floating in between the sea and the skyline.
Visitors can explore the structure on circular boats and enter the silence of the water surface, explained Svendborg Architects on their website.
Other than attractions high up in the sky, travellers might have a chance to participate in more aquatic activities.
Reef Worlds, an American developer, has been commissioned to develop the Pearl of Dubai attraction. The attraction is to be an ancient lost city submerged beneath the waves, said Home Love Swap.
Another underwater project in the works is the SeaOrbiter. Costing around US$53 million, the project is set to revolutionise sea exploration and education, reported Daily Mail.
The first model will be used as a marine research facility, but it could be opened up for similar commercial projects, said Love Home Swap.
According to its official website, the SeaOrbiter will also be used as a space stimulator and allow astronauts to experience a pressurised environment, similar to space.
wjeanne@sph.com.sg