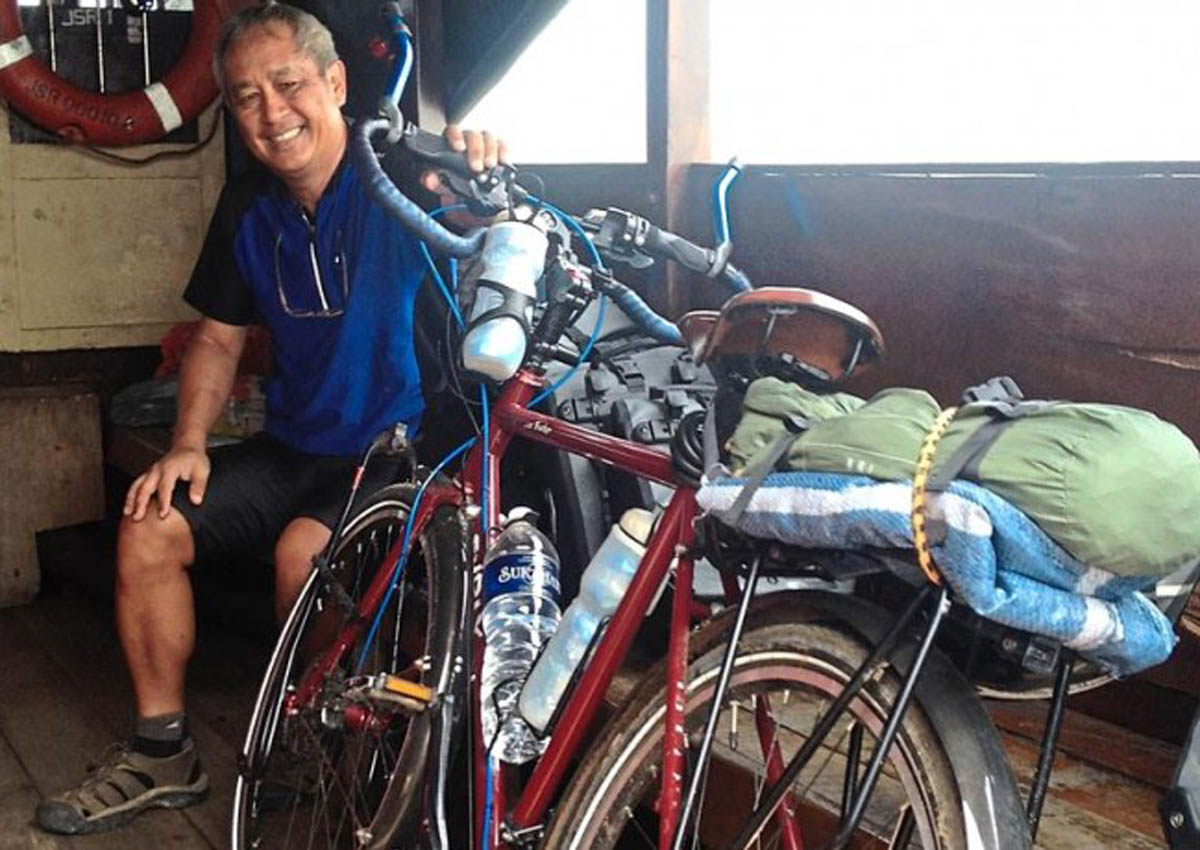 In 2004, two cyclists who lived thousands of miles apart crossed paths. They did not speak to each other, but the chance encounter sparked Peter Yoong's interest to take up bicycle touring seriously.
Yoong was driving near Templar Park in Selangor when he saw Englishman Rob Lilwall cycling uphill. He was curious but did not stop to speak to Lilwall.
But he read about him later in The Star and learnt that Lilwall was on a three-year solo world tour. The cyclist was then in his mid 20s and had cycled from Siberia.
"I saw him cycling up a hill and later read about his tour.
"In 2009, I seriously considered touring the world on a bicycle after reading and following Lilwall on his world cycling tour. I felt excited reading his book four times and watching his video. From then on, a world bicycling tour was on my bucket list," recalls Yoong, 55, who also befriended the cyclist by e-mailing him and taking a keen interest in his cycling trips.
Today, the nature guide is making plans for his world cycling tour which will take one-and-a-half to two years. He hopes to begin his cycling world tour late next year. He also plans to raise money for charity on his trip.
Although Yoong's plans are not concrete yet, he has never been closer to realising his dream.
Uphill and downhill
Yoong has always been an adventure and outdoors lover. He loved cycling and did so whenever he had time.
But it was his scoutmaster Najib Abdullah who introduced him to cycling expeditions in the late 1970s. Najib planned and organised cycling trips for his scouts during year end school holidays.
When he was 18, Yoong told his father he intended to cycle from Kuala Lumpur to Langkawi. His father threw a fit.
"He said I was either stupid or crazy or both. Being a loving father, he was willing to buy a bus ticket for me to go to Langkawi and back. I declined his offer," Yoong recalls. He understood that his father was concerned about his safety but he was still disappointed he could not go touring.
But the setback only made him more adamant to take up bicycle touring, which he did eventually.
"I was studying in the Malaysian Institute of Art for my diploma in commercial art. During my third year, I did some good freelance work for a small agency doing airbrush illustrations, interior design and logo designs," says the freelance illustrator and graphic designer.Soon, he saved enough to buy his dream bicycle. He even had pocket money for his tour.
"I bought a second hand 10-speed road bike for RM110 from my scout friend," he recalls with a tinge of sadness for that trusty old bike is long gone. But Yoong now has six bikes.
Three bikes - a Polygon mountain bike, Surly touring bike and Brompton folding bike - are strictly for his own use.
On his tours, Yoong insists on keeping his bike with him in his room. His guesthouse hosts sometimes find that problematic.
"I told them if they don't allow my second wife - which is my bicycle - in the room, then I will go somewhere else," he says.
After he bought his first dream bike, it would still be another three years before he joined a cycling tour.
"In 1982, I was assistant convoy leader during a 20-day bicycle tour from Kuala Lumpur to Langkawi. After that tour, I became even more passionate about bicycle touring," he recounts.
But soon other priorities such as building a career and raising a family took over. Cycling was relegated to the back burner.
He brought up three sons - now aged 17 to 26 - and took care of his ageing parents.
Six years ago, he started touring on his bike again. Yoong relished those experiences.
On his Kuala Lumpur to Bangkok solo tour last year, Yoong had to look for accommodation in Bagan Serai, Perak as it was late. He located two nearby churches on his smartphone but one was locked. But in the other church, he was allowed to spend the night in the backyard.
He was settling down for the night when a man came over to chat and told him what lies beyond the fence.
Yoong wished the man had kept the information to himself.
"I kept the light on until morning. I only manage to sleep after 1am and woke up at 5am."
Well, behind the fence and hidden by the bushes was a graveyard.
Dream trip
Three years ago, Yoong had the opportunity to realise his dream of touring in the United States. He had also gone on cycling expeditions in Thailand and Singapore.
His opportunity to cycle in the US came when he went to attend his eldest son Paul's and his niece Tracy's graduation ceremony.
"So off I went for a long overdue cycling tour after their graduation. I took a few days off cycling around Laconia and around the White Mountains in New Hampshire in the United States. What an awesome spring tour!"
He was blown by the freedom of riding past flowering trees and beautiful lakes. He enjoyed the solitude with cold breeze blowing.
Yoong also had some scary moments during his US tour.
"I was cycling to my next host's house and it had been raining almost all day. I was cold, wet, miserable and hungry," he recounts.
As he pedalled on, he saw a police patrol car cruise past and stop 150m up the road. The police officer then alighted from the car and seemed to be waiting for Yoong.
Yoong got nervous, wondering what offence he had committed. Yoong slowed down, hoping the cop would get bored waiting for him, but that didn't work.
When Yoong reached the policeman, he was friendly.
Yoong told him that he was cycling to Scott Thompson's home. "I'm Scott Thompson," replied the policeman who proceeded to escort Yoong to his home and fed him a generous dinner.
It's positive experiences like this on his trips that inspire the avid cyclist.
"It made me want to go on more bicycle tours," he says.
His US experience was so memorable that he plans to spend Christmas with Paul and his sister Trace Hubbard at the end of 2018 during his cycling world tour.
During those three winter months, Yoong does not plan to go cycling. He will stay with Paul.
He also hopes that his sons could join him at some point during his world tour. Yoong wants his wife, Alice Low, to join him when she can get away from work.
"Then I can indulge in a bit of luxury during her hotel stay," he says.
Also on his bucket list is camping out in the snow.
Yoong chuckles: "It'll be right outside my sister's house. If the weather gets too cold, I will just move into the house."
The time is finally right for Yoong to embark on his world tour. He is now free of his commitments to seek the adventure of a lifetime.
Peter Yoong is inspired by the cyclists he hosts in his home.
Over the years, Peter Yoong has kept in touch with cyclists from all over the world through The Warm Showers Community, a worldwide hospitality exchange website for touring cyclists.
"Through this website, I managed to have someone host me during my short tour in the US. I even managed to borrow a bicycle from one of the Warmshowers hosts.
"Kenneth Colburn did not only loan me his bicycle. He even arranged for his good friend Gill and Laura Richardson to host me along the way. My experience riding on small country roads, beautiful lakes, quiet farm houses and mountain pine tree was awesome."
His hosts opened their homes to Yoong. The Richardsons' house at the White Mountains in New Hampshire was totally off the grid, built on the fringes of a lush forest. "I was really honoured to stay in a beautiful room and fed so generously by them," he recalls.
Since 2010, Yoong has hosted 33 international cyclists passing by Kuala Lumpur.
"I provided them with meals and a place to sleep and shower.
"During their stay here, we also went cycling together. We ate as a family and they shared wonderful stories of their adventures with us. A solo woman cyclist, Leana Niemand, who I met during my tour to Bangkok in July 2015, has become close to me and my family. She is 61 and I have hosted her four times. She is still roaming the globe," says Yoong.
Yoong's oldest guests were 66-year-old Briton Val Hadden and Merv Savage who were cycling from England to Australia for nine months.
The most inspirational couple to Yoong was Briton Stani Velomad and Frenchman Richard Velomad who stopped by in Kuala Lumpur in February 2012 on their 10-year world tour.
The youngest biker he hosted was Ann Burkov, six, who rode with her Russian father Andrey, from Thailand to Kuala Lumpur.
"I realised that having physical strength without passion can only take you so far. But if you've a burning passion, it will provide everlasting energy to cycle around the world."
Many cyclists, he says, are never paid to go on such arduous journeys. In fact, some of them sold all their belongings just to do their epic tours.
Yoong says: "They couldn't be happier making that decision to see the world on a bicycle."
Meeting these adventurous cyclists has inspired Yoong to pursue his dream world tour.
Peter Yoong shares his tips for biking adventure.
Cycling tours offer an unique way of travelling, with the freedom to roam anywhere at your own time and pace.
Here are Peter Yoong's biking tour tips.
■ Learn to go with the flow. One can never plan too far ahead.
■ Don't be too rigid. Change your plan if you have to.
■ If you feel tired, that means you're low in energy. It's time to look for delicious food and chill out.
■ You can never get lost when there's a road in front of you. It will surely lead you to a new place.
■ Not knowing where to sleep at the end of your ride is like getting a surprise gift box and not knowing what is inside.
■ It's okay to be scared, encounter danger, get hurt (not get killed), get sunburned and lonely sometimes - it's all part of the adventure.
■ When you're most miserable during your tour, it will become the sweetest victory of a lifetime if you overcome it.