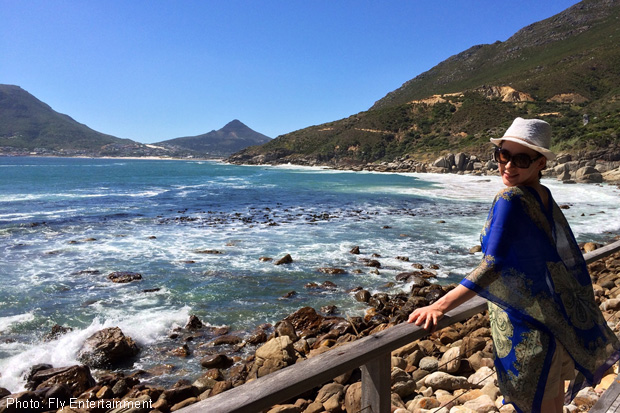 Who: Stephanie Carrington, 30. The American model and television host has lived here since 2009 with her Australian husband. They have no children. Both are Singapore permanent residents.
Favourite city: Cape Town, South Africa
Why: My husband and I went to Capetown over Christmas and New Year. We went without any expectations, which always helps, and it just blew my mind. The scenery is beautiful and postcard-perfect. Everywhere you look, there are towering mountains. It's almost like a painting of a city.
We spent a week there, from Christmas Eve to the day after New Year's Day, and it wasn't long enough.
Best place to stay
The Ellerman House (180 Kloof Road, Cape Town, tel: +27-21-430-3200) is a special place to stay in.
It's very different from other hotels or resorts. It's a huge mansion with just about 10 rooms and the staff encourage you to treat it like your own home.
They were actually adamant about us not calling it a hotel, but calling it "home" instead. Guests don't lock the room doors and all the staff know their names. You can relax wherever you want, whether it is in the living room or library, and help yourself to snacks from the pantry. That gave it a very intimate and relaxed feel.
Rooms start from 5,500 rand (S$648) a night.
Another wonderful place to stay is Tintswalo Atlantic (Chapmans Peak Drive, Hout Bay, tel: +27-11-300-8888). The resort is made up of about 10 villas perched on a beautiful rocky beach, so your suite is right at the edge of the Atlantic Ocean and you can dip your feet in it. It was freezing. We had an unobstructed view of the ocean and could hear the waves crashing ashore from our room.
Each suite has a different theme and is named after an island in the Atlantic Ocean. We stayed in one called Robben Island, the name of the place where Nelson Mandela was imprisoned. Suites start from 4,055 rand per person per night.
Favourite restaurant
All the food we tried in Capetown was incredible. My favourite place was Buitenverwachting Restaurant (Klein Constantia Road, Cape Town, tel: +27-21-794- 5190). The restaurant is within Constantia Winery, so you are eating amid very beautiful surroundings.
The food was Western cuisine and very delicious. While it is big on game meat there, it also had many options for people who may not like it.
I had fish, which I really enjoyed. With wine, dinner came up to about $60 a person. I was surprised at how reasonable the prices were.
Event to bookmark
I was really bummed that we just narrowly missed whale-watching season. If you are planning a trip to South Africa, you might want to plan it between July and November to catch a glimpse of the whales at Hermanus, a town that is a three-hour drive from Capetown. If it's early in the season, you might be able to see the whales from the beach. Even if you can't, there are whale-watching boats that take you out to sea where you can watch them.
Best hidden find
The Boathouse is a beach house by the sea, from which an award-winning chef called Bruce Robertson runs a restaurant. It's always a very small group, so it's like having lunch at the chef's house. He cooks an amazing five-course meal and personally explains each course.
Each course was paired with a different wine. We thought it was just a normal restaurant when we made a booking but we were pleasantly surprised when we got there and found out it was a house.
We were among just eight people having lunch there that day. A five-course lunch for one person costs 590 rand, including wine. Book a meal with Chef Bruce through his website (www.chefbrucerobertson. com).
Best day trip out of the city
There are wineries galore around Cape Town and we visited several wine-growing areas as well.
The one I liked best was a wine valley called Franschhoek. It's a cute little village with several wine estates, many small cafes and shops as well as a university.
Another wine area we visited was Stellenbosch, where we checked out the Waterford Wine Estate (Blaauwklippen Road, Helderberg, Stellenbosch, tel: +27-21-880-0496). That winery stood out for me because during the wine tasting, it gave us different pieces of chocolate to pair each wine with. I'm a major chocolate fan, so I loved it. Bottles of wine cost less than $20 each.
jennanid@sph.com.sg
Get a copy of The Straits Times or go to straitstimes.com for more stories.