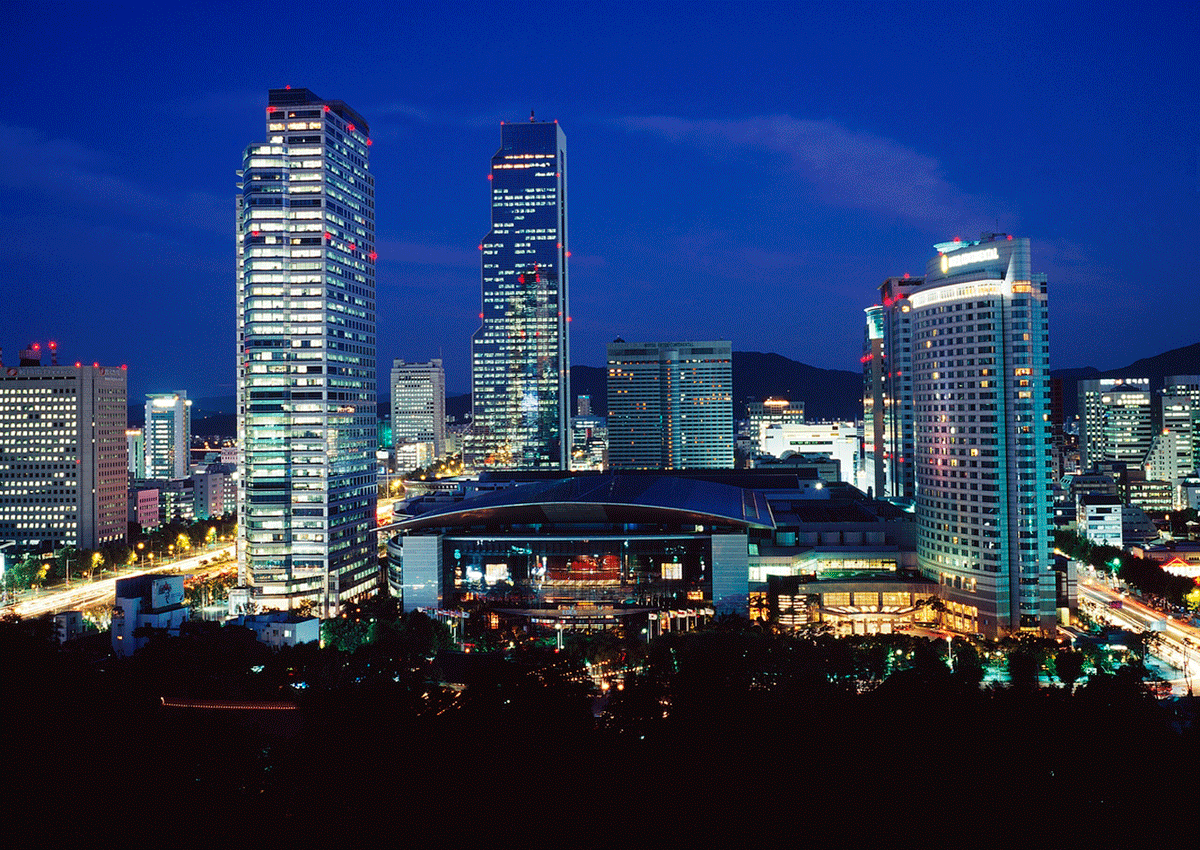 This article was originally on GET.com at: Seoul travel guide: top things to do, eat, see and buy  
Have you ever stepped foot onto Kimchi Land? If you haven't already flown to South Korea during one of your well-deserved vacations away from Singapore, Seoul is a great place to start.
If you must know, you don't even need to be a hardcore K-Pop fan to appreciate what Seoul has to offer! Nor do you have to be fluent in the Korean language to navigate around Seoul, South Korea's capital.
This sprawling metropolis is where modern skyscrapers, high-tech yet user-friendly subways, excellent Wi-Fi networks, rich Korean culture, Hallyu, friendly Koreans, amazing K-beauty, fantastic shopping, fun theme parks, phenomenal and affordable street food, beautiful natural landscapes, age-old palaces and temples meet.
There must be something special about Seoul - I was compelled to visit it 4 times in a short span of 3 years when I was still a schooling and somewhat broke student. And no, I do not have a secret Korean boyfriend there in case you're wondering.
Seoul is a pretty safe place to visit. If a klutz like me can fly there on a solo trip and navigate around the huge city via their idiot-proof subways, anyone will be able to do it, too!
Check out this Seoul travel guide by GET.com which we reckon will be very informative and helpful for those of you who are looking to visit the vibrant capital anytime soon. Enjoy!
Top 5 Must-Eats In Seoul
1. Korean BBQ
Besides stuffing your faces with popular Korean dishes (like bibimbap, doenjang jjigae, kimchi jjigae, samgyetang, bulgogi, galbi, tangsuyuk, ramyeon, naengmyeon, jjajangmyeon and so on and so forth), you have to squeeze out some time to sit yourself down with your squad to bond over Korean BBQ.
A trip to Seoul without Korean BBQ isn't quite complete in my opinion.
In a Korean BBQ restaurant you'll find many groups of happy local Koreans and tourists eating and bonding over soju, sizzling fresh meats charred to perfection and unlimited (and free) side dishes.
Feel free to guzzle down soju if you're one fine drinker. Did I mention that a bottle of soju will only set you back at a couple of dollars in convenience stores and most casual eateries in Seoul?
The $15 that you forked out for a bottle of soju in Tanjong Pagar just feels like a complete rip-off right now, doesn't it?
2. Street Food In Seoul
I cannot express how much I miss eating the delicious yet highly affordable street food in Seoul!
Each item won't even cost you over S$2 for the most part. The street food there is so convenient and tasty to say the least.
My mother and I rather spend our time munching on street food on the go while wandering around the streets, taking in the sights and sounds or shopping instead of sitting ourselves down in eateries and restaurants.
As a matter of fact, there are street food vendors peppered all over Seoul. But the best street food experiences that I've had as a tourist are the ones at Myeongdong, Hongdae, Edae (a.k.a. Ewha) and Dongdaemun.
Some types of street food that you can find, depending on the season, include anything from skewered grilled meats, fried vegetable fritters, Korean grilled cuttlefish, steamed egg muffins, tteokbokki, kimbab, fries coated hotdog on a stick, fish cake soup, hotteok, grilled corn on the cob and even bingsu!
3. Chicken And Beer
Image source: edition.cnn.com
Once you've tried authentic Korean fried chicken, I guarantee you'll never look at your 2-piece meal from KFC or Popeyes the same way again.
I would eat this over and over again! Plus, nobody can say no to chugging down Asahi (or any other beer), right?
To be completely honest with you, I am someone who eats less fried food than the average Singaporean and I have an indescribable fear of growing fat. To have me recommend a fried dish with such conviction says something, really.
Even though quite a few Korean fried chicken restaurants have sprouted up in Singapore so far, they aren't the cheapest thing ever?
Most Korean fried chicken eateries in Seoul are priced very reasonably and affordably. Usually, you have the option to choose which "style" you want your fried chicken to be: spicy, non-spicy, garlicky, soy sauce, chicken wings-only, drumlets-only, etc.
4. Alchon
Here's a fantabulous discovery that my friends and I made where we were on a summer exchange programme to Korea University.
Located at Anam, Alchon is a fuss-free eatery that serves amazing rice bowls that won't break the bank!
Priced at around S$4, you get a bowl of quality albab (rice bowl topped with roe) coupled with unlimited, free side dishes and ice-cold plain water.
To have me polishing off my meal is a feat in itself. I think that nothing beats flavourful, quality, affordable food all day, every day.
From what I know, Alchon has another outlet at Edae. I highly recommend you give Alchon a shot if you fancy some cheap food with a good dash of umami-ness.
Even though the selection is pretty small, they serve variations of rice bowls from their basic, cheese, special and garlic menus, so you're likely to find something that suits your palate!
For starters, you may want to try their basic albab but customise the level of spiciness according to your whim.
5. Melon Ice Cream (Or Any Ice Cream, Really)
Fatten yourself up with amazing Korean ice-cream in Seoul.
Just make sure you burn off the calories after you're done treating yourself to some icy-cold confectioneries if you're worried about putting on the pounds.
You'll probably think I'm insane but it's true that I ate ice-cream every single day when I was there during their bitterly cold winter! Who else thinks it's cool to lick these yummy treats without having them melt?
If you don't know where to start, I recommend you try melon-flavoured ice-cream. You can get it at any convenience store for approximately S$1.
Granted that the melon soft serve that I ate at Lotte World was pretty fluffy and good, it costs a couple of dollars more than those you get at convenience stores.
If you like sweet red beans, try the fish-shaped red bean ice-cream sold in convenience stores. It costs way less than the ones you get at Sushi-Tei, but it's noticeably bigger!
Since we're on the topic of Korean ice-cream, I'd just like to say that Softree's milky ice-cream topped with honey chips tastes better than its uncanny copy-cat Milkcow.
Top 5 Must-Sees In Seoul
1. N Seoul Tower
N Seoul Tower is a major tourist attraction in its own right. The 236.7m tower sits atop Namsan Mountain while its observatory offers panoramic views of Seoul and the surrounding areas.
The pictures that you see here were taken at sunset on a cold, wintry evening when my boyfriend and I were there. Aren't they beautiful?
If you're fit as a fiddle, you can try hiking up the mountain to get up there. If you'd prefer not to exhaust yourself, take the cable car.
The round trip cable car tickets are quite inexpensive and they'll save you so much time which you can use to explore more places or eat more glorious food!
Also located within the premise of this much-loved Seoul landmark is the "Locks of Love", a must-visit attraction for courting couples.
Here, you'll find thousands of padlocks attached to the fence by lovebirds who literally (and symbolically) locked their undying affection for each other.
2. Han River
Image source: k-happytour.com
Word has it that the Han River and its surrounding areas have played important roles in Korean history way back in time when you and I didn't even exist yet.
Currently, this scenic major river is a very popular chill-out spot for local Koreans and tourists alike.
The lower stretches of the Han River are lined with pedestrian walkways, bicycle paths, public parks, cafes and restaurants!
If you're one who likes to spend some time outdoors relaxing rather than jostling with bargain hunters on the streets of Ewha or Myeongdong, visit the serene Han River.
3. Insadong
Image source: mithaibirdy.wordpress.com
If traditional Korean history and modern Korean culture had a baby, it would be Insadong. It is a haven for arty-farty individuals with a penchant for art appreciation.
This is where you'll find yourself stumbling on truckloads of Korean traditional arts and crafts, antiques, ceramics, calligraphy shops, teas, fortune tellers, live traditional performances and a whole host of hipster galleries and cafes.
You can also take home a piece of Korea's tradition by purchasing the Hanbok! For the uninitiated, the Hanbok is the traditional Korean dress. It is often characterized by simple sleek lines, vibrant colours and no pockets.
4. Cheonggyecheon Stream
Located right next to the Dongdaemun Market is the famous Cheonggyecheon Stream that you see appearing on TV when you binge-watch your favourite K-drama or K-variety shows.
Admire this unexpected natural beauty in the heart of bustling Dongdaemun when you're here.
The pathway that runs along the Cheonggyecheon Stream gives its visitors space to stroll, relax or snap some nice photographs.
Yeap, the toothy girl wrapped up like a bazhang is yours truly, albeit 3 years younger and a fair bit wilder with my choice of hair colour.
Just in case you're wondering, the Cheonggyecheon Stream passes close to Deoksugung Palace, Seoul Plaza, the Sejong Center, Insadong Street, Changdeokgung Palace, and Changgyeonggung Palace.
The strategic location of the Cheonggyecheon Stream allows visitors to easily visit major tourist sites after a leisurely stroll along the beautiful stream.
5. Seoul Forest
Contrary to its name, Seoul Forest is actually a huge park segregated into 5 themed areas - Cultural Art Park; Ecological Forest; Nature Experiencing Studying Field; Wetlands Ecological Field; and Han River Waterside Park.
Seoul Forest is open to the public all year round for free. This green space is a delight in bustling Seoul! It is especially popular with families looking to escape the mundane, busy city life.
My friends and I visited Seoul Forest on a Saturday and we saw many families with young children picnicking, playing with water, having fun at the playground, cycling, admiring the huge art sculptures, and observing and feeding roe deers up close.
Even though it was summer when I visited Seoul Forest, the canopies provided enough shade and the cool breeze was a welcome!
Remember to slap on sunscreen and drink loads of water if you're intending to spend a morning or afternoon there.
Top 5 Must-Dos In Seoul
1. Hiking
Image source: en.wikipedia.org
For an entirely unique experience, you can scale Mt. Bukhansan located in the northern part of Seoul.
Make sure you're physically fit, armed with the right gear and pumped up with excitement before you attempt climbing up the peaks.
Designated as a national park since 1983, the sharp peaks of Mt. Bukhansan contrast greatly with the dozens of valleys and rivers flowing beneath.
These industrial grey-coloured granite peaks blend really well with trees and it is said that there are over a whopping 1,000 types of flora and fauna here!
With its granite peaks and Bukhansanseong Fortress, Mt. Bukhansan is perfect for hiking in all seasons.
If you're one who loves blooming flowers, climb Mt. Bukhansan in spring. In summer, lush forests will carpet the numerous valleys. Let the beautiful auburn colours of autumn welcome you when you hike up Mt. Bukhansan and visit the various temples and pavilions there.
Of course, nothing beats a snowy, beautiful mountain when winter pops by. But be sure to be extra careful as it can get slippery with all those icy steps!
2. DMZ Tour
Just in case you didn't pay attention in history class, the Korean peninsula is home to a single nation but divided into two by the 38th Parallel, the border separating North and South Korea prior to the Korean war.
The DMZ stands for Demilitarized Zone, a buffer zone established to discourage hostility between North and South Korea as military activity within the zone is strictly forbidden. The DMZ vividly captures the scars and wounds left behind by the dreadful Korean war.
Currently, civilian access to the DMZ is strictly monitored and controlled! You can sign up for DMZ tours from select tour agencies and pick either half or full tour packages depending on your budget and schedule.
Also, note that all visits to the DMZ require an ID card, passport, or other type of documentation for identity-checking purposes. And photos can only be taken where permitted.
The DMZ tour that I took with my friends was money well spent as that's the closest I'll ever get to North Korea. I learnt and witnessed things that I never would have if I hadn't gone, since this isn't my usual idea of "fun".
Did you know that North Koreans' savings can disappear in a poof when their authorities decide to print new "currency"?
Reality hits you even before you get near to the tightly-controlled touristy areas. As the tour bus trudges up north, you'll see your surroundings becoming less and less developed.
Overgrown shrubs and moss hang everywhere. You'll start wondering how the people of North Korea are doing.
Anyhow, it was genuinely terrifying to have a soldier from North Korea spying on you with his beady eyes through a pair of binoculars awkwardly from across. Make sure you aren't fooling around or pointing your finger at him.
However uneasy it may be, just try your best to be serious and respectful at all times during the tour. You do not want the North Korean troops to shoot you down from the other side, do you?
3. Korean Food Delivery In Seoul
Image source: vickieeisenstein.com
You have to try Korean food delivery services at least once in your lifetime. You'll be amazed how efficient these guys are.
One never ever says no to yummy food sent right to your doorstep. Food delivery is basically for when you're feeling extremely lazy but want to give instant cup noodles a miss.
For the record, you get piping hot, authentic Korean dishes delivered right to your doorstep quicker than what McDonald's and Pizza Hut can handle. Plus, the food usually comes with cutlery without any additional costs.
This ultra convenient and quick service is a wonder it itself! Note that some eateries may require a minimum purchase before your order can be sent to you, but take heart that no extra charges for delivery apply. The last time I tried getting food delivered, they even gave me a free ballpoint pen!
If the crockery used to store your dishes isn't disposable, the delivery guy will make a return trip to collect them. All you have to do is pack or stack everything neatly and leave it at your doorstep.
4. Noryangjin Fish Market
Noryangjin Fish Market is one of Korea's largest seafood markets. The vibrant, abundant year-round market is connected to Noryangjin Station by an overhead bridge. Here, you'll find a huge array of fresh seafood available for wholesale and retail purchases.
If you like, you can purchase fresh seafood and get it sliced into sashimi (or cooked) at the eateries located on the second level of the market.
Expect to bargain for better prices if you are very fluent in the Korean language, else the sellers are likely to charge you more.
The Noryangjin Fish Market was where I first tried squirming sannakji (live octopus) and sea urchin fresh from its shell! This place will always hold a special place in my heart as I like my seafood a bit too much.
Also, it is advised that you put on some solid shoes when you visit the Noryangjin Fish Market - the soles of your shoes mustn't be worn out as it can get quite slippery there. I slipped and hurt my spine when I went down the stairs!
5. Jet Off To Jeju
Jetting off to Jeju might have been one of the best choices I made despite busting my initial budget on summer exchange.
This South Korean island in the Korea Strait is defined by its volcanic landscape full of craters and cave-like lava tubes.
My friends and I flew there via Busan Air on a flight that's slightly over 1 hour. Tickets cost around USD$150 as the flight was booked rather last-minute.
Jeju is distinctively different from Seoul; it is quaint, quiet, peaceful and incredibly scenic. Even the native Koreans living on Jeju island speak a subtly different variation of the Korean language!
My friends and I didn't get to visit Hallasan Mountain, a dormant volcano, while we were there due to time constraints.
Word has it that the Hallasan Mountain is visible throughout the island and it features hiking trails and a crater lake at the 1,950m summit!
It would have been really amazing to witness the natural beauty of a crater lake with my own eyes.
Nonetheless, we conquered the 1km portion of the Manjanggul Cave that's open to tourists.
The Manjanggul Cave is a UNESCO World Heritage Site created millions of years ago when the Hallasan was still active. It is one of the finest and longest lava tunnels in the world!
The Manjanggul Cave houses natural formations such as the lava stalagmites and provides a fascinating experience for its visitors.
Inside the cooling cave, you'll feel as though it's been air-conditioned but everything is au naturel here. Well, except for the lights that softly illuminate the cave, of course.
We then visited the nearby Gimnyeong Maze Park. I was super psyched as it was my first time meandering through a maze, getting my hopes up then repeatedly faced with silly dead ends.
Nevertheless, it reminded me of the exciting maze scenes in the Harry Potter movie, except that I wasn't cool with magic of any sort. According to my friend, I was Lost Kid #1. And that explains my sulking face in the picture above.
If white sandy beaches are too mainstream for you, here's your chance to dig your toes into soft, black sand. Samyang Beach on Jeju boasts a whole shoreline of sparkly black sand. The sentimentalist in me really wanted to bring some sparkly black sand back.
What do you do on the spot when you have no legitimate container or jar of any sort? You down the bottle of po chai pills your mother gave you and use the tiny canister to store the sand.
If you have extra time, I suggest you make your way to Udo Island via ferry from Jeju.
This little island on the eastern end of Jeju boasts fertile soil, shoals of fish, scenic sights, local heritage as well as natural attractions. My friends and I rented bicycles and embarked on our little adventure around the island.
Keep your eyes peeled for ajummas diving in the turquoise waters in search for abalone and seaweed, beautiful natural landscapes and friendly horses when you're here!
Be sure to try the famous peanut soft serves, too. Those are really addictive!
Top 5 Must-Visits/Shops In Seoul
1. Myeongdong
Image source: agoncillokh.wordpress.com
Myeongdong is the haven for every cosmetic junkie. You can literally find a bazillion skincare and makeup products from almost any Korean brand you can conjure in your head!
Fret not if you missed your stop at Nature Republic or Etude House, all you need to do is wander a few more steps and you're bound to stumble upon another outlet.
Why do you think K-beauty has taken over the world by storm? They're way ahead in their beauty game and extremely innovative.
The thing I appreciate most about K-beauty is the fact that good products don't have to cost a bomb.
Also, Koreans are really generous when it comes to giving out samples...so long as you buy something at the store.
If you're already using beauty products from Korean brands, make sure you stock up while you're there - they're usually 30 per cent-50 per cent cheaper than those sold in Singapore!
Besides beauty products, you can find international brands like Zara, H&M, Forever 21 and Uniqlo. They're not cheaper than those in Singapore, in case you're wondering. You can get your street food fix in Myeongdong, too.
It'll help a lot to have the map of Myeongdong with you in case you lose your way in this labyrinth of little alleys, especially if it's your first visit!
2. Dongdaemun
Image source: thousandwonders.net
Do your friends label you as the shopaholic of the squad? If so, then you have to visit Dongdaemun.
With shops opening till the ungodly wee hours of 5am, Koreans have really taken shopping to a whole new level. You can, literally, stop non-stop if you want to!
There are plenty of shopping malls and traditional markets in the Dongdaemun shopping district.
Here, you can find almost anything from fabric, silk, apparel, shoes, accessories, electronics, leather goods, sporting goods, office supplies and toys if you look hard enough and/or understand a fair bit of Korean.
If this cluster of multi-storey shopping malls like Migliore, Goodmorning City, Hello apM and Nuzzon aren't enough to satisfy you, you can also shop at street stalls or underground shopping malls linked to the subway station!
The things sold at the retail malls are definitely more costly than those you get in Bangkok's Platinum shopping mall (see GET.com's Bangkok travel guide here), but they're better made and of higher quality.
Those who prefer something more unique (and expensive) can venture into Doota for items designed by both established and up-and-coming Korean designers.
3. Ewha
Image source: waegook-tom.com
Ewha is a great shopping option for those who are more budget-conscious. Located right in front of the Ewha Women's University, the Ewha shopping area may not be the biggest or most holistic but you're bound to snag some really awesome deals here.
Well, this cannot be truer if you're a woman for this shopping area is largely catered to the fairer sex.
You have no idea how many $5 cottony soft T-shirts my friends and I bought when we were here! For the most part, they're exactly the same as those you see in the clothing stores in Myeongdong or Dongdaemun but they're a lot cheaper!
And I dyed my hair red, complete with a haircut for only 29,000won. Where else in Seoul can you get such good deals?
Besides apparel, you'll find several shops selling shoes, bags, accessories here too. There are restaurants, cafes, and multiple street food vendors lined along the streets of Ewha.
You'll also find plenty of hair salons, beauty parlours and shops selling cosmetics from brands such as Skinfood, Laneige, The Face Shop, Tonymoly, Etude House and Holika Holika.
4. Hongdae
I love Hongdae. Anyone who fancies art in various forms will like it here.
Can you imagine strolling down the streets of Hongdae with yummy street food in hand complete with good music and/or dance performances put up for free by artsy young Koreans?
The vibes here at this artsy market are amazing. Each time you swing by the Hongdae shopping area, you're bound to be blown away by the ever-changing performances put up by talented souls on the streets of Hongdae.
Keep your eyes (or ears) peeled for soulful or upbeat croonings and smooth hip hop dances oozing with swag when you're shopping in Hongdae.
As the Hongdae shopping area is located close to Hongik University, generally, the prices here are reasonable, though not as cheap as the things you can find in Ewha.
Hongdae offers a distinctive shopping experience with unique products leaning towards Korean street style.
Like the other shopping streets mentioned, you'll find many little stores selling apparel and accessories alongside bigger brands like H&M.
There's a huge STYLENANDA and ArtBox store in Hongdae, too! And of course, many Korean BBQ restaurants, fuss-free eateries, hipster cafes and cheap-and-good street food to make your experience an even more pleasant one.
Lastly, those who like to party hard will be glad to know that Hongdae has a bustling club scene when dusk falls. If you'd rather chill at a pub or bar, options are aplenty.
All you need is a little spark of wonder to wander around the area with your homies. Who knows which kind Korean soul you'll meet? At least for my friends and I, we got free tequila shots at a bar we chilled at.
5. Lotte World Mall
Image source: plus.google.com
If you happen to be a fan of one-stop shopping malls, visit Lotte World Mall in Jamsil, Seoul. When I say the mall is huge, I mean huge.
To put things into perspective, Lotte World Mall's 106 acres is approximately the size of 1,696 tennis courts - 3 times that of VivoCity.
What sort of things can you find there? Everything, really. Lotte World Mall houses around 1000 local and global brands that cater to both men and women, the young and the not-so-young.
This is where you ought to be if you fancy the idea of getting everything and anything under the sun in one place.
If that's not impressive enough, Lotte World Mall also houses Lotte Mart, Lotte Cinema, Lotte Duty Free, Hi Mart and Lotte World Aquarium - all within the mall, I kid you not.
I've been to the aquarium and it isn't even tiny by any standard. Those who have more than enough money to spare can splurge at Avenuel, their luxury-brand-only shopping wing.
Other Articles You May Like From ​GET.com