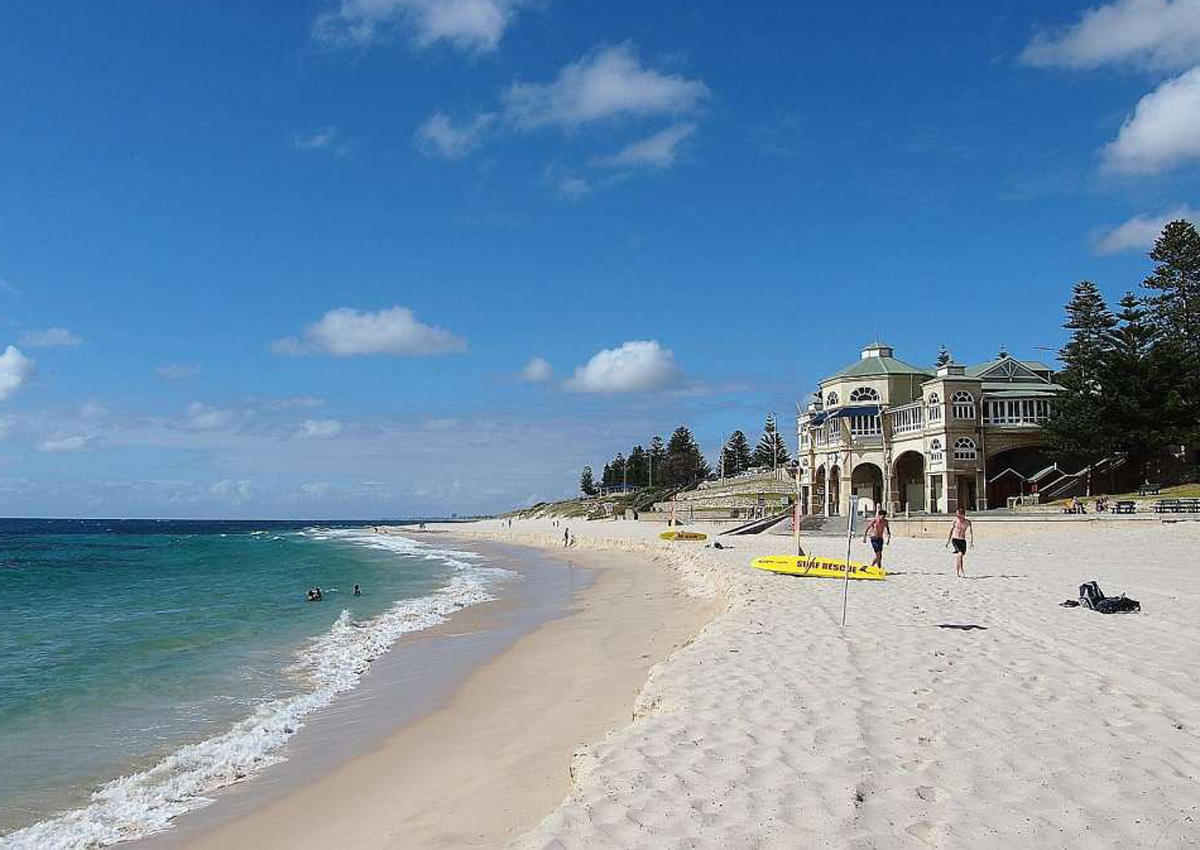 Perth has a reputation as a sleepy city, a stopover on the way to Margaret River, a popular region known for world-class food and wine, as well as white sand beaches.
But if you know where to look, the Western Australian capital is a destination in its own right, with plenty to see, do and eat.
I visited Perth three times last year and I would be lying if I said I did not find it underwhelming at first, its Central Business District (CBD) a veritable ghost town at night, complete with 19th-century frontier architecture which would be at home in a Hollywood western.
But subsequent trips and tips from residents helped me discover a place where one could easily spend a week or more in leisurely pursuit of fine meals, interesting boutiques and some excellent days spent outdoors.
Although most of the shops in Perth close at 5pm and the most happening of bars are pouring the last drinks by 11.30 on a Friday night, it is a mistake to judge the city's verve by its opening hours.
It just operates on a different schedule from other cities.
Perthites are early birds, not night owls, who are on their way to a 6am yoga class and walking into work before most of us have brushed our teeth. In summer, the sun is up before 5.30am and blazing by 6am, giving people plenty of time to indulge in the Australian penchant for clean living, fresh air, fresh produce and the outdoors.
If the CBD seems dead at night, it is because life in Perth happens in neighbourhoods and suburbs outside the city centre. By 5pm, many Perthites are on their way home to make the most of the remaining day- light in trendy restaurants, bars and shops in areas such as Fremantle, Mount Lawley and Leederville.
In the town centre, nightlife, entertainment and shopping options are multiplying, with trendy bastions of activity Alex Hotel in Northbridge and Como The Treasury in the CBD bringing a new level of sophistication.
Still, there is something delightfully grungy about Perth's style and attitude, which is fiercely proud of all things Western Australia.
Constantly compared with its east coast siblings Sydney and Melbourne, Perth feels like a subtle blend of the two, combining Melbourne's grit and Sydney's sunny confidence, without the snobbery.
COTTESLOE
Cottesloe, a 20-minute drive west of Perth's Central Business District, takes its name from the popular 1.5km golden sand beach.
Grand Victorian houses and cosy cottages along its beachfront add charm to the suburb, which has been a favourite seaside holiday spot for more than 100 years.
A family-friendly beach, it is perfect for picnics, snorkelling and a swim in summer when the water has warmed up. Some stretches of the beach are known for their consistent waves, which are popular with surfers, windsurfers and body boarders.
A handful of restaurants line the southern end of its waterfront promenade, including Il Lido Italian Canteen (88 Marine Parade Cottesloe; tel: +618-9286-1111; illido. com.au), which serves modern interpretations of Italian favourites such as swordfish with cannellini beans (A$31 or S$30.70) and veal and pork polpette (meatballs, A$15).
A couple of blocks north of Il Lido is Cottesloe Beach Hotel (104 Marine Parade Cottesloe; +618-9383-1100; cottesloebeachhotel.com.au), a trendy beachside getaway good for people-watching and sunset views of the beach from its Verandah Bar.
The most popular Cottesloe boutiques and cafes are in Napoleon Street in town, a 15-minute walk away from the beach.
They include Hobbs (28 Napoleon St Cottesloe; tel: +618-9384-0100; hobbsshoes.com.au), a family-owned shoe business known for its stylish, good-quality shoes at reasonable prices. It has five stores in the city.
As for food options, Vans (1 Napoleon Street, Cottesloe; tel: +618- 9384-0696; vanscafe.com.au) is a family-owned cafe-bistro and one of Perth's most popular brunch spots. It takes reservations only after 12.30pm, so you may have to wait for more than an hour for a table. But the food is worth the queue. Favourites include scrambled free range eggs (A$18), whole crushed avocado with basil and feta on organic rye (A$21) and hot potato cakes with smoked salmon ($25).
Boatshed Market (40 Jarrad Street, Cottesloe; tel: +618-9284-5176; boatshedmarket.com.au) is excellent for local produce, including vegetables, cheese, meat, seafood and locally canned goods such as jams. Be prepared to pay top dollar.
CENTRAL BUSINESS DISTRICT
Shaking up Perth's soporific reputation is the State Buildings, the city's newest and chicest development.
Occupying three interconnected buildings - which housed the treasury, post and land titles offices until the government vacated the 140-year-old buildings 20 years ago - the A$110-million (S$109-million) development injected new life into the Central Business District (CBD) when it opened in October.
Despite its prime location at the corner of St Georges Terrace and Barrack Street, it had been vacant until reconstruction began five years ago, championed by property developer Adrian Fini. Overseen by Fremantle and Singapore-based Kerry Hill Architects, 95 per cent of the late-Victorian stone and brick buildings was restored.
Now, boutiques on the ground floor and basement level represent West Australian artisans, including Flowers by Aneura, a florist specialising in native flowers, and The Honeycake by Simona Kapounova, known for its Czech recipe-inspired honey cake.
Other F&B offerings include those in the Petition group. Petition Beer Corner has 18 Australian craft beers on tap and Petition Wine Bar & Merchant serves boutique wines.
The best meal of my trip was at Petition Kitchen (petitionperth. com), where dishes such as raw kingfish with beetroot, ginger vinaigrette and horseradish (A$22); popped summer corn atop creamy polenta (A$18); and organic beef tartare (A$17) had our table of five scraping our plates for more.
The desserts - vanilla rice pudding topped with pistachio crumb and strawberry sorbet; and a burnt meringue with lemon curd (both about A$15 each) - rendered a table of voluble women speechless.
Modern Australian cuisine is served at other State Buildings eateries, except for Thai restaurant Long Chim Perth (longchimperth.com), by award-winning Australian chef David Thompson of Nahm restaurant in Bangkok.
The anchor tenant is Como The Treasury, the Singapore-owned Como Hotels and Resorts' first hotel in Australia, where I spent two nights last month.
The stylish 48-room boutique property (comohotels.com/the treasury) exudes a sense of relaxed luxury. Each of the hotel's rooms, ranging from 55 to 120 sq m, used to be an office or two. Rather than turn each office into a room, Kerry Hill Architects, which designed and managed the hotel's construction, joined offices, leaving space for an immense bathroom.
The decor is minimalist; shades of white, sand and beige reflect the natural light which floods through the windows.
Room rates start from A$595 a night, inclusive of breakfast, tax, Wi-Fi and in-room private bar.
The hotel has a gym, a spa and a 20m heated indoor lap pool, housed in a glass atrium.
For a casual meal, go to Post, a modern Australian bistro on the first floor, which is open daily and serves breakfast, lunch and dinner.
For pre-dinner cocktails, head to The Treasury Lounge and Bar, comprising three interconnected rooms of plush sofas, armchairs and walls lined with watercolours of Western Australia's flora and fauna.
At sunset, visit the fine-dining restaurant Wildflower on the fourth floor, which provides views of the city from its glass terrace.
Most bars in Perth close at midnight, but those at the State Buildings are open till 2am on weekends.
The writer was a guest of Como The Treasury, a property of Como Hotels and Resorts..
FREMANTLE
Fremantle is the most well known and visited of Perth's suburbs.
Loved by tourists and locals alike, it is one of the oldest settlements in Western Australia and the area's history is a main attraction.
Dockworker cottages with shaded verandahs and decorative wrought-iron filigree have been converted into cafes and stores, and abandoned Victorian warehouses have become markets, including the famous Fremantle Market (fremantlemarkets.com.au) with more than 150 stalls selling everything from meat and cheese to jewellery and handicrafts.
The 140-year-old Fremantle Prison (fremantleprison.com.au) around the corner has been converted into a tourist attraction.
The stone building was decommissioned in 1991 and visitors can join daily tours of its gallows, death row and prison cells, its underground tunnel system or you can brave the eerie cells on torchlight tours held on Wednesday and Friday nights.
Fremantle is also known for its boutiques, including Love In Tokyo (61 High Street; tel: +618-9433-2110; loveintokyo.com.au), which sells Japanese- and Victorian era- inspired styles by Western Australian designers, and The Record Finder (87 High Street; tel: +618- 9335-2770), lined floor to ceiling with vinyl and 78rpm records and cassettes.
For beautifully crafted ceramics, jewellery and prints by Western Australian artists, go to Found gift shop at Fremantle Arts Centre (1 Finnerty Street; tel: +618-9432-9555; fac.org.au).
Head to Bread In Common (43 Pakenham Street; tel: +618-9336-1032; breadincommon.com.au) if you are looking for a fantastic meal surrounded by hip Perthites - brunch is popular there - or to Strange Company (5 Nairn Street; strangecompany.com.au) for cocktails and light bites.
A visit to Fremantle would not be complete without a short stroll along the waterfront from Bathers Beach to Fisherman's Wharf. There, you can enjoy the fish and chips at Cicerellos (44 Mews Road; tel: +618-9335-1911; cicerellos.com.au) and visit Little Creatures Brewery (40 Mews Road; tel: +618-9430-5555; littlecreatures.com.au) to sip some of Australia's best craft beers. Tours of the brewery are available.
Fremantle is a 30-minute train ride from Perth Central Station, but if you have the time, take the thrice-daily ferry on Swan River. The trip, run by Captain Cook Cruises (captaincook.com.au) from Barrack Street Jetty (A$28 or S$27.70 one-way) is one hour and 15 minutes long.
NORTHBRIDGE
Ask locals where you can find the hip side of Perth and they will likely point you to Northbridge, an urban neighbourhood 10 minutes' walk from the Central Business District. It used to be known for its dodgy nightlife - sex shops, strip clubs and seedy bars which for years were the only late-night spots.
But now, it is a cultural hotspot filled with art institutions. The Perth Cultural Centre (perthculturalcentre.com.au), where plays, concerts and events of the annual Fringe World Festival take place; Western Australian Museum (museum.wa.gov.au); Perth Institute of Contemporary Arts (pica.org.au) and Art Gallery of Western Australia (artgallery.wa.gov.au) are all here.
There is also a dense concentration of hip new restaurants, bars, art galleries and shops in the William Street and James Street area.
Visit the studio of printmaker and illustrator Magali Dincher, who runs printmaking workshops at Beau est Mien (458 William Street; beauestmien.com.au). Hop over to Outre Gallery (260 William Street; tel: +618-9227- 0666; outregallery. com) for contemporary pop art.
Music lovers can catch a show of live jazz, soul, funk and Latin music at The Ellington Jazz Club (191 Beaufort Street; tel: +618-9228-1088; ellingtonjazz.com.au).
Bar-hoppers have a wide range of drinking holes to choose from. Start at Mechanics' Institute (222 William Street; tel: +618-9228-4189; mechanicsinstitutebar.com.au), an urban bar whose second- floor patio has been built in the alleyway between two brick buildings.
Ezra Pound (Williams Lane, 189 William Street; tel: +618-9328-9005; epbar.com.au) is a no-frills bar where guests sit at wooden picnic tables in a gritty alley in the summer. It serves a small if inventive list of cocktails, but this is really more of a beer or cider joint.
For cocktails, try Sneaky Tony's (facebook.com/sneakytonys), a speak- easy located down a lane between Roe and James streets, but you need to know the password to get in.
William Street offers some fantastic vintage shopping and retro- inspired boutiques selling designs with modern fabrics.
If you prefer more contemporary fashion, head to Tu (218A William Street; tel: +618-9227-7628; tu.com.au), a boutique selling its own flirty, feminine designs; and Ruck Rover General Store (242 William Street; tel: +618-9228-3502; ruckrover.com.au), for independent labels from Western Australia and elsewhere.
For dinner, go to Bivouac Canteen and Bar (198 William Street; tel: +618-9227-0883; bivouac.com.au) a Mediterranean restaurant down the street.
I had a delicious meal - roast cauliflower with chickpeas, dukkah and labneh remoulade (A$12.50 or S$12.38); Ottoman-style lamb and fetta borek (A$16); and grilled halloumi with compressed watermelon, radicchio and za'atar dressing (A$18).
In summer, save at least one night for Rooftop Movies (rooftopmovies. com.au), where a big screen and hundreds of beanbag and chairs are set up on the roof of a carpark. It is a pleasant way to spend the balmy evenings with the Perth skyline as a backdrop, lamps strewn with fairylights and food trucks serving popcorn, hotdogs and drinks.
For accommodation, try the new Alex Hotel (50 James Street; +618-6430-4000; alexhotel.com.au), a 74-room boutique hotel which opened in May. Prices start at A$210 for its small (15 to 17 sq m) room and go up to A$315 for a 26 sq m bunk room with four single beds and a private balcony.
There is a lobby lounge and espresso bar on the first floor; a breakfast bar, lounge and outdoor terrace on the mezzanine level; and a sixth-floor roof terrace for views of the Perth skyline.
The area is popular as it is near Perth Station (transperth.wa. gov.au), the nucleus of the city's suburban train system and Perth Underground. The train is a convenient way to explore the city and the surrounding suburbs.
LEEDERVILLE
Perthites come to Leederville's main strip in Oxford and Newcastle Streets for the eclectic shops.
Despite the small size of the neighbourhood, extending no more than two blocks in either direction, it is full of offbeat offerings.
I enjoyed exploring the shops, most of which highlight Western Australian designers. Varga Girl (148 Oxford Street; tel: +618- 9444-8990; facebook.com/thevargagirls) mixes international designers such as Missoni with local ones.
Quirky sister stores Urban Records and Urban Depot (115 Oxford Street; tel: +618-9443-4355; facebook.com/urbanrecordsonoxford) sell everything from homeware to trendy fashion and records.
My favourite is Atlas Divine (121 Oxford Street; tel: +618-9242-5880; atlasdivine.com), whose racks are so overflowing with men and women's designer clothes that it could be mistaken for a stylish thrift store.
If you are hungry, stop at Greens & Co (123 Oxford Street; tel: +618- 9444-4093), an edgy cake shop with coolly mismatched decor. The pies and cakes are top-notch, especially the pecan pie and rhubarb custard crumble.
For drinks, head to alfresco bar and restaurant The Garden (742 Newcastle Street; tel: +618-9202-8282; thegarden.net.au), which is popular for after-work tipples. On weekends, go toBlue Flamingo (742 Newcastle Street; tel: +618-9202-8282; theblueflamingo.com.au), which has live music, tacos and margaritas.
Popular dinner options include Pinchos (749 Newcastle Street; tel: +618-9228-3008; pinchos.me), which serves authentic Basque pinchos and Spanish tapas prepared by chefs from Madrid and Valencia. A few doors down, the Meat Ball Bar (themeatballbar.com) has inventive dishes such as Moroccan lamb balls with saffron, leatherwood honey yogurt (A$29 or S$28) and salted caramel and Belgian dark chocolate rice pudding balls (A$15).
Perth's first tapas bar Duende (662 Newcastle Street; tel: +618- 9228-0123; duende.com.au) has pride of place at the intersection of Newcastle Street and Carr Place. Since opening in 2003, the cosy, softly lit dining room with walls painted in quotes and murals of Don Quixote has been a Leederville favourite for delicious, modern tapas and an extensive wine list.
End the night at velvet-lined Luna Cinema (155 Oxford Street; tel: +618-9444-4056; lunapalace.com.au) for Hollywood, local indie and international films.
Then catch a taxi or cross the tree-lined streets lit by fairy lights to the train station for the 10-minute ride back to the town centre.

This article was first published on Jan 17, 2016.
Get a copy of The Straits Times or go to straitstimes.com for more stories.