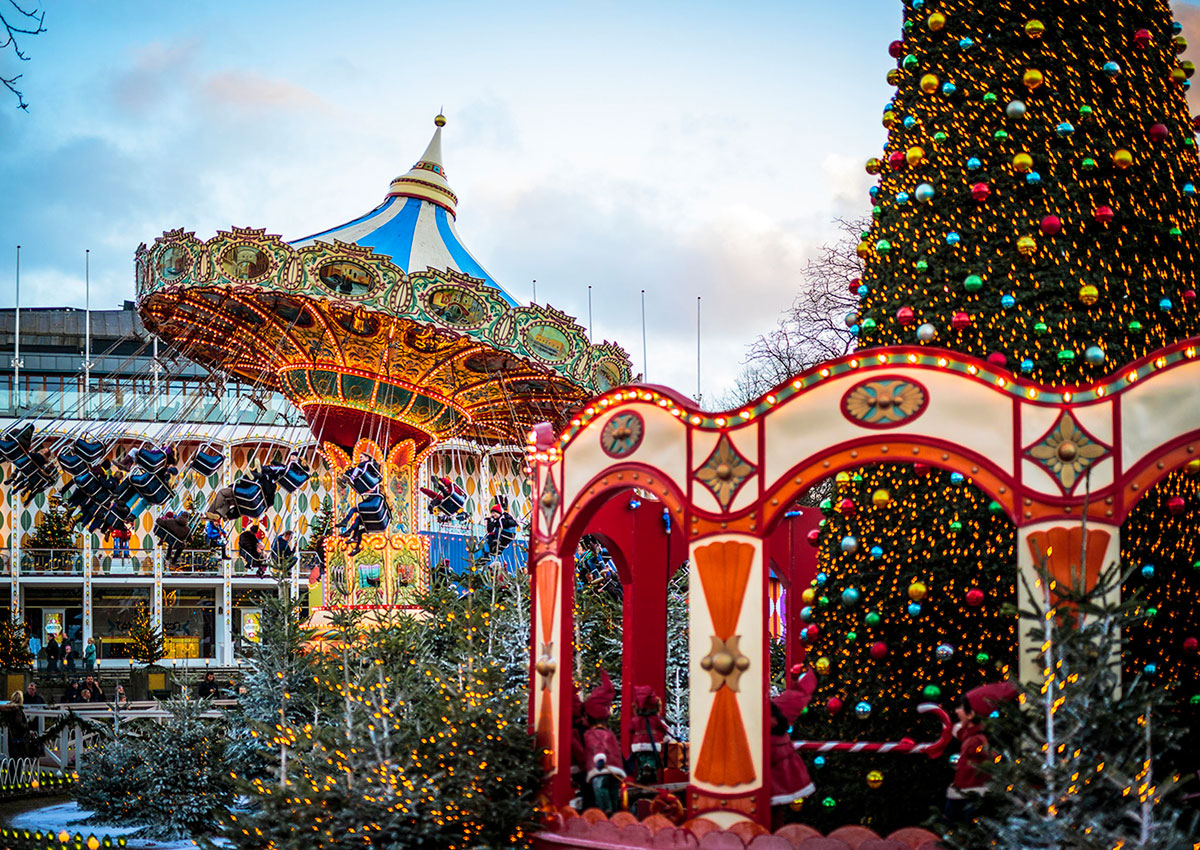 Given that famed writer of fables Hans Christian Andersen once called Copenhagen home, it is no surprise that the city is very much the stuff of fairy tales.
Shielded from 19th-century German bombs and 21st-century overzealous urban planners, it has grown into a tableau of old-world charm - dominated by the spires and turrets of mediaeval churches and castles instead of the silhouette of indistinguishable glass skyscrapers.
With such picturesque settings, it would seem that joy is always in season in Denmark. However, by year end, the festive spirit becomes palpable - bolstered by gaily decorated streets and the arrival of Christmas markets.
Despite there still being 43 sleeps till Christmas when I arrive in Copenhagen in mid-November, the storybook canals and cobblestoned streets around the city centre are already strung with rows of twinkling fairy lights, as though the city is adamant about spreading festive cheer despite its sleet grey skies.
From Nov 14 to Jan 3, Copenhagen's biggest tourist attraction, the Tivoli Gardens, is also decked out for the season - boasting Northern Europe's biggest Christmas market and more than 500,000 glittering lights and baubles that transform the 20ha space into a wintry wonderland.
Opened in 1843 by Danish army officer Georg Carstensen, the Oriental-themed park with its pagodas and ponds is the second oldest in the world and was initially built on the outskirts to keep citizens amused and take their mind off politics.
Thanks to urban sprawl, it now takes up residence in the middle of downtown Copenhagen and has more than four million visitors every year, its primary-coloured turrets and roller coasters a unique sight in the middle of a bustling metropolis. Admission is 99 krone (S$20) for entrance to the gardens and 209 krone for entrance and admission to all rides.
Visiting the park in the day makes for a beautiful stroll, but I quickly realise that Tivoli is at its most animated after sunset.
Under the blanket of a dark winter sky, the dazzling lighting installation - directed by John Loring, design director emeritus of American jeweller Tiffany & Co - sees the gardens come to life, the lack of lush greenery in the winter months made up for with baubles in every imaginable shade of red, green and gold.
Even with enormous self-restraint, I find it hard not to be immediately trigger-happy. After all, every corner has an ornate tree or imaginative store more beautiful than the last.
But take my advice and put away your cameras to enjoy the real magic of the Tivoli. In this park, the beauty is in the inspired details.
Peer inside the little windows of the cottage installations and you will see tiny mechanical elves making presents.
A huge wooden reindeer stands guard outside the theatre, where a jolly Santa sits listening to children's Christmas wishes.
Handcrafted candy canes hang in the window of a sweet shop. Tree branches are draped with a multitude of candlelit lamps. In many of the thatched-roofed stores, smoke wafts out of the chimneys.
It takes little imagination to feel as though you have been transported into a Hallmark Christmas card.
Even though the park has no distinct themes dividing it up - I find myself gasping at the Moorish facade of the beautiful Nimb Hotel (located within the Tivoli grounds) one minute and walking under a sky of Chinese lanterns the next - nothing about it feels tacky or over the top.
Instead, the various cultural influences make each turn a surprise.
Without all the glitzy digital screens and fancy animatronics found in newfangled theme parks, the whole place seems like an homage to quaint tradition - the sort rarely found in this day and age.
This is why Danes come back year after year, more so than for Tivoli's famed dancing water fountains or late-night fireworks displays.
"We've been to so many Christmas markets, but Tivoli Gardens is just something else," says Ms Agneta Pedersen, 33, a teacher and mother of two boys aged six and four, who visits Tivoli every year around Christmas with her family.
"In between the food, rides and shopping, there is something for everyone. Most Danes have grown up visiting Tivoli. For us, this place has a lot of sentimental memories."
And it shows. While there is a decent number of tourists, it is apparent that the park is most popular with Danes, many of whom tell me they visit the garden during the end of the year without fail.
No matter where you stand, there is laughter, music and chatter aplenty, even as screams from thrill-seekers on the roller coasters punctuate the air.
The indoor restaurants are packed with diners enjoying their meals. Outside, families and friends keep warm around toasty coals, drinking cups of hot chocolate and eating traditional Danish open- faced sandwiches.
Best of all is the spicy, sweet smell in the air - of warm spiced mulled wine known as glogg, and toasty Aebleskiver, a traditional Danish pancake ball dusted with icing sugar and jam.
Even after 172 years, Tivoli has managed to remain a place to socialise, eat, drink, people-watch and ride the classic carousel. It is the quintessential amusement park in every sense of the name.
It is no surprise then that the same garden served as the inspiration for Walt Disney to create Disneyland.
But if you ask me, Disney has yet to successfully replicate Tivoli's old-world charm.
Later that night, as I sip on a steaming hot cup of glogg amid the myriad glittering lights, a word almost instantaneously pops into my head - hygge.
Pronounced hooga, the Danish word was introduced to me earlier in the day by the hotel concierge, who loosely translated it to mean the concept of cosiness, warmth and good spirits.
"Hygge is like social nirvana for us Danes," he told me with a smile, as he watched me try to thaw my numb hands after escaping the biting winds outside.
"Our winters are icy and long, so we fight back with hygge - the warmth of friendship, special moments and good food.
"It's a concept you have to experience. Soon enough, you'll know what I mean."
He was absolutely right.
Hygge is definitely the highest compliment you can pay to a host - Danish or otherwise. It is a sentiment that cannot be bought, only felt.
One that is best sampled under Tivoli's sky of dazzling fairy lights, with a steaming hot cup of glogg in hand.
GETTING THERE
Singapore Airlines flies direct to Copenhagen five times a week. Prices for an economy-class ticket start from $2,500. Go to www.singaporeair.com for more details.
SPLURGE
Nimb Hotel: Treat yourself to one of the 17 uniquely decorated rooms at the five-star Moorish-style Nimb Hotel. Located within Tivoli Gardens, the rooms overlook the park and guests can enjoy the many free performances from the hotel deck. Prices start from $1,000 a night. Go to www.nimb.dk for more information.
SAVE
Hotel Danmark: Located 150m from Tivoli Gardens, this three-star hotel offers comfortable rooms, a delicious organic breakfast and a wine hour every evening from 5 to 6pm. Prices start at $200 a night. Go to tinyurl.com/onmrktk for more details.

This article was first published on Dec 20, 2015.
Get a copy of The Straits Times or go to straitstimes.com for more stories.