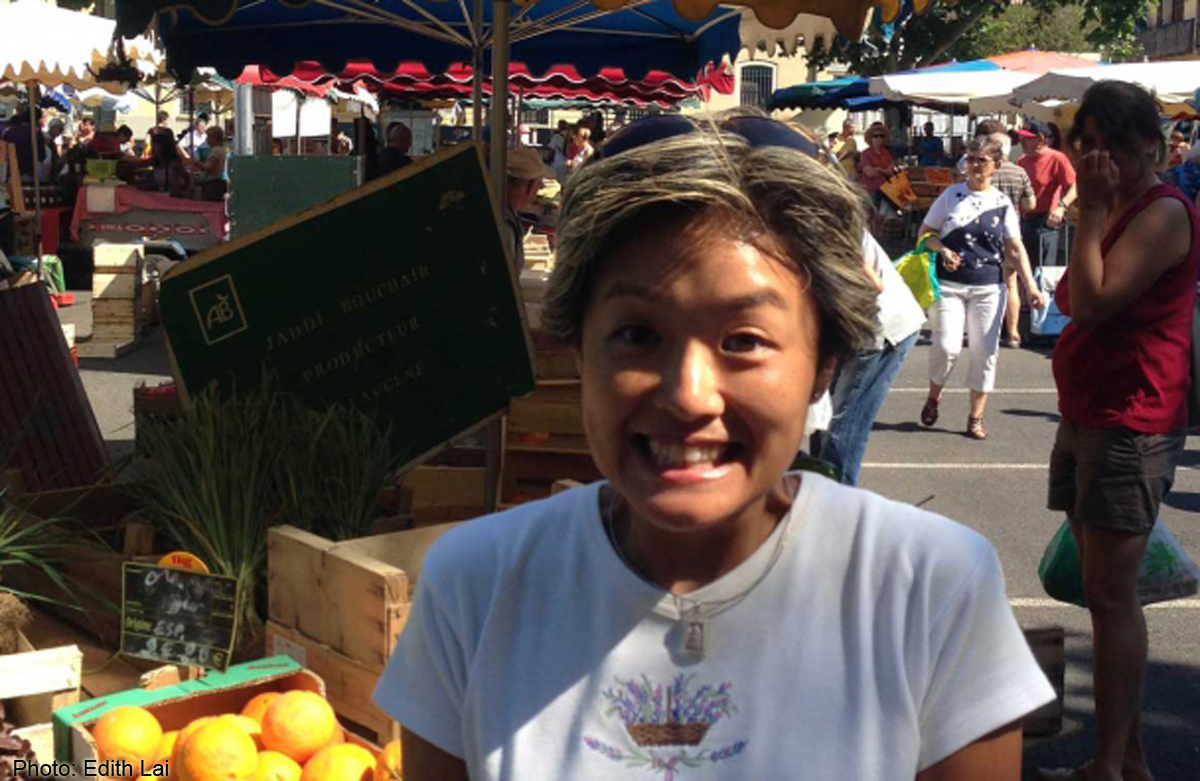 Who:Edith Lai, 44, is the management consultant at French restaurant Scotts 27, where her husband Julien Bompard, is the executive chef.
Favourite destination: Nyons, France
Why:My husband is from Nyons and I have been there at least 25 times in our 15 years of marriage.
It is a unique town with many historic buildings, such as the Romanseque bridge and ruins of a feudal castle, which give a mediaeval character to the town centre. Once outside, the large expanse of vineyards and orchards are typical sights of a French country farm town.
People in Nyons enjoy a slow pace of life and a relaxed mood permeates the town. Shops open at 10.30am and close by 2.30pm, before reopening at 4.30pm. The natives spend their afternoons playing petanque (French boules game) and drinking pastis, a French liquor particularly popular in the southern region of Provence.
Nyons is also where lots of lavender and olive oil come from, so the air is fresh and fragrant and always smells of herbs. The sight and fragrance of the lavender fields makes me feel so comfortable, like I'm in another world.
Favourite place to stay
There's no better place to stay than at my in-laws' house, where the scenery is just stunning. From there, we can see the mountains, the famous Romanesque bridge and the neighbourhood bustling with activity. The location is convenient for us since it is right in the centre of the Nyons tourist area where the Thursday and Sunday markets are located. And just behind the house, they have their own lavender field and distillery, so I can see, feel, and smell the lavender all year round.
Favourite tourist site
The Nyons open markets.There is a local Thursday market and a larger market with more regional vendors on Sundays.
Tourists learn a lot about the culture and history of the village, the region and, of course, about France by going to these markets, where you can find lovely pre-made food and stalls and carts full of local produce, such as black truffles, honey, apricots, saucissons (home-made cured sausage), cheese and olives, all starting from about €5 (S$7). You can also buy bits and pieces of kitchenware which play a large role in Nyons' culture, such as colourful oven-proof cookery (from €10 to €30 for different sizes), handmade olive-wood salad bowl (from €50) and olive wood salad spoon and fork (from €10). Must try foods
There are some very good local dishes, including pissaladiere, a kind of Provencale pizza which uses a base of olives instead of tomatoes, poached fish with aioli, saucissons, ratatouille and pistou soup, a vegetarian summer soup served with basil sauce.
Surprisingly, one of my favourite meals in Nyons is a Spanish dish - seafood paella, which can be bought in the open market for €5 to €10. The seafood paella consists of rice with saffron, prawns, sausages, mussels, chicken thigh and clams with seafood broth.
The way the seafood paella is cooked makes the rice very juicy. I was told that the recipe and style are from Marseille.
Best view
The Chapel Notre-Dame de Bon Secours, also called Tour Randonne, is atop a hill and offers views of the mediaeval town below.
Event to bookmark
Fête de l'Alicoque - Festival of Nyons Olive Oil in February. Nyons is the proud home of La Tanche, a dark brown olive not found anywhere else in the world. Nyons is the northernmost olive growing region in Europe and La Tanche is the only variety of olive that has adapted to the soil and climate of the area, resulting in a very smooth oil with the rich flavours of apples, almonds and melted butter.
Olive oil is the most valued export of the Drome region and olive from Nyons has been recognised for its outstanding taste, like a grand crus of olive oil, by the French ministries of agriculture, tourism, culture and environment since 1994.
There are parties and olive tastings during the festival, during which people who have devoted their lives to Nyons Olive Oil, such as my husband, receive tokens of appreciation.
How to explore
Nyons is surrounded by 400km of hiking and mountain biking trails. You can take trails by foot, bike or by car and the local tourist office provides maps and themed trails, such as around the vineyards or through the nearby woods and olive groves.
Best souvenir
Definitely the olive oil - the best extra virgin oil in the world - and saucissons and tapenade (olive paste), which can be bought in the markets starting from €5.
Best advice
Remember to bring enough cash as there will be lots of souvenirs you will want to buy. And prepare to eat lots of delicious food while sightseeing.
Best time to visit
The months of June and July when the region is covered with lavender.
vlydia@sph.com.sg

This article was first published on May 31, 2015.
Get a copy of The Straits Times or go to straitstimes.com for more stories.